J2Ski Snow Report January 5th 2023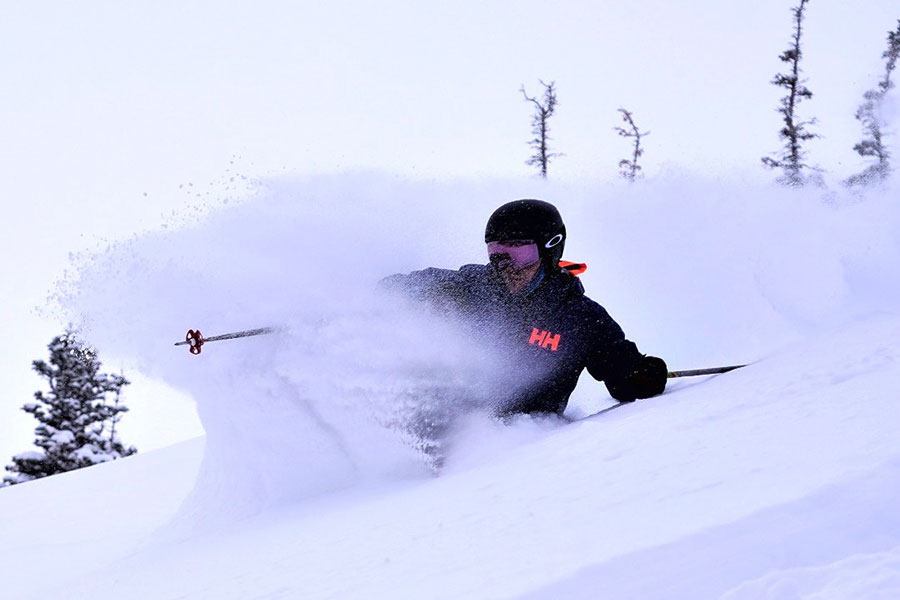 Park City, Utah, USA got their year started nicely...
Snow in Europe, but more in America.
The Snow Headlines - 5th January
- Snow forecast for the Alps from the weekend.
- More big snowfalls and wild weather in Western USA.
- More rain to mid-mountain in parts of the Alps, but fresh snow higher up.
- Scandinavian resorts post low temperatures and fresh snowfall.
- Palisade Tahoe posts 95cm of snowfall in 24 hours to Jan 1st 2023.
- More Scottish centres open more terrain.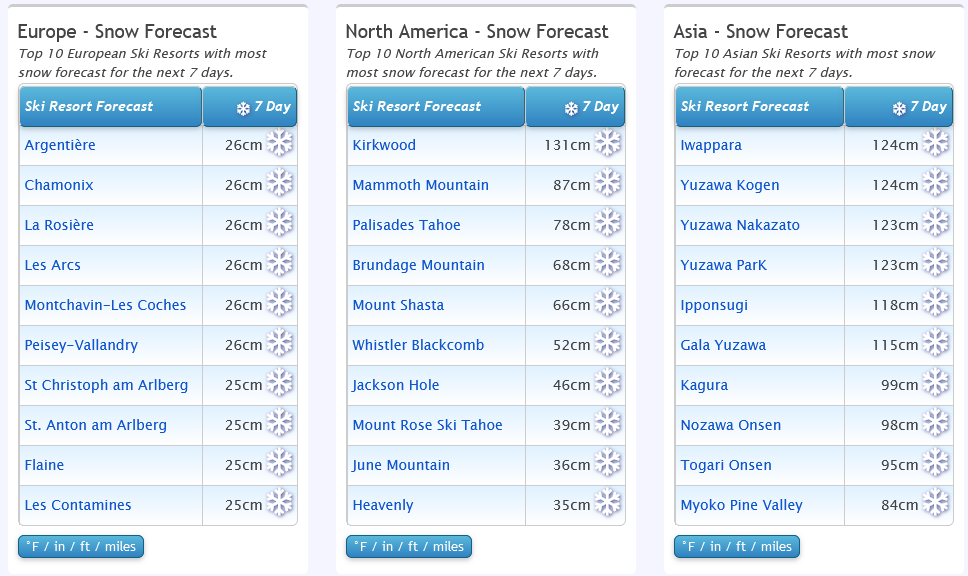 See where it's going to snow...
Re-publication :- our Snow Report Summary, being the text above this line, is free to re-publish, but must be clearly credited to www.J2ski.com with text including "J2Ski Snow Report" linked to this page - thank you.
World Overview
We're getting deja-vu in the J2Ski snow reporting team with the same weather cycles, it seems, starting the New Year as ended the last.
But a change does appear to be in the air with increasingly confident forecasts of significant snowfall in the Alps from Sunday.
For the past week though the most active weather systems have been slamming into America's West Coast bringing more short-term operational issues while at the same time building on what were already the deepest bases in the world this season.
In the Alps the operational difficulties are, unfortunately, being caused by mild temperatures with a repeat cycle of rain for New Year weekend on slopes up to about 2,000 – 2,500m, though thankfully with not quite so serious impact as the heavier and sustained rain at Christmas weekend. There was also snowfall again higher up so conditions above about 2,000 metres are generally pretty good, but more challenging at lower levels. Colder weather and more significant snowfall is expected at the start of next week.
Elsewhere the Pyrenees have similar issues to the Alps (although there was some snowfall here on Monday) and it's worse still in the Balkans where there's been almost no snow and it has been warm and sunny. Further north though cold and snowy weather in Scotland has allowed most areas there to open some terrain and Scandinavia actually seems quite wintery!
Europe
Austria
Austria has had a fairly quiet week with a little light snowfall for the New Year but predominantly dry and frequently sunny weather. Bases remain thin and the mild weather is challenging but the big ski areas like the
Arlberg
, Skiwelt and
Saalbach Hinterglemm
are each managing to keep about 200km (125 miles) of slopes open.
The best conditions continue to be on glaciers with Solden currently the stand-out for top to bottom snow cover and open terrain. But the whole country, like the whole of the Alps (and the Pyrenees), could do with a fresh big dump of snowfall and some consistently cold temperatures. There is snow forecast for next week, but probably 15-30cm accumulations, less than further west.
France
Another less-than-ideal week in the French Alps with more rain and mild temperatures over the New Year weekend – although not so much or so damaging as a week earlier. There was up to a foot of snow above 2500m so high areas like
Val Thorens
,
Tignes
and others are in much better shape, 60-80% open and actually reporting pretty good conditions.
The good news is the heaviest of the forecast snow this coming week is expected in France with 30-60cm falls expected between Sunday and Tuesday along with sub-zero temperatures to the valley floors.
Italy
The Dolomites have been dry for weeks now and snow cover remains fairly thin, but conditions are reported to be among the best in mainland Europe because there hasn't been any rain and while not cold, it hasn't been so mild as further north and west.
Over in the north and west of Italy, there have been the same issues of mild temperatures at low altitudes but few have suffered the rain problems.
The Milky Way region over on the French border has about 75% of its slopes open and conditions are reported to be very good on the Cervinia-Zermatt cross-border slopes. Colder weather and snow is expected here too from Sunday.
Switzerland
A largely dry week for Switzerland too with just some light snowfall up high earlier in the week. As with the rest of the Alps, there have been 'mild air issues', particularly at low altitudes, but resorts like
Andermatt
and
Saas-Fee
are posting some of the best snow depths in Europe on their higher terrain.
Again as with the rest of Europe, higher Swiss slopes, particularly above 1800m altitude, are reported to be in good shape on the prepared slopes at least. And temperatures are dropping and there's snowfall now in the forecast at last, heaviest in the west.
Scandinavia
Scandinavia is the one part of Europe, (well perhaps also Scotland) that actually feels 'wintery' with temperatures well below freezing day and night and plenty of fresh snowfall.
Hemsedal in Norway reported powder conditions for New Year weekend while
Levi
up in Finnish Lapland was excited to see the sun reappear above the horizon for the first time on New Year's Day. Much more snowfall expected daily over the coming week.
Pyrenees
The Pyrenees are facing similar issues to the Alps with temperatures too high much of the time and little fresh snowfall – although one front did bring a few inches high up earlier this week. But the amount of open terrain in most areas is unfortunately now less than it was in mid-December due to the loss of cover on lower slopes. Andorra's
Grandvalira
has the most open.
Scotland
Scottish ski areas have regained a lot of the lost ground from the pre-Christmas temperature spike now. The open terrain at each area remains limited but Cairngorm,
Glencoe
,
Glenshee
and the Lecht each had two or three runs open for the New Year's weekend and there's been more cold weather and snowfall since …but also rain at times.
Eastern Europe
There's a continuing north/south divide in Eastern Europe with ski areas in Slovakia and the Czech Republic like Jasna and Spindleruv Mlyn reporting most of their terrain open, fairly cold temperatures and even a little fresh snow.
Things are unfortunately still very difficult in Bosnia, Bulgaria and other more southerly ski nations where it remains predominantly warm, dry and sunny. The only snow is being machine-made in the middle of the night when temperatures have been dipping to -5 or -6C.
North America
Canada
It has been a weather roller coaster for Western Canada over the past week with ski areas battling against gales, heavy snowfall and icing conditions as temperatures fluctuated between -25C and +5C as fronts moved through.
Big White and Whistler were among areas that seemed to face particular issues getting lifts working and opening terrain, issuing repeat apologies and thanking skiers in the resort for their patience. But overall the snow depth numbers keep increasing which is clearly good in the long term for the rest of the season.
There's a more mixed picture in the east of the country. After Storm Elliot deposited up to 60cm (two feet) of snow on the slopes it has unfortunately got much milder and some lower slopes have seen the snowpack damaged by rain. Overall base depths have increased though and there's more terrain open than a week ago.
USA
The Western US, particularly the Pacific Coast has once again seen violent storm systems slam in from the Pacific, dumping several feet more snowfall on the
Sierra Nevada
, Cascades and Rockies. These mountains were already posting some of the deepest bases in the world (
Mammoth Mountain
the very most at present) so the new snow has just increased the differentials.
It didn't float gently down though and was once again driven in on 100mph winds and, sometimes mixed with freezing rain. So resorts battled high avalanche danger, critical tree well risk, iced-up lifts and many more issues while outdoor New Year celebrations were cancelled.
As with Canada there's unfortunately been a return to warmer weather and some rain after the big Christmas storm, but ski areas like
Jay Peak
in Vermont and Whiteface in New York state have missed much of the wet stuff and are still reporting good powder conditions.