J2Ski Snow Report 1st December 2022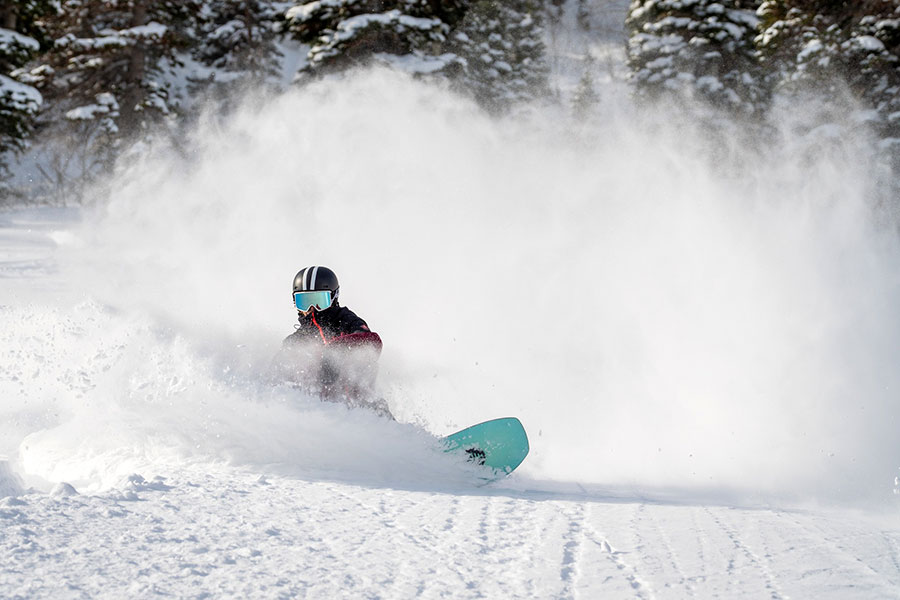 Snowbird, Utah, USA, where they've been riding pow for weeks, they say!
Snow inbound for Japan, arriving in US, and it's cold in Europe.
The Snow Headlines - 1st December
- Dozens more ski areas set to open in the Alps, staying cold but more snow needed.
- Further heavy snowfall for western North America as season start gets ever better.
- Season to get underway in eastern Europe this weekend.
- Japanese ski areas delay opening while awaiting adequate snow (which is now falling)
- Most resorts in Andorra and Spain expected to open this weekend.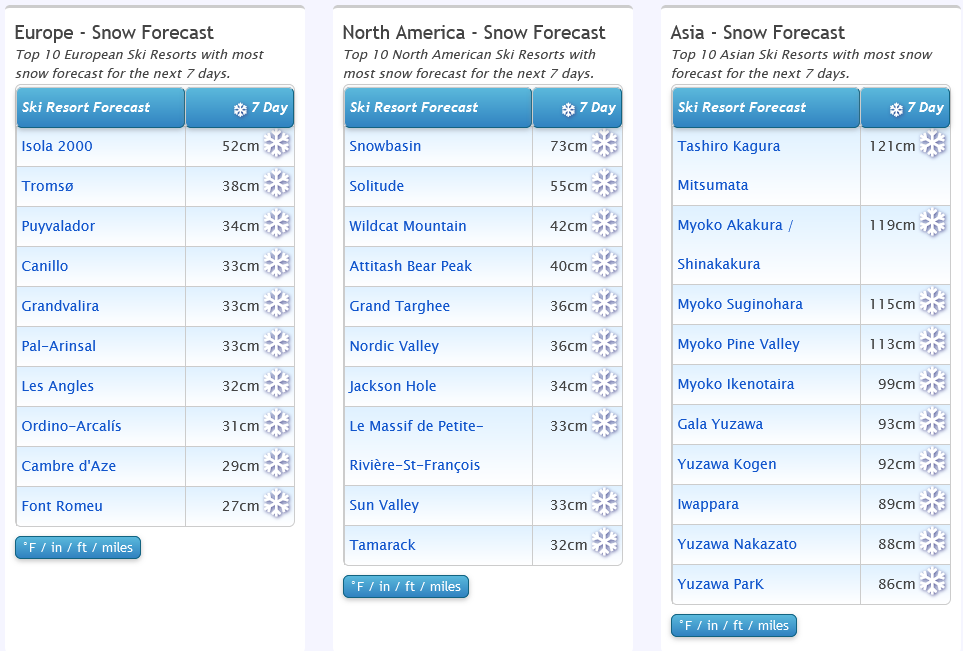 Incoming snow for Japan
Re-publication :- our Snow Report Summary, being the text above this line, is free to re-publish, but must be clearly credited to www.J2ski.com with text including "J2Ski Snow Report" linked to this page - thank you.
World Overview
The world's ski areas are starting to open in their hundreds now as we reach December. North America has had more than 100 areas open since the start of the Thanksgiving Holiday a week ago, while Europe is set to reach it this weekend when many more resorts open in the Alps, the Pyrenees and Scandinavia as well as the first of the season in other mountain ranges in Eastern Europe.
North America continues to see some of the best snow conditions for this early part of the season for some years with more heavy snowfall in the last few days, particularly in the Rockies.
In Europe it's a more nuanced picture with the best snow conditions still at quite high levels leading some areas to delay openings planned this Saturday by a week, while others, with access to terrain above 2,000m, have decided to open early.
Europe
Austria
Austria has continued to lead the way in Europe, in terms of the number of areas open, and to some extent the world, in terms of how much terrain they have open.
Ischgl/Samnaun, which opened for the season last weekend, currently has the most runs open in Europe at over 100km, mostly thanks to a colossal snowmaking effort.
There has been some fresh snowfall this week though and fairly low temperatures, well below freezing up high. It's been drier and often sunny the past few days but snowfall should resume early next week. About 15 ski
areas have opened in the country so far but that may be nearer 50 by the weekend.
France
Early reports from those lucky enough to get on the slopes of
Tignes
and
Val Thorens
this week, the only two French resorts open so far, are positive. It's cold, there's been some fresh snowfall this week, and it's feeling good.
The only real problem is that resorts are playing catch up after the often warm and dry autumn, so there's not a lot of terrain open, particularly below about 1800m.
As a result,
La Clusaz
, which had planned weekend openings from this weekend, has announced a delay, but
Avoriaz
which hadn't been due to open, is opening its highest terrain for an unscheduled preview weekend.
At least a dozen other areas are due to open including some big names like
Alpe d'Huez
, Les 2 Alpes and (a week later than planned) Val d'Isere. The first openings of the new season in the French Pyrenees are also scheduled.
Italy
Italy's ski season is starting to get moving with eight ski areas now open (compared to two a week ago) and dozens more planning to join them this coming weekend.
Dolomiti Superski was among the areas launching their 22-23 season this week (the 49th for the famous pass network) with Cortina d'Ampezzo opening there.
Madonna di Campiglio
has also opened and Cervinia now has slopes open on their side of the shared area with
Zermatt
.
Courmayeur and
Livigno
are among the resorts opening this weekend. The weather is mostly cold at altitude, still a little warm in valleys by the afternoons, but snowmaking systems can fire up overnight and there has been some more fresh snowfall.
Switzerland
Around 15 Swiss ski areas have opened for the season already, although some of these only at weekends until now. In any case, the numbers will double to 30+ this weekend with more centres opening.
Those already open will also be adding terrain with Zermatt-Cervinia announcing they'll have over 110km of slopes open this coming weekend.
There's been some fresh snowfall though nothing huge at the weekend and earlier this week with mostly dry but cold weather at present, some areas in Valais and elsewhere seeing more snowfall at the weekend.
Pyrenees
Spain's largest ski centre, Baqueira Beret, became the first to open in the Pyrenees last weekend, reporting about 40km of slopes open and a 30-40cm base.
Most other ski areas in Spain, as well as those in Andorra, are aiming to open this weekend. There are two public holidays in Spain next week so it is in their interests to be able to offer skiing then. Thankfully it has been cold and snowing, as with the Alps, at altitude.
The first French Pyrenean ski areas are also due to open.
Scotland
It continues to be a fairly positive pre-season picture in Scotland. There's very little natural snowfall so far and the past week has seen a lot of dry, sunny weather but it has been cold – close to freezing and below and the centres have begun firing up snowmaking systems, particularly the all-weather machines.
Glencoe
says they'll be opening their snow sledging run soon.
Scandinavia
Scandinavia's season is starting to gather pace too, with some cold, snowy weather and of course very little daylight now with the winter solstice just three weeks away.
The region's largest operator Skistar announced that its
Vemdalen
base opened last weekend on 26 November,
Sälen
and
Trysil
will open on 2 December and
Åre
and
Hemsedal
will be ready to open next week on 8 December.
Eastern Europe
We're still a week or so off the start of the season in Bulgaria, although
Bansko
reported snow down to low levels last weekend, so it's looking promising.
Several ski areas in the Czech and Slovak Republics got the season started there at the weekend, including several of the larger operators. In fact, the biggest in the region Jasna, opened its first terrain for 22-23, with the best conditions at about 1500m.
There's been some November snowfall but the past week has been largely dry and cloudy, with temperatures in the +2 to -5C range, so great for further snowmaking.
North America
USA
The big news from North America continues to come from The Rockies where it has been dumping once again, with many areas reporting at least a foot more snowfall midweek.
The overall picture appears very good with some beginning to say this is the best early-season snow for many years.
Snowbird in Utah noted on Wednesday that that had been its planned season opening date but that it had instead been "skiing deep powder for weeks".
There was also an unusually good snowfall for the Midwest over the middle of this week and there's a major (snow) storm warning for the US West in force as we complete this week's report.
The East Coast and New England are lagging a little behind with warm temperatures thwarting some snowmaking efforts and bringing rain showers. Most areas are open nonetheless but with thin cover and limited terrain.
Killington in Vermont, which hosted World Cup ski racing last weekend, has the most open.
Canada
It is a similar picture in Canada to that south of the border.
The best snow is in Eastern BC and Alberta with deep powder reported at resorts like
Big White
and Silver Star in the past few days. Most resorts are now open here but the biggest,
Whistler Blackcomb
, has so far only opened a small fraction – less than 10% – of its terrain.
Thus resorts like
Sun Peaks
, Sunshine and
Lake Louise
currently have more trails open. In the east, similar to New England to the south, what's open is limited so far and there's not been much natural snowfall.