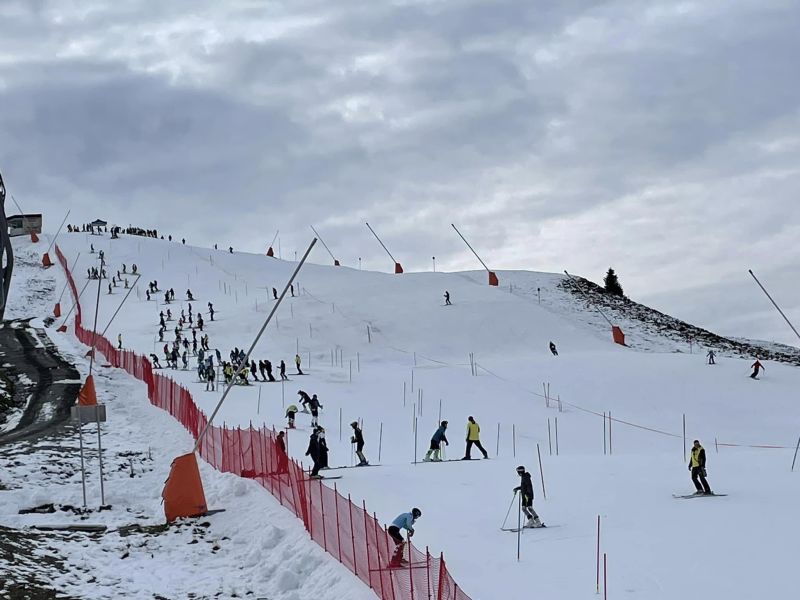 Kitzbühel has become the first ski area to open in the Alps that doesn't rely on a glacier beneath the snow, although for the first week the slopes are only open to teams for training and practice races.
Instead of a glacier, it has used snow-farming - re-using snow stockpiled through summer from last winter then spreading it back out on the slopes in Autumn - to create a run up on Resterkogel, some of the region's highest slopes.
Conditions were described as "like full-on winter" by one skier there this weekend, describing hard-packed conditions in the morning softening through the day.
The slopes are only open to professional teams training and competing in practice events this weekend when fellow Austrian ski area
Lech
Zurs was due to have been hosting men's and women's FIS World Cup Parallel Slalom races, but these have been cancelled for lack of snow there.
Although
Kitzbühel
is the first non-glacier ski area to open in Austria, its opening is a month later than it had been in recent winters before the pandemic. The resort was highlighted as a likely early-victim of climate change in a UN report published in the early 'noughties. Since then it started opening its slopes in early October using snow farming, then making an effort to complete a nearly 7 month, 200+ day season to the following May.
When asked whether the change was due to the pandemic, the warm autumn, high energy costs, another reason, or a combination of one or more of these, the lift company did not respond.
The Resterkogel slopes are due to open to the public next weekend when several other Austrian ski centres, Obergurgl and
Obertauern
, in their cases opening thanks to high altitude, if not glacier slopes, are also due to open taking the number of centres open in Austria back into double figures.
Picture credit: O Kern