J2Ski Snow Report 10th March 2022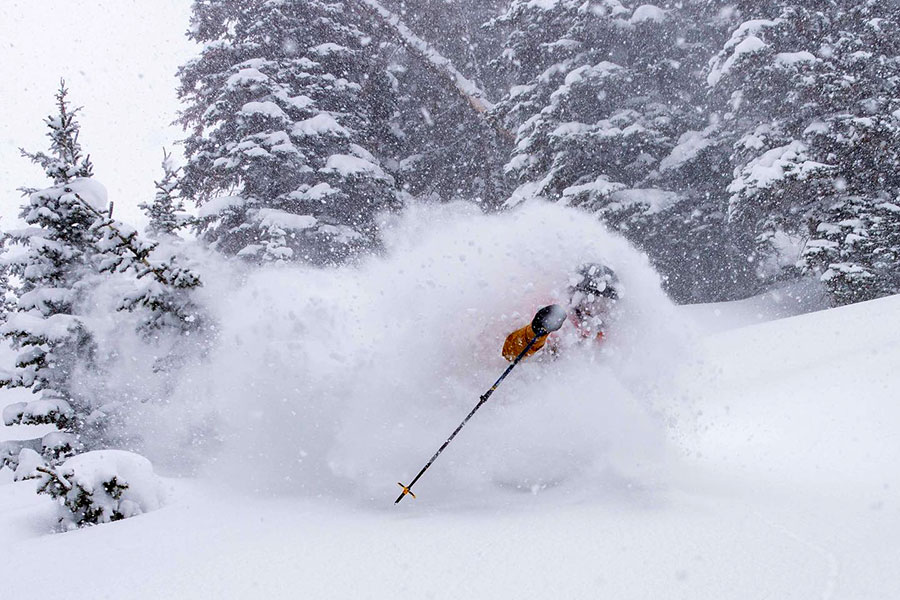 Park City, Utah, got snow this week and seem pretty pleased about it...
Sunshine in Europe, freshies in the Rockies...
The Snow Headlines - 10th March
- South-eastern Europe, Bulgaria, Romania, Serbia – snowiest in the continent for the second week.
- Fresh snowfall across North America.
- The world's deepest snowpack reaches 6 metres (20 feet) in Japan, half that elsewhere.
-
Vail
Resorts extend season at half-a-dozen of their ski areas several into May.
- Scottish ski areas see best conditions of (previously lacklustre) season so far.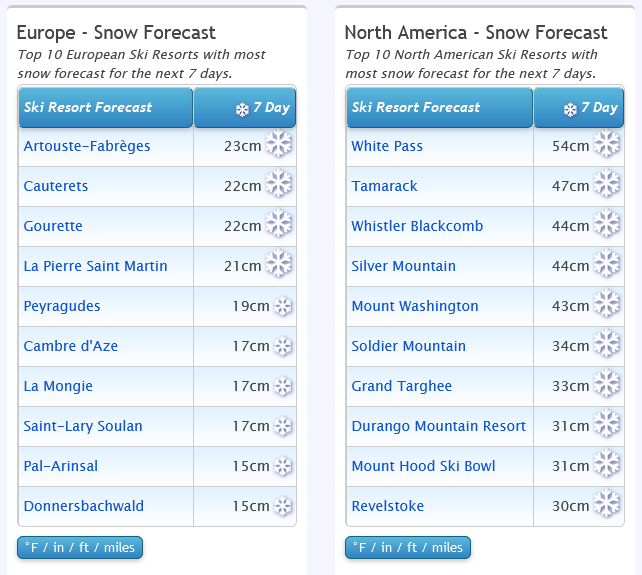 Some top-ups on the way...
Re-publication :- our Snow Report Summary, being the text above this line, is free to re-publish, but must be clearly credited to www.J2ski.com with text including "J2Ski Snow Report" linked to this page - thank you.
World Overview
Europe
It has been a second week of predominantly bluebird days in the Alps and Dolomites with fairly cold temperatures much of the time keeping the snowpack in fairly good shape with just the beginnings of the typical spring freeze-thaw patterns to every 24 hours coming in to play.
Although this has been a below-average winter for snowfall there remains enough lying to see out the season in most areas and almost all are 85-95% open. It has been largely dry and sunny in Scotland and Scandinavia too although that has begun to change in the past few days with more changeable and sometimes stormy weather blowing in with snowfall in Finland, Norway and Sweden.
There was some new light snowfall in the southwest of the continent in the Pyrenees but for fresh snow, the best place to be over the past seven days was down in Europe's South East in countries like Bulgaria, Romania and Serbia which were dumped on for a second successive week.
North America

North America has had quite a snowy start to March with several storm systems moving across the country over the past seven days.
Most regions have seen some snowfall, welcome for different reasons. In California and Colorado, there were two main falls, each bringing an average of 6-12 inches of snowfall giving the famous powder conditions for which the region is famous, but which have not been so common this season.
Further East it has been more problematic with a mix of freezing rain, sleet and snowfall once more for some areas causing challenges again for slope preparation crews, but most have battled through and kept things in shape so all centres and most slopes remain open.
Europe
Austria
It has been a second straight week of almost non-stop sunshine during the daytime across Austria.
Temperatures have been fairly cool but are now starting to warm up as we move further into March and many are expected to see double-digit temps at bases by the start of next week and above freezing higher up too. There's still no real sign of fresh significant snowfall on the horizon.
Snow depths have dipped slightly in most Austrian areas but remain good to see out the season almost everywhere. The
Arlberg
around
Lech
and St Anton have the deepest snow of the bigger areas with upper slope depth nearing 3 metres, but most of the country's glaciers, some staying open to May, June or beyond, have at last 2.5 metres lying.
France
A predominantly sunny week in France too although some light snowfall was reported down in the Pyrenees. The end of the week and the start of the weekend are looking more overcast further north too with the chance of a few centimetres of snowfall in the Southern Alps, although it does not look like much before the sun breaks through again to start the new week.
Most of the country's slopes remain open however with base depths typically in the 1.5 – 2.5 metre range above 2000m, so looking like plenty for the final 4-6 weeks of the season for most areas.
Les Arcs
and
La Clusaz
are posting the deepest cover.
Italy
There's a break in the wall-to-wall sunshine in Italy to end this week with clouds rolling in Friday-Saturday. Few areas will actually see any snowfall though, there's just a chance of a little light snowfall on Saturday before the sunshine returns and that's really only expected up in the North-western corner of the country. But as with the rest of Europe, snow cover continues to look good in most areas, with most runs open, it's just difficult to find much freeriding terrain at present.
Temperatures have stayed cold in the mountains though are set to start climbing well into positive numbers next week. The deepest snowpack, at 2.7m (9 feet) is reported in Trentino.
Switzerland
Switzerland has also enjoyed a second successive week of sunshine.
Temperatures have remained below freezing above 2,000m, day and night, but climbed towards +10C in the valleys and it looks like the sun will still be shining and temperatures a little warmer next week. There is some cloud expected to end the week and start the weekend but just a few snowflakes are forecast for high resorts in Valais.
The deepest snowpack in the country, just under 3 metres (10 feet) up on the Titlis glacier above
Engelberg
, is at about half its usual depth at this point of the season, but still, most ski areas in the country are fully open and conditions on the piste, excellent.
Scandinavia
It has been a quieter weather week in Scandinavia with many areas enjoying settled conditions and blue skies through the weekend. There has been more snowfall in recent days, particularly on the Swedish side of the region and up in Lapland.
Scandinavian ski areas tend to come into their own in March and April as the daylight hours rapidly get longer but temperatures stay low compared to the Alps, so the snow is typically in better shape through the latter half of the ski day. This year doesn't look any different with most leading areas fully open, including the biggest, Are in Sweden, which has every run open for the first time this season.
Pyrenees and Spain
The Pyrenees have seen the most fresh snowfall over the last seven days of Western Europe's major mountain ranges. The snowfall, typically 10-20cm, extended further west to Spain's highest slopes at
Sierra Nevada
and even further west still to Portugal's only ski area at Serra da Estrella. Conditions remain good across the region, as they have been all winter.
It is starting to warm up in valleys and we're seeing temperatures getting into low double digits in the afternoon but staying sub-zero up high and dropping below zero at low levels overnight too. Almost all centres remain fully open with Andorra's
Grandvalira
and Spain's Baqueira Beret both offering over 100 miles of groomed runs apiece.
Scotland
Scottish ski areas have definitely had the best week of a belatedly improving season so far. After losing the two months from mid-December to mid-February, the snowfalls over the past four weeks have built bases and allowed all of the country's centres to open all or most of their runs over the past fortnight.
As a bonus, much of the past seven days saw bluebird conditions with clear skies and no wind, very rare in the Highlands. There has been a bit of a deterioration since mid-week with gale-force winds closing centres for periods and warming temperatures impacting snow cover, but overall things are still the best they've been all season.
Eastern Europe

For the second week in succession, Eastern Europe or more specifically south-eastern Europe, has been the best place in the continent to be for fresh snow. After the two feet of snow in Bulgaria 10 days ago, more snow has been falling in the country, with similar reporting in Romania, Serbia and just over the Asian border in Turkey, where
Uludag
said "the season restarts in March" after a big dump there.
Serbia's leading centre of
Kopaonik
also posted images of a deep snowfall there.
Bansko's long 'home run' back to the resort from the ski area, a measure of snow depth there and often struggling with a 10cm depth at the start and end of the season, currently reports 50cm lying on it.
North America
Canada
A fairly snowy week across Canada with ski areas on both East and West sides of the country reporting 15-30cm of fresh snowfall over the last seven days.
Much of that was at the weekend and start of this week with largely sunny weather since Tuesday across the country. In further good news, pandemic restrictions have been easing in a growing number of the country's provinces meaning, among other things, that providing proof of vaccination is no longer required at many.
Snow depths remain good, with
Kimberley
in Eastern BC posting the deepest at 3.6m (12 feet) on upper runs. That said Tremblant in the East is only 20cm or so less.
USA
It's been a good week for fresh snow lovers in the Western US with ski areas in California, Colorado and other states in the region reporting several snowstorms, followed by sunshine, giving some nice March powder conditions.
Ski resorts in Alaska are now boasting bases of over 4 metres (13 feet) – the deepest anywhere outside Japan.
Resorts further south on the west – Mammoth in California and timberline in Oregon, both with (probably) 3-5 months of their ski seasons still ahead of them, also have 3m+ bases so things are looking promising so far for spring and even summer skiing in 2022.
Over on the East coast it's more of a roller coaster with some resorts seeing rain when others got snow to start the week but it has turned colder and sunny since.