J2Ski Snow Report 23rd December 2021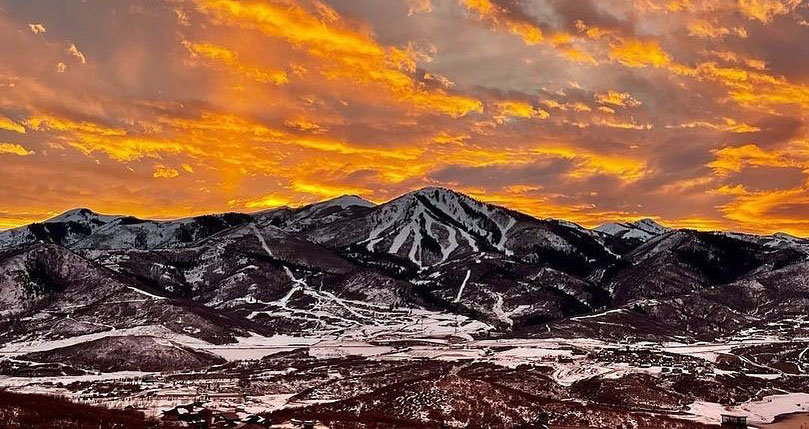 Deer Valley, waiting for a few feet of snow to arrive! It's on the way...
Merry Xmas Everyone!
The Snow Headlines - 23rd December
- Almost all ski resorts now open (the most since early March 2020).
- A second giant snowstorm currently hitting California.
- Austria requires Brits to have had vaccine booster to enter without quarantine.
- Europe's heaviest snowfall this week reported in the southeast – Bulgaria & Serbia.
- Improving picture across US although parts of the Rockies and New England still on catch up.
- Scotland's Cairngorm ski slopes fully booked into New Year.
- Europe's deepest snow reported in Pyrenees – 3.5m/12-foot snowpack.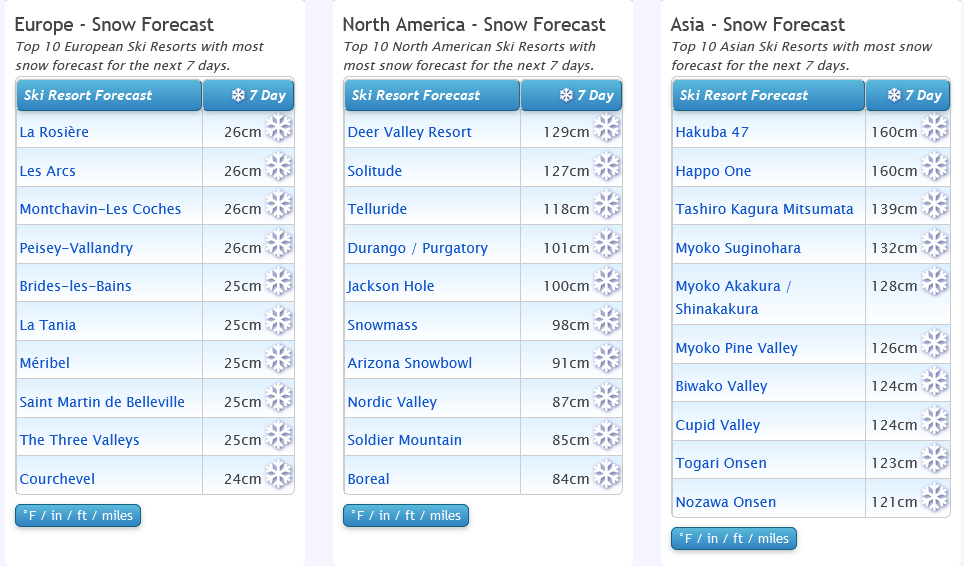 It's powder time in Japan, some big snows in the US forecasts, and top-ups for Europe.
Re-publication :- our Snow Report Summary, being the text above this line, is free to re-publish, but must be clearly credited to www.J2ski.com with text including "J2Ski Snow Report" linked to this page - thank you.
World Overview
Europe
After the big snowfalls in the Alps and Pyrenees a fortnight ago, it has been a second predominantly dry and sunny week across much of Europe. Temperatures have remained low in mountain regions though and with blue skies and plenty of early season snow, it's one of the best starts to the season in years.
It's also the first for two years when all ski areas can open - so long as they have snow cover. No European nation is currently stopping their ski areas from opening, although there are growing restrictions on travel and stricter limits on operating.
The snowfall that has been reported has mostly been in Scandinavia or in Southeastern Europe where ski areas in countries like Bulgaria, Romania, Serbia and Turkey have all reported some great dumps in the past week.
Fresh snowfall is expected back in the Alps though for the upcoming Christmas Weekend.
North America
It's still an improving picture for much of North America after the poor weather conditions of the past few months set opening schedules behind.
The past week saw more good snowfalls in the West, The Rockies and on the East Coast but it is still a game of catch-up with the battle to open more terrain for Christmas and New Year weeks ongoing and mother nature still not fully playing ball - with warm weather continuing to impact the Eastern side of the country in particular.
Virtually all leading areas have now opened and in the West, some centres have had several feet of snow over the past seven days. Up in the part of the continent that has had a great start to the season – the Northern Rockies in BC and Alberta Canada, there's been still more snow and everything is open.
Another huge snowfall is just getting started on the Pacific Coast and is expected to last through the Christmas weekend.
Europe
Austria
Austria has re-opened after its 20-day lockdown and more or less all of the country's 500+ ski areas are open again, with great conditions for Christmas week with plenty of snow from falls earlier this month.
The last seven days have been the second week of largely sunny weather, temperatures around the freezing mark. It is just starting to cloud over now and snowfall is forecast for Christmas Eve/Christmas Day although not everywhere and probably quite light snowfall for most.
On Wednesday the country announced new restrictions on skiers arriving from Denmark, The Netherlands, Norway and the UK who now need to have had their booster to be allowed to enter without having to quarantine - and also to have a negative PCR test.
France
The French season continues to have an excellent start with almost all areas now open and most fully or nearly fully open thanks to the heavy snowfalls the country received a fortnight ago. Bases are also good for this point in the season, the deepest at 3 metres down in the Pyrenees.
It has been another fairly sunny week almost everywhere and on-piste conditions are great. Off-piste it is a more mixed picture with the fresh snow getting older and some reports of snowpack instability. Brits remain banned from France which is particularly upsetting some resorts like Val d'Isere where they'd normally be making up the lion's share of Christmas and New Year business.
Snowy weather is forecast to return over the coming Christmas weekend.
Italy
This has been the week when Italian ski slopes are on TV screens around the world thanks to World Cup ski racing in
Madonna di Campiglio
,
Val Gardena
and
Alta
Badia. Fortunately, the country showed off its best conditions with sunshine and plenty of snow right down to the valley floor.
There hasn't been any fresh snowfall this week but things are looking good after falls earlier this month.
It's very different to a year ago when there was a strict lockdown, instead almost all ski areas are now open and most with all their terrain.
Switzerland
Swiss slopes are in good shape, with more snow in the forecast to start next week.
Virtually all of the country's ski areas are now open and the largest areas are doing battle to see which can open the most for Christmas week.
Verbier
and
Zermatt
both have more than 200km (125 miles) of runs open already and look set to step it up a further notch this weekend.
Scandinavia
Ski areas are now open across Scandinavia but it's not really an epic start to the season yet with ski areas in the southern part of the continent struggling to get adequate cover and nowhere reporting any really good snowfall as yet.
Against that, business is booming with the operator of several of the region's leading resorts, Skistar, announcing an all-time high in bookings. The biggest area, Are in Sweden, has about half of its runs open in the run-up to Christmas.
Pyrenees
The difference between the Pyrenees last Christmas - when nothing was open – and this Christmas with everywhere open and the deepest snowpack in Europe – is remarkable.
Base depths of 2.5-3.5 metres on upper slopes are the norm after big early-December snowfalls and Spain's Baqueira Beret and Andorra's
Grandvalira
have been competing to see who could open the most terrain, both offering around 160km (100 miles) of slopes.
There is snowfall forecast over the Christmas weekend.
Scotland
After the promising start to December Scottish ski centres saw very warm weather through the latter half of last week which melted much of it away.
However, the season officially began for four of them (not
Nevis Range
) last weekend. Cairngorm created the largest area with its large SnowFactory all-weather snowmaking machine, a 150-metre slope, but immediately announced all the limited tickets available had sold out into the New Year.
The Lecht
and
Glenshee
also opened very small nursery slope areas and
Glencoe
have similar next to their sledging run. Temperatures have now dropped again and snow is forecast for the Christmas weekend.
Eastern Europe

It's been an excellent first week or two of the season across Eastern Europe. Ski areas have been posting images of very deep snow and the snow depth numbers are at 1-2 metres already in countries including Bulgaria, Romania, Serbia and even Turkey.
Bansko was one of the resorts that opened last weekend reporting excellent conditions and most of its terrain open from day one.
North America

Canada
The
Canadian Rockies
have had the best conditions in North America for nearly two months now and that hasn't changed very much in the past week, with still more snow for the ski areas around
Banff
and
Jasper
on the Alberta side and the likes of
Kicking Horse
and recently-opened
Fernie
over on the BC side of the Provincial border.
These continue to have the most runs open (100km or so) and deepest snow (up to 2m) in the country.
The only real competition for them has come from south of the border in the past seven days with huge snowfalls in California and other regions in the US West as well as further south in the Rockies in Utah and southern California. But it is an improving picture elsewhere in BC with
Whistler Blackcomb
piling up the snow up top, if not at lower elevations, now with about half its terrain open.
In the east, there was the forecast setback at the end of last week with another unusually warm spell but it has been colder and a little snowier again in recent days. So still behind the normal position for Christmas and New Year, but much better than it was.
USA
An improving picture across the US but with some way to go before we're at normal levels of snow depth and terrain open for large parts of the continent. There has been snow though for most areas.
The most marked change continues to be in the West which has had several more feet of snow and it's falling again here now, heavily in California, whereas for most of the rest of the continent it's drier - though snow is expected almost everywhere over the Christmas weekend.
Mammoth Mountain, open since late October, is now one of the few areas reporting that it's fully open and also in a select group with the snow lying more than 80 inches (2 metres) deep, so it's looking good.
Another system of storms is just getting underway on the Pacific Coast, expected to bring very strong winds and metres more snowfall. Further East the Rockies have had some good snowfalls up high, particularly in Southern Colorado and Utah at the end of last week, but sunny since and most areas are still only partially open, though of course aiming to open more for the busy fortnight ahead.
Still more problematic in the East where again there has been some snowfall,
Killington
reporting a foot of snow at the weekend, but only after another few very warm days. But whilst the past week has been drier it has finally been consistently sub-zero also snowmaking systems can operate and hopefully, it will be a happily snowy New year.
Enjoy the first holiday weekend, and we'll be back with our last report of 2021 next week...