J2Ski Snow Report 1st August 2021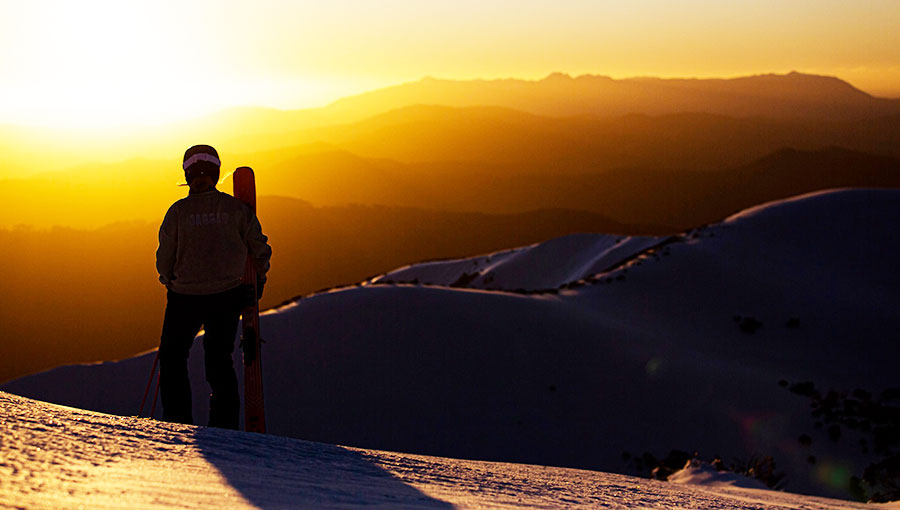 The sun sets on a snowy weekend at Hotham Alpine Resort, Australia
Heavy snow in Australia... if you can get there.
The mountains are waiting for us... be patient, stay safe and follow your local advice and rules on travel.
The Snow Headlines - 1st August
- Incredible snowfall to end July in Australia, but few can get to the slopes.
- Open areas in Europe in single figures as Scandinavian centres close early.
- Dry winter for much of the Andes keeps some ski areas closed for lack of snow.
- 20-21 ski season has ended in Asia – no lift-served ski areas open.
-
Saas-Fee
the latest ski area to start its 21-22 ski season.
- Las Lenas in Argentina and Tiffindell in South Africa may not open for a second season.
-
Portillo
in Chile will not open this season.
August is traditionally the height of the southern hemisphere's ski season and in the north a time of summer skiing and anticipation of autumn's pre-season snowfalls up high.
2021 is looking much better than 2020 in terms of what's open in the southern hemisphere, although there are 'bumps in the road' due to the continuing pandemic, and for some areas a fairly snowless winter to date still. For some ski areas in Europe and North America extreme heat in July has also taken its toll on snow cover.
In the southern hemisphere, unusually, the biggest July snowfalls have been reported in Australia, where totals for the final fortnight of the month have gone well past the metre mark. However it has been a frustrating situation as ski areas in
Victoria
were closed until July 28th by a new pandemic lockdown, and major cities in other states have closed too, so whilst resorts are now open, few people can travel to them.
Things are improving in New Zealand though the problem there was more the "warmest ever June." There have been some good snowfalls in recent weeks but it is still a rather patchy picture.
The Andes have had a predominantly dry July with most areas open but struggling to open much terrain, and some still not open at all due to lack of snow cover. A few are still closed due in part to concerns that they will cost more to run than they'll bring in in pass sales due to ongoing covid restrictions. Elsewhere Lesotho's Afriski remains open, but Tiffindell over the border in South Africa remains shuttered for its second season. As there are only four weeks in a 'normal' Southern African ski season, it's not looking promising.
In the northern hemisphere the last ski area open in Asia, Japan's Gassan, ended its 2021 season last month and only one centre remains open in North America, despite very high July temperatures;
Timberline
in Oregon. In Europe several more centres have ended their 2021 summer ski seasons (earlier than usual in the case of several Scandinavian areas), but eight glaciers remain operational in the alps as we start August.

Snow inbound for Australia...
Re-publication :- our Snow Report Summary, being the text above this line, is free to re-publish, but must be clearly credited to www.J2ski.com with text including "J2Ski Snow Report" linked to this page - thank you.
The Alps
There are eight glacier ski areas in the Alps open as we enter August, although two of these, Austria's Molltal and
Tignes
in France, have scheduled Sunday 1st August as their closing day for skiing, so we're already down to just half-a-dozen.
With Val d'Isere closing their glacier skiing earlier in July it leaves Les 2 Alpes, due to stay open all month conditions permitting, the only French summer ski option for most of the month.
The summer ski season in the Alps has been mostly a story of hot sunny days and fast thawing of what had been quite healthy 3-4 metre snow depths, now down to nearer a metre left at most centres. There was some fresh snowfall during a cold spell in mid-July, but the bigger picture has been that of the fast mid-summer thaw.
In Switzerland Saas-Fee has opened for its 21-22 season, joining year-round
Zermatt
. Cross-border access to the slopes above Zermatt has resumed from Cervinia in Italy and Italy's other open summer ski area at Passo Stelvio has the official safety certification it lacked for its lifts at the start of last month, so is now open to all.
In Austria, the
Kitzsteinhorn
closed for summer skiing on the last full weekend of July but the year-round
Hintertux
remains open. The Molltal is supposed to stay open through summer but said a few days ago on July 28th that poor snow conditions mean it must temporarily close, as it has done for the past few years now, usually re-opening in mid-September.
Two of Norway's three summer ski areas – Fonna and Galdhøpiggen – should also be open in August but both have closed for the season early, in the latter half of July, blaming rain, hot weather and strong winds for melting away the snow cover on the glacier ice in record time.
North America
The only ski area still open in North America is the Palmer snowfield on Mount Hood, at the Timberline ski area in Oregon. This has been hit by very high temperatures and almost a month of sunshine but has managed to stay open so far and aims to do so through to the start of September, this year seen as a particularly important summer season with main US snowsports athletes reported to be training there ahead of the Beijing Olympics.
Another terrain park is maintained to the first few weeks of July at Copper in Oregon but is only open for private training sessions.
Southern Hemisphere
Argentina
Argentina's ski areas can open this winter, unlike for much of last year, but unfortunately it hasn't been great for snowfall, so far, and the southern part of the country, in particular, has had a warm, dry July (the middle month of winter).
Some areas have absolutely no snow at all, and it has been too warm for snowmaking. The best known of these is Las Lenas which announced early in the pandemic it would not open in 2020 but had been gearing up for a full season this year. Most areas do have at least some terrain open though.
The largest, Cerro Catedral near
Bariloche
, initially opened just beginner terrain for much of July but now has limited runs possible on the upper mountain for better skiers. It still has the most terrain open in the country at present with 20km of runs, and no centre is posting a base depth of greater than 45cm (18 inches) as we start the month. Unfortunately, forecasting models are not yet predicting much of a change to the dry conditions as we enter August either.
Australia
As mentioned in our introduction Australia has had a remarkable period for snowfall in the final fortnight of July with some ski areas posting around 1.5 metres (five feet) of snowfall, completely transforming what had been a fairly snowless first half of the season.
This should be (and indeed is) great news but not without a down side alas as the dreaded Delta variant continues to cause difficulties and ski resorts in Victoria, including
Falls Creek
,
Hotham
and Mt Buller, were closed in the state's fifth lockdown until the end of last month, just as the snow dumped down. They are open at present though, with strict restrictions in place.
State borders are closed too and some cities including the largest, Sydney, are in lockdown, meaning although ski areas can open in New South Wales, the slopes have been quiet as few people can get to them. But for what it's worth Aussie ski areas start August with the best conditions in the world, most major resorts with more than a metre of fresh snow lying, almost all terrain open and fairly empty slopes.
Chile
A similar story to Argentina, although with slightly better snow stats on the Pacific side of the Andes to the Atlantic one. It's not a lot better though – the deepest reported base as we enter August and reach the midway point in the season is 70cm, and the most runs open 25km (16 miles).
Valle Nevado has the most terrain open and will be pleased that it has at least got some open, unlike last winter when the Pandemic kept it closed.
Big-name resort Portillo remains closed though, as it too was last year. It published several hoped-for opening dates over the past few months and most recently extended the date back to August 14th from the previous July 31st but on the 29th it confirmed it won't be opening at all for a second successive winter. There's not been much snow here either but the bigger issue at Portillo is the closure of international borders. There had been a hope that fully vaccinated foreigners might be allowed in from August 1st as the country is in the world top 10 for numbers vaccinated itself, but alas that optimistic hope has been thwarted for the time being at least and Portillo has decided to end the uncertainty for its customers.
New Zealand
After the record warm weather in New Zealand in June meant a very lacklustre start to the season there, things have picked up a good deal although it is, overall, not yet a 'memorable' season. There have been some decent snowfalls followed by 'bluebird days' that have seen slopes packed at some centres, but equally, there have been closures for rain and wind at times, and some centres are still struggling to open much terrain.
The 'Transtasman quarantine-free travel bubble' with Australia has also been open/closed and is now closed for August and probably most of September due to the Delta variant cases in Australia.
Mount Hutt, with over two metres of snow lying on its upper slopes, has both the deepest base in the country and with 32km (20 miles) of runs open the most terrain as we start August. But much of that 2.3 metres dates back to a huge pre-season snowfall and it is nice to see other ski areas like
Coronet Peak
and Mt Dobson reaching a metre base on their upper slopes after the very thin cover there was a month ago.
Southern Africa
There have been several periods of snowfall in South Africa over the past month but alas there's been no sign of life at the country's only commercial ski area, Tiffindell. It's the second winter in a row it has not operated.
Lesotho's Afriski looks to have had a better winter than 2020 as at least South African skiers have been able to visit this winter. The 2021 season here is due to run to the last weekend of August and at present, the centre is fully open thanks to snowmaking with the full main slope complete and terrain park also open.