J2Ski Snow Report 1st April 2021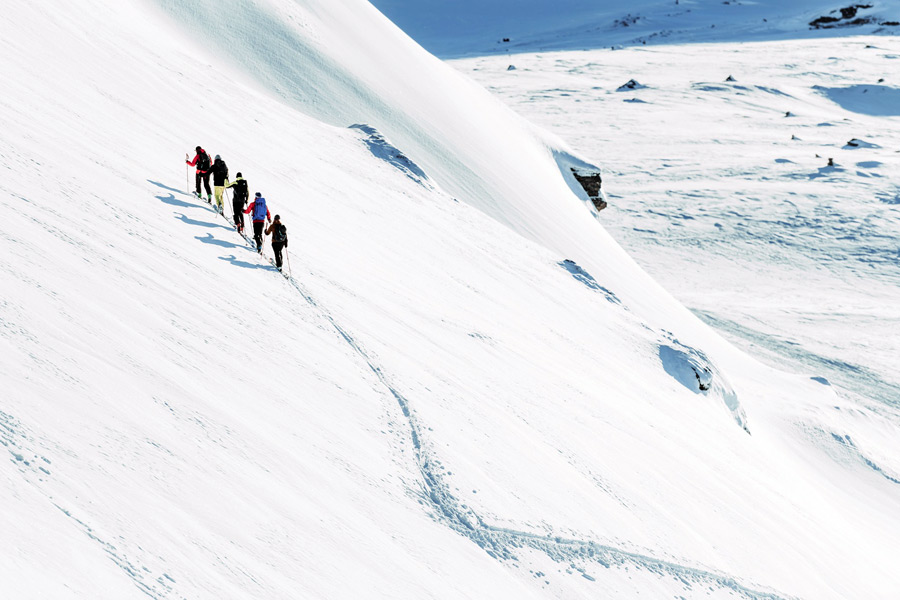 Riksgransen has the deepest snow in Sweden and will be open into May...
Spring weather in the Alps and America.
The mountains are waiting for us... be patient, stay safe and follow your local advice and rules on travel.
The Snow Headlines - 1st April
- Most ski areas in North America closing by mid-April, some open through to May.
- Around a dozen glacier ski areas in Austria and Switzerland will be open into May.
- Whistler closed for 3 weeks due to virus spike, says season now over.
- Italy's Cervinia says it will re-open as soon as allowed to do so by the government.
- Ski areas in the Pyrenees more than double terrain open for Easter as restrictions ease.
- Scotland's
Glencoe
hopes to operate for 1-2 weeks from 26th April.
-
Verbier
closing a week-earlier than planned, Skiwelt already closed.
- It increasingly looks like no 20-21 ski season at all in France or Italy.
The "ski season like none before" nears its natural end with the world's leading ski nations already under scrutiny as to whether they did the right thing to open-with-pandemic-operating-restrictions or not-to-open-at-all. Neither position appears to have made a huge difference either way to national virus stats – with some countries that carefully opened their resorts keeping figures on the lower end of the scale, whilst some that closed all areas saw some of the highest rates of infection in the world anyway.
There's always a new twist with the virus and this ski season though, and the latest one came late on Monday when authorities in British Columbia announced North America's largest ski area,
Whistler Blackcomb
, has to close for three-weeks due to a spike in the Brazil variant of the virus there. A best case scenario would have been re-opening on April 20th for a final month of the season but it has now said it is not going to attempt that and is now closed until winter 21-22.
Despite this surprise news, overall the season is not yet over, though most of the ski areas that are still open will close after Easter next week. For some it will be sooner than they normally would, others say they'll stay open into May, June or even later.
For the world's leading ski nations, it looks like France and Italy will miss the 20-21 season completely, Switzerland is open, Austria and Andorra were open to locals, Scandinavian ski countries and North American resorts all open with various restrictions in place.
As to snow conditions for the ski areas that are still open and for the lucky few that can get to any that are, they are perhaps a little lower than usual in most of Europe, particularly after a very warm end to March for many, as well as the Rockies and California, but they should still offer enough cover to see them through to their planned season end date.
In the Alpine Forecast
After mild weather this week, there's quite a severe cold snap in the forecast for early next week; with snow expected to quite low levels (for the time of year) across much of the Alps.

See where it's going to snow...
Re-publication :- our Snow Report Summary, being the text above this line, is free to re-publish, but must be clearly credited to www.J2ski.com with text including "J2Ski Snow Report" linked to this page - thank you.
Europe
Austria
It is a rather mixed Easter picture in Austria as some of the ski areas we'd expect to stay open through April – like
Ischgl
– haven't opened at all this season. Others like
Obertauern
, are open but say they may end the season soon after Easter because of lack of demand under the country's pandemic opening restrictions.
Of the half-dozen glacier areas several have been closed much of the winter too due to lack of demand, so it remains to be seen if all will open in late April, May and June as they normally would.
In any case the snow up on the glaciers is lying around three metres deep. Perhaps the best bets are year-round
Hintertux
and The
Stubai
, close to
Innsbruck
.
France
French resorts are reporting good snow conditions as we enter April and the Easter holidays week.
The majority will be open to tourism but with the ski lifts remaining closed; so for snowsports it will continue to be a case of ski touring, cross country skiing, snowshoeing and beginner lessons for children as the main options.
With the pandemic limiting operations and income generating opportunities it is currently unclear when the ski areas which would normally stay open through April and in to May like
Chamonix
,
Tignes
and
Val Thorens
will be able to open.
Italy
It's coming up to 13 months since Italian ski areas shut down at the start of the pandemic and after many false dawns it sadly looks unlikely that there'll be any skiing here to end the season, with the third wave of the virus causing another lockdown.
Some Italian summer ski areas – Passo Stelvio, Cervinia and for a while
Val Gardena
- were open from late spring to late autumn in between pandemic waves so it is possible Cervinia and Stelvio will re-open this spring. Cervinia has now publicly stated that is their intention as soon as permitted.
Switzerland
Swiss ski areas have, famously, taken a different path to the other 'big 4' ski nations through the pandemic, opening their ski resorts with pandemic spread prevention measures in place. Studies they have carried out and infection rates recorded have led most of the country's leaders to believe this was the correct decision.
Engelberg currently has the deepest base in Europe at 6 metres (20 feet) and is one of several Swiss areas that look like they'll stay open into May.
Zermatt
has already said they plan to stay open year-round and indeed are coming up to a year of their glacier ski area operating since re-opening after the first Swiss pandemic lockdown in spring 2020.
Verbier has however said it will close a week earlier than expected, in mid rather than late April, due to ongoing operating losses in the pandemic.
Scandinavia
Scandinavia has not had one of its snowiest winters so base depths aren't particularly inspiring as we enter April, and there was some warm weather in the last week of March. But equally it has been snowing and the days are long.
Finland, Norway and Sweden have also taken a pragmatic approach to operating in the pandemic so currently it appears that ski areas like Are in Sweden and
Ruka
in Finland will be staying open through to the start of May as usual.
The deepest snow in Sweden is up in Riksgransen, the self-styled "European capital of spring skiing", so it should be good for its season through to mid-May by which time there should be skiing under the midnight sun.
Pyrenees and Spain
The Pyrenees had a fairly snowy first half of the winter, with warmer weather (but still some snowy periods) over the past month or so.
Only about 10% of the region's ski areas have been operating and those that are open are only allowed to have locally based people visiting, no tourism. The result has been limited terrain open, operating losses and it looks like most will be closing earlier than they normally would, after the Easter weekend.
That said some of big players like Baqueira Beret have greatly increased terrain open for Easter week, from around 30km most of this year to 92km – 75% of the maximum possible, for Easter.
Spain's highest ski slopes at
Sierra Nevada
currently look like they'll remain open to the first weekend of May as usual.
Scotland
It is not looking promising for any skiing in Scotland this spring, with much of the big snow pack that built up between Christmas and mid-February largely melted-away in the month and a half since.
It appears that Scottish centres could open at the end of the month, probably just to locally based skiers, if the notoriously fickle Scottish highland weather throws a late cold spell in to the mix, or indeed the centres fire up their all-weather snow-making systems just for the heck of it, once they finally can.
Eastern Europe
Bulgaria starts April with some tough lockdown measures which almost led to resort closures when they came in on 22nd March, but the main ski areas have stayed open to date.
That was especially good news as the last 10 days of March were also among the snowiest for that late in the season.
Bansko
, where the home run remains open, has said it will stay open to at least April 12th,
Borovets
to the 15th.
North America
Canada
Conditions are looking good in much of Canada as we enter April.
Temperatures stayed cold for much of March and there are good base depths in the West, more marginal once things warm up in the East. There was heavy snowfall in British Columbia in the last week of March bringing up to half-a-metre more snow cover.
Most Canadian ski areas will close by mid-April but, assuming there are no changes due to the pandemic, a number of ski areas should stay open to the end of the month and in some cases into May. They include the three
Banff
resorts of Norquay, Sunshine and
Lake Louise
as well as
Marmot Basin
near
Jasper
to the north in Alberta.
Whistler would have been North America's largest ski area still open for Easter but it will now miss that holiday week due to its early closure. Over in the East Sauveur in Quebec is among areas that keep terrain open later into spring if the snow holds out.
USA
Despite warm temperatures in recent weeks, the snow cover in the US seems to be holding up at most of the country's leading areas.
The majority will end their seasons over the next few weeks but perhaps a dozen will make it through to the end of the month and stay open into May.
Those confirmed so far include A Basin,
Breckenridge
(to 31st May) and
Winter Park
(to 9th May) in Colorado as well as Crystal Mountain in Washington State.
Squaw Valley and Mammoth normally stay open in California too as does
Snowbird
in Utah,
Timberline
in Oregon and on the East Coast,
Killington
in Vermont. All of these areas report good cover and everything open as we enter April.
We'll be taking a break now, before returning with our monthly round-ups over the summer... thanks for reading!