J2Ski Snow Report 4th March 2021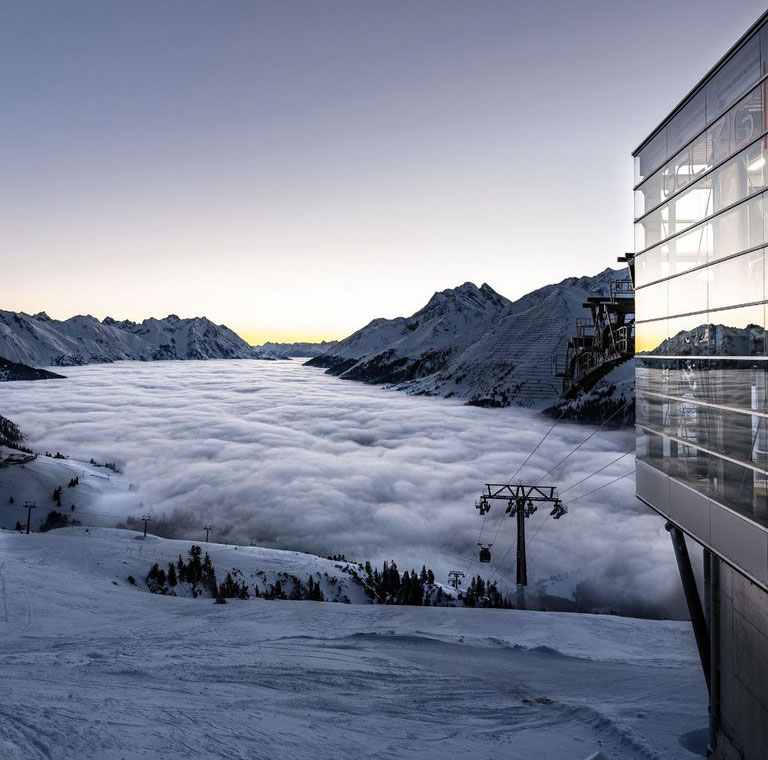 St.Anton, Austria, now open again (for recently-tested locals at least)...
A taste of spring in Europe, snow elsewhere..
The mountains are waiting for us... be patient, stay safe and follow your local advice and rules on travel.
The Snow Headlines - 4th March
- Italy announces ski slopes staying closed until Easter.
- Second week of 'spring-like' weather in much of Europe.
- More heavy snowfall in Northwestern US takes deepest base to 6.5 metres (22 feet).
- Some closed Austrian areas decide to reopen, others decide to close!
As we enter springtime, March is usually seen as the month that marks the beginning of the end of the ski season in the northern hemisphere. Last March was different though as it really did mark the premature end of the 2019-20 season almost a year ago when Italy shut down its ski resorts on the 9th, and most of the rest of the countries of Europe and North America as well as Asia, outside of China, followed suit through the rest of the month.
A year on, and some ski areas in France, Germany and Italy have still not reopened, with Italian resorts told on Tuesday evening they would not be able to open until at least Easter - if any can and do want to open at that point.
The French are yet to announce the position there now the 'closure for February' announced a month ago has extended into March. Even where resorts have been allowed to open, with many restrictions, as in Austria, it is becoming increasingly clear they're losing money doing so under pandemic restrictions, and some are now giving up for this winter.
As to snowfall; there's been very little for a second week for most of Europe, although there are signs of cooler and possibly snowier weather moving in. Not as snowy as it has been recently for North America, but there has been much more snow there, the heaviest still up in the Northwest where the world's deepest snowpack this season is now 6.5 metres (nearly 22 feet) thick.
In the Alpine Forecast
Temperatures around seasonal averages, with a little snow next week and signs of a lot more in the week following.

Where in the world will it snow this week?
Re-publication :- our Snow Report Summary, being the text above this line, is free to re-publish, but must be clearly credited to www.J2ski.com with text including "J2Ski Snow Report" linked to this page - thank you.
Europe
Austria
Austria continues to operate for skiers living local to the slopes only, with any return to ski tourism and hotels reopening delayed until 'at least easter' now. That and the new requirement in Tirol for skiers to have had a negative virus test during the 48 hours prior to hitting the slopes led to St Anton and Solden announcing temporary closures a fortnight back, but both are now re-opened or are about to.
Against this it now looks like
Ischgl
, at the heart of last season's first lockdown furore in the Alps, won't open and the Skiwelt region has announced its closing from this weekend.
On the slopes, Austria has had a second, warm, sunny and springlike week; so it doesn't feel quite so premature as it did in mid-February.
With very warm temperatures in the valleys, the snow has been best where slopes are up above 2000 metres, which unfortunately rules out a lot of well-known Austrian areas, although not the glaciers. The good news though is that temperatures are finally plummeting (it is spring after all) and getting below freezing even at low altitudes.
France
We're awaiting an update from the French government on whether ski areas will be able to open lifts this month or not. It's a month since the last update when it was said ski areas wouldn't open in February, but now it's March.
Most ski areas are 'open' anyway and getting quite creative at helping people to ski without having lifts; besides booming popularity for cross country skiing and ski touring several areas offer taxi rides to the top of a ski run and some use ponies to tow skiers up slopes.
Here too it has been predominantly a second warm and sunny week with an early start of spring skiing conditions, but most resorts have good bases and temperatures are now dropping back below freezing as we head into the weekend.
Italy
Like France, Italian ski areas remain uncertain as to when, and indeed whether, they'll be able to open this season. In Italy's case though the government announced on Tuesday that slope closure would continue until Easter.
As we approach one year since Italy became the first country in Europe to close its ski areas (on 9th March last year), it looks like most of the country's ski areas won't open this winter.
As to conditions, here too there has been a second dry and sunny week for most Italian resorts, temperatures a little cooler than the week before. It is set to slip below freezing this coming weekend even down at resort level and there's an increasing chance of the first snowfalls since mid-February.
Switzerland
Swiss ski centres remain open although the hoped-for opening of restaurants on March 1st hasn't materialised. Hopefully it will be possible to sit on a terrace outside a Swiss mountain restaurant in a little over a fortnight if you're lucky enough to be able to ski Switzerland at the present time.
As with the rest of mainland Europe, it has been a second warm, sunny week, with just a few areas reporting a few centimetres of snowfall as a weak front moved through last weekend. Temperatures are dropping now though and more light to moderate snowfall should arrive this weekend.
Engelberg, with just under five metres of snow lying, still has Europe's deepest posted base,
Andermatt
, with 4.6 metres, in second place. The 4 Valleys, with about 380km of runs open, has the most terrain currently ski-able in Europe.
Scandinavia
Ski areas in Scandinavia remain open despite intensifying pressure from governments in Finland, Norway and Sweden as they strive to keep infection numbers down. This is the one point of Europe that has reported some fresh snowfall over the past week, although not large amounts, the most in the far north at recently opened Riksgransen in Northern Sweden with a similar 10-20cm reported by Norway's coastal powder Mecca,
Voss
.
Pyrenees
No real change on a week ago for the Pyrenees either. It did not get so warm here as further east and north in the Alps but was still above freezing and too warm for snowfall for another week. The situation with pandemic operating restrictions also continues unchanged with limited numbers of Spanish areas open and those that are limiting amounts of their terrain to about 20-30% - due to limited demand as only locally based people can visit still. The same for Andorra whilst French resorts are open to tourists from a wider part of the country but are not allowed to run their ski lifts.
Scotland
Alas the continuing springlike weather, into its third week now, is having an impact on the unused snow cover on Scottish slopes. So far most of the country's ski areas are still showing cover on the runs themselves complete but with large brown patches appearing around them as the heavy winter snow begins to melt away.
Currently, it appears centres won't be able to open until late April, at the earliest, and perhaps then only to people living locally - if there's any snow left.
Eastern Europe
Bansko had its annual place on the world ski racing stage last weekend as the Alpine World Cup rolled into town. Conditions were actually a little better in Bulgaria than at some resorts in the Alps with temperatures not climbing so high, but otherwise, it has been the same springlike weather and posted snow depth totals are down 10cm or so on a week ago.
The region's ski centres still have all of their terrain open and plenty of snow lying now to see them through to the end of the season. In any case, temperatures are dropping again this weekend.
North America
Canada
Conditions continue to look good across Canada's main ski areas. The biggest snowfalls of the last seven days came in Alberta and Eastern BC where resorts posted up to 50cm of snowfall over a few days leading into the weekend, so most centres had great snow cover.
In the east, there was fresh snow too around the same time but more like 15-30cm reported. It was perhaps appreciated in the east more though, where there have been fewer fresh snowfalls this season, than the west, which has had plenty.
Since the weekend it has been drier across the country, but generally stayed cold so not much of a thawing issue so far. In fact, the long term forecast for
Banff
is a cold spring. As ski areas stay open into May there that's definitely good news.
USA
The US continues to post some impressive snow totals although things did appear to calm down at the start of this week and the start of spring following the very snowy February in the Northwest of the country.
Those big snowfalls (some resorts in Washington state posted over two metres/seven feet in the last week of last month, whilst Jackson Hole said it was their snowiest February ever recorded) put Alpental up to a 6.6 metre (22 feet) base now, the deepest in the world at present. But things are good to very good almost everywhere in the US with pretty much every resort open, and now most fully open.
Colorado and the southern Rockies are still on the below-average cover but are catching up and the second half of winter is proving much more consistently cold and snowy at east coast ski areas than the first half did.