J2Ski Snow Report 28th January 2021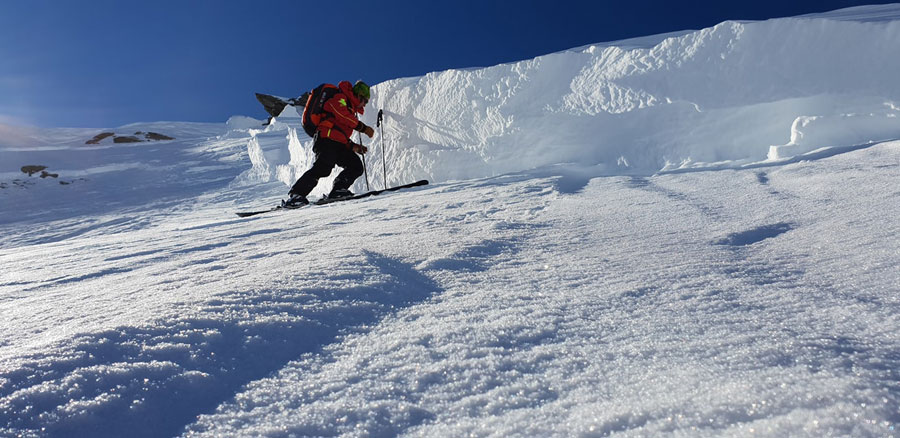 Pisteurs at Val d'Isere are up already, making the mountains safer... they're going to be busy over the next few days!
Serious Avalanche Situation in European Alps (see below)
The mountains are waiting for us, and it's snowing... be patient, stay safe and follow your local advice and rules on travel. Most of us can't travel yet, but for those who can; please be careful!
The Snow Headlines - 28th January
- Up to 1.5 metres (five feet) of snowfall in the past week in the Alps.
- Heavy snow forecast for the Alps.
- Huge snowstorm hitting California - up to 3 metres/10 feet of snowfall possible.
- French ski season start 'improbable' before March.
- Italy's
Dolomiti Superski
optimistic of opening from February 15th.
- Powder conditions in Bulgaria.
For everyone able to reach the Alps at the moment, please be alert to a widespread and dangerous avalanche risk; there is an already unstable snow pack, with a lot more snow forecast, across a wide area. Please see our Critical Avalanche Outlook, and double-check local conditions. Stay safe!
It's a very snowy end to January in many of the northern hemisphere's ski regions. Big falls of up to five feet (1.5 metres) have been reported in the Alps over the past week and a storm hitting the Californian Sierra at the moment might double that in places by the weekend. There have been 30-60cm falls in many other areas; Scandinavia, the Pyrenees, North America's east coast and even Bulgaria and Scotland.
It is not, of course, all lovely fluffy light powder. Gale force winds have been reported in many areas too, including the Alps, The Rockies and California again and few low-lying places have had rain or fog as temperatures have risen.
But the pandemic continues to cast its shadow over ski centre operations the world over. Countries remain divided with some allowing slopes to open but only for locals, others allowing resorts to open but not to run their lifts, and some keeping everything closed. As we approach the half-way stage of the main season we seem to be getting into something of a holding pattern as hopes of normality get kicked further down the road. Currently, there's a hope Austria and Italy might open for ski tourism from mid-February, but France and Germany seem more pessimistic.
In the Alpine Forecast
Some huge snowfalls in the forecast (and already occurring) for the northern French Alps, much of the Swiss Alps and parts of Italy.

Lots more snow heading for the Alps this week... and, yes, that second column is amounts expected in the next 2 days!
Re-publication :- our Snow Report Summary, being the text above this line, is free to re-publish, but must be clearly credited to www.J2ski.com with text including "J2Ski Snow Report" linked to this page - thank you.
Europe
Austria
Austria has had one of its snowiest weeks of the winter so far and it hasn't stopped yet with the snow expected to keep going into the weekend.
Those who watched the night slalom World Cup races at
Schladming
on Tuesday evening will have an idea of how it has been. But that said it hasn't been one non-stop dump. The negatives of the snowstorm included periods with strong winds, rain rather than snow at low levels at times and some low-lying fog (that impacted the Hahnenkamm races at Kitzbuhel before Schladming, with Saturday's race postponed).
Some Austrian areas, including the
Zillertal
Arena, have now posted more than 1.2 metres (four feet) of snowfall in the past seven days. Austrian resorts are currently open to local skiers only with hotels and tourism closed. The current earliest date ski holidays might resume is February 15th.
France
The French government announced late last week that ski centres there would not be allowed to open for the busy school holiday period in February and the country's prime minister said he thought it "improbable" resorts could open at any point in February.
This has led to pessimism that resorts will now bother to open their ski slopes at all, even if they're eventually allowed to in March, due to the costs and logistics involved in doing so for a few end-of-season weeks. The irony is that unlike in Austria where ski lifts are running and slopes groomed, in France winter holidays are happening and resorts are open offering lots of activities – just not lift-accessed downhill skiing.
It has been a snowy week here too, as for most of the Alps. Some resorts reported as much as 60cm (two feet) of snowfall over the weekend and it hasn't eased up much since with
Chamonix
and
Courchevel
among resorts posting 30-40cm of fresh snowfall in the 24 hours to Wednesday morning.
Italy
There seems to be a mixture of optimism and pessimism coming out of Italian ski circles at present. On the optimistic side, the country's biggest ski area, Dolomiti Superski, has published several media statements saying the latest planned opening date of February 15th looks good because they still have half-the-season left and Easter is early, which is good for business.
The Italian government committee responsible for formulating rules for opening under COVID conditions has approved their suggestions, which include a 50% capacity cut. Others are less positive though and fear the 15th February date will be missed as two January dates have been.
Italian resorts have also been reporting plenty of snowfall from the current storm in the Alps although many are not bothering to post official measurements during the lockdown.
Switzerland
Swiss ski resorts have posted some of the biggest snowfalls in Europe over the past week with ski areas in the
Portes du Soleil
(open on the Swiss side of the border, closed on the French) reporting up to 1.5 metres (five feet) of snowfall in the past seven days.
The country's ski areas remain open and ski holidays are still possible for some, although rules for entering the country are very restrictive/prohibitive depending on which country you're arriving from.
Engelberg
and
Andermatt
continue to be the only ski areas outside japan posting bases of more than 4 metres.
Scandinavia
There was a very snowy period in Scandinavia in the latter half of last week when big storms brought 30-60cm of snow to ski areas in the region; coastal resorts like
Voss
doing especially well. Since then conditions have been cold, but largely dry and often sunny.
Most Scandinavian resorts are open but travel to them, particularly international travel, is subject to many restrictions.
Pyrenees
Fresh snowfall in the Pyrenees too, with 20-30cm posted at the weekend by ski areas in Andorra and Spain.
With ski lifts in France closed, ski areas in Andorra and on the Spanish side remain open, although still only to people living very locally.
The amount of terrain open has dropped dramatically as centres look to cut costs against the drastically reduced income. Two of the biggest centres in the region, Andorra's
Grandvalira
and Spain's Baqueira Beret both report only about 30% of terrain open, down from a high nearer 75% earlier in the month.
Scotland
Scottish ski areas have reported some more great snowfalls in the past week with
The Lecht
reporting its access road had disappeared under all the snow. Plenty of people have been out ski touring despite the slopes closed due to the latest lockdown, but
Glencoe
reported they were continuing to prep terrain ready for whenever they can run the lifts again. There's no news on when that might be.
Eastern Europe
The best conditions of the season so far (and perhaps for several seasons) in Bulgaria at present with
Bansko
reporting 50cm of powder on the slopes on Wednesday. Temperatures, although now climbing, have been very low and there's a big change from the snow shortages of December. The long slope back down to Bansko resort from the main ski area has also opened for the first time this winter.
North America
Canada
Good conditions still in Canada, with a greatly improved picture in Quebec, following the warm weather issues of November and December.
COVID restrictions do mean only locally based people can get on the slopes but they are open at least. Over in the west conditions remain amongst the best in the world at present with more fresh snow and most ski centres in Alberta and BC reporting they're fully open (in terms of all lifts running and most trails open), including the biggest,
Whistler Blackcomb
.
USA
It has been a snowy and sometimes wild weather week for much of the USA. Last week ended with heavy snowfall for New England in the northeast where conditions continue to improve after the poor (too often to warm and wet) end to 2020. Last weekend was powder time there.
In the West, the problem has not been so much warm weather, but dry weather, with snowfall totals to date way below the seasonal average – several resorts in Colorado just reached the 100 inches (2.5 metres) mark for snowfall more than a month later than last season. Here too though there's been some fresh snow.
California is in the middle of a multi-day storm right now which has already dumped several feet of snow and the most optimistic forecasts project possibly 10 feet/3 metres might have fallen in total by the weekend.
Be careful out there...