J2Ski Snow Report 17th December 2020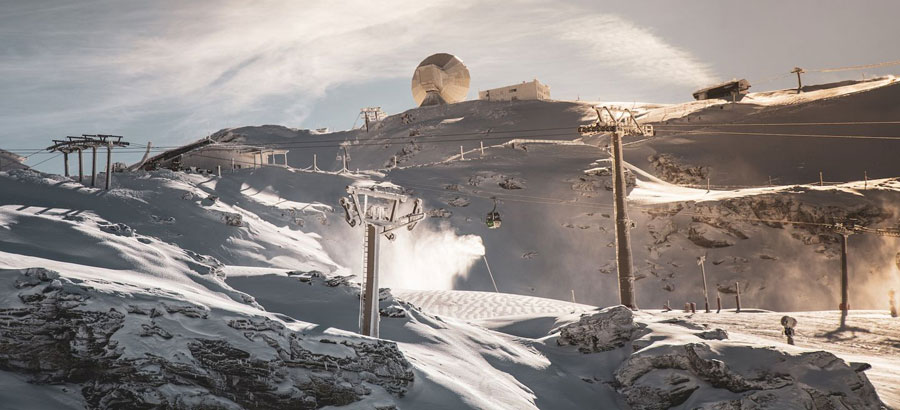 Sierra Nevada, Spain, opens December 18 (tomorrow!)...
Many ski areas now open, 100 in Switzerland, some European countries still closed, snow in the forecast...
The mountains are waiting for us... please stay safe and follow local advice on travel. We can't all go skiing just yet but we can dream!
The Snow Headlines - 17th December
- Around 1,000 ski areas now open in more than 30 countries, including Switzerland.
- January 7th 2021, likely season-opening day in Austria, France and Italy - Andorra maybe Jan 3rd.
- French ski resorts open for Xmas and New Year, with everything but ski lifts.
- Deepest snow depth in the world passes 3 metres (10 feet).
- Austrian resorts open to locals from Thursday next week (Christmas Eve).
- Most leading resorts now open unless in Andorra, Austria, France, Germany or Italy!
- Ski season starting in Bulgaria and Czech Republic this weekend.
The start of the main 20-21 ski season is upon us and whilst the picture, due to the virus, remains gloomy (doubly so for British skiers with the added complication of Brexit), things aren't bad in terms of snow cover for those who can get to the slopes. There are probably now more than 1,000 mark ski areas open in Europe, North America, Asia and Africa.
Snow conditions are fairly good for mid-December across most of Europe, after the big snowfalls earlier this month. Scotland, where most centres open on Saturday, doesn't have much but most other European countries are looking pretty good.
In North America, the north and west of the continent have had the most snow with below-average cover in much of Colorado and Utah as well as up in Quebec, but most areas have now opened anyway and are making the best of it.
Although the virus is the bigger threat to the season by far, almost all European ski nations other than the four that announced Christmas and New Year closures (Andorra, France, Germany and Italy) have seen their ski centres open, with Bulgaria and Scotland joining the list this coming weekend.
Austria is closed to tourists over Xmas and New Year but opens to locals from Christmas Eve.
As to the snow, there's not been so much this past week after the big falls the weekend before last, but most areas have seen more, smaller, accumulations. There is snow in the immediate forecast for Japan and USA, and in the longer-range for Europe.
In the Alpine Forecast
A clear and settled week, before a distinct turn to cold, and the possibility of some heavy snowfall for much of the Alps now in the forecast for the last week of the year.

Snow heading for the USA and Japan this week...
Re-publication :- our Snow Report Summary, being the text above this line, is free to re-publish, but must be clearly credited to www.J2ski.com with text including "J2Ski Snow Report" linked to this page - thank you.
Europe
Austria
Austrian ski slopes are due to officially open (or in the case of the glacier areas and Kitzbuhel, re-open) in a week, from Christmas Eve onward. Initially, the lifts will run and slopes open only to local people, but tourists are due to be allowed to return after a fortnight on January 7th – a date now being mooted as 'opening day' for French and Italian ski areas also.
Conditions are reported to be ideal after the big snowfalls in the first half of last week and it has stayed fairly cold so there's not been much thawing and there have been a few small snowfalls to freshen things up too.
France
France has ended its lockdown and winter tourism can resume, except that the ski lifts must stay closed until January – with January 7th being currently suggested for the season-opening day.
Mostly domestic tourism is being encouraged although British chalet holiday companies are happy to rent property to Brits who feel able to have a Christmas or new year break on or by the slopes, one offering 'sledge-out, sledge-in" accommodation. Ski touring is also being encouraged by some areas, with Les 2 Alpes announcing it is grooming two blue runs back down to the resort for ski tourers wanting to return on a groomed piste after hiking up.
Here too there's been some more fresh snow but much less than last week.
Italy
Italian ski areas are also focused on January 7th as the day, they hope, they can open for the ski season (or re-open in Cervinia's case).
Most appear to be in great shape after the recent snowfalls but we'll all be able to see for ourselves on TV screens over the next few weeks as the various world cup tours focus on the country in the latter half of the month with spectator-free races given the go-ahead at
Alta
Badia,
Bormio
and
Val Gardena
among others.
Switzerland
Switzerland remains the only major Alpine ski nation where the ski season is in full swing – well, kind of. There were fears resort closures would be announced at a government briefing last Friday, but again that didn't happen, and instead, lots more Swiss areas opened on Saturday.
In fact, more than 100 Swiss resorts have now opened and most of the rest should open this weekend. Those already open are opening more terrain – over 100km of slopes are open in the 4 Valleys now for example, and snow depths are generally good for this early in the season thanks mostly to the big snowfalls the weekend before last, although they have been smaller falls in the past seven days too.
Andermatt
has one of the deepest bases in the world at over 3 metres (10 feet) now. Some resort businesses remain closed and resorts are stressing the importance for skiers to adhere to pandemic operating requirements. These now include limits on the number of the people on the lifts and in some cases on the mountain – similar to North American restrictions. Andermatt, for example, has set a limit of 8,000 people on the slopes and lift tickets must be purchased in advance online.
Verbier has a limit of two-thirds capacity on cable-cars and has police and specially employed 'COVID-angels'; in place to require social distancing.
Scandinavia
The bigger ski areas in Norway and Sweden delayed opening for the season, partly due to less-than-great conditions, partly the pandemic, but from this weekend most if not all of the big names will be open.
Norway's larger centres including
Geilo
,
Hemsedal
and
Trysil
have all opened over the past couple of weekends and Finland's four biggest centres (Pyha,
Levi
,
Ruka
and Yllas) have been open for some time. Next up is Scandinavia's biggest ski area, Are in Sweden, due to open this weekend.
Conditions have been improving across the region with cold weather and snow showers over the last week.
Pyrenees
The Pyrenees have opened for the season this week with a number of ski areas on the Spanish side of the mountains opening from Monday on, each restricted to local skiers only.
Baqueira Beret, the country's biggest, reports 33 runs open, about 35km of slopes in total, and the snow lying 60cm deep after recent December snowstorms. There's been some consternation on the French side of the border after Spain rejected the call to keep its ski areas closed and the French government say that as with Switzerland they'll be patrolling the border and prosecuting any French skiers who try to pop over to ski in Spain whilst French areas are closed.
Andorra is also closed although some reports to J2Ski indicate the resorts there may open as early as January 3rd.
Scotland
The Scottish ski season officially begins this Saturday, December 19th, but it remains unclear how much terrain will actually be open. All five Highland ski-centres now have all-weather snow-making systems which mean, unlike the 'olden days' they can open on a set date even if temperatures are well above freezing, and guarantee snow cover. The problem is the machines can't cover that big an area, so it's a case of creating a short run or some nursery slopes or perhaps a small terrain park with the snow.
December conditions have actually been pretty good, with a big snowfall a fortnight ago and some smaller accumulations since. But it has also been a little warmer and centres have said "not enough snow" to open main runs so far, with the snowline moving back up the hills, although
Glencoe
has already been open for sledging.
More snow is forecast so it remains to be seen what can open on Saturday.
Eastern Europe
Some Eastern European countries have thought long and hard whether to join the call for Christmas/New year closures from their larger ski nation EU neighbours to the west, in the end deciding, "No".
Ski areas in Poland, Romania, Serbia and Slovenia all opened last weekend and
Bansko
in Bulgaria and Spindleruv Mlyn in the Czech Republic are among those opening in the next few days.
Snow conditions look to be improving as we move through December with Bansko reporting snowfalls earlier this week which, along with its snow-making arsenal, appear to have provided top-to-bottom cover ahead of the season.
North America
Canada
Canada is divided between a generally snowy picture in the west of the country (Alberta and BC) and a poor start to the season in the east (Quebec and
Ontario
). As a result, most ski areas are already open on the Western side and few in the east.
Most will open in Quebec this weekend though, where it has gone from warm and wet for over a month to minus 20C and sunny in recent days – still not much snowfall but good for snow-making. In the west, several ski areas (one of them Sunshine at
Banff
) have posted 3m+ base depths, among the deepest in the world at present.
Both halves of the country are seeing growing virus cases and increased travel and operating restrictions.
USA
Hundreds of ski areas are now open across the US although here too, rising virus cases have led to ever-increasing calls for common sense sticking to the pandemic-spread-prevention rules all have in place.
There's been a lot of fresh snow and some powder days to start the week in California and the northwest. The Rockies saw snow at the weekend too, but not so much and the snowpack is currently reported to be around two-thirds the average for this early in the season. The East Coast has had a challenging start to the season, as up in Quebec to the north, but recent fronts have brought some snow and snow-making weather, with unseasonable warm spells in between.