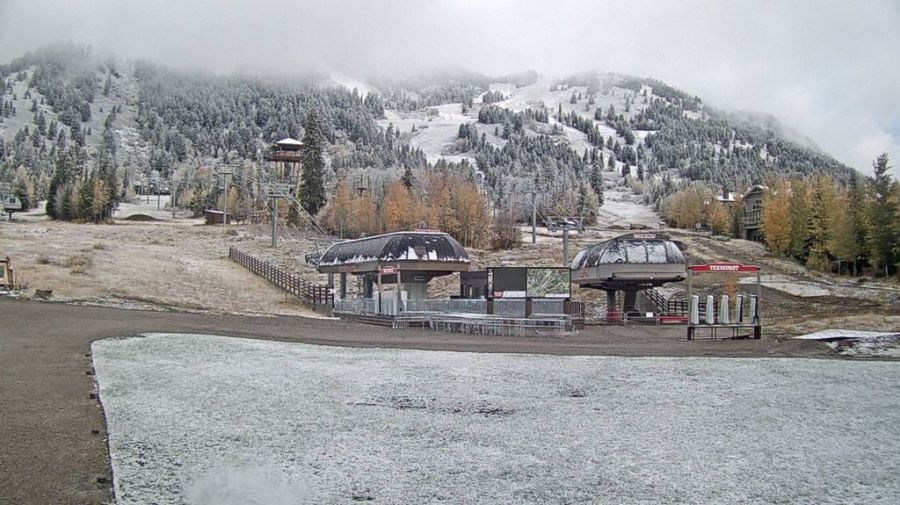 North American resorts are preparing for similar operations to European ones this winter, but one key difference is capacity limits. In Canada and the US most areas will be restricting the maximum number of people on the mountain, and in enclosed lifts like gondolas or cable cars (known as trams in the US), in Europe it looks like they won't.
Jackson Hole (pictured this week following pre-season snowfall) is still working out the details of its operations but says it expects its famous tram, which serves the greatest continual vertical rise in the US, will see its capacity limited to about a third of the normal 100 people per cabin. To off set the danger of that transferring the problem to queues building at the base the resort says it will extend operating hours, opening up at 8.30am.
They're also getting creative, they say, in looking at more routes up the mountain. Fitter skiers will have an option to take a chairlift, then a traverse, before hiking up around 400 vertical feet ion a bootpacked route to the summit of the area, an option not previously available.
The resort is selling tickets online in advance as part of the plan to limit numbers and reduce the need for physical ticket sales. One day – December 30th – has already sold out.
A spokesperson for Jackson Hole told J2Ski that the resort had already gained experience operating safely during the pandemic as it had set record numbers for domestic business over the summer and autumn, describing traffic as "off the charts."
The spokesperson said that despite having to close early due to the pandemic lockdown last season the resort still posted one of its best winter's for visitor numbers before early closures and was poised and ready to welcome international guests again as soon as travel restrictions are lifted – which they hope will be before the end of the season in April.