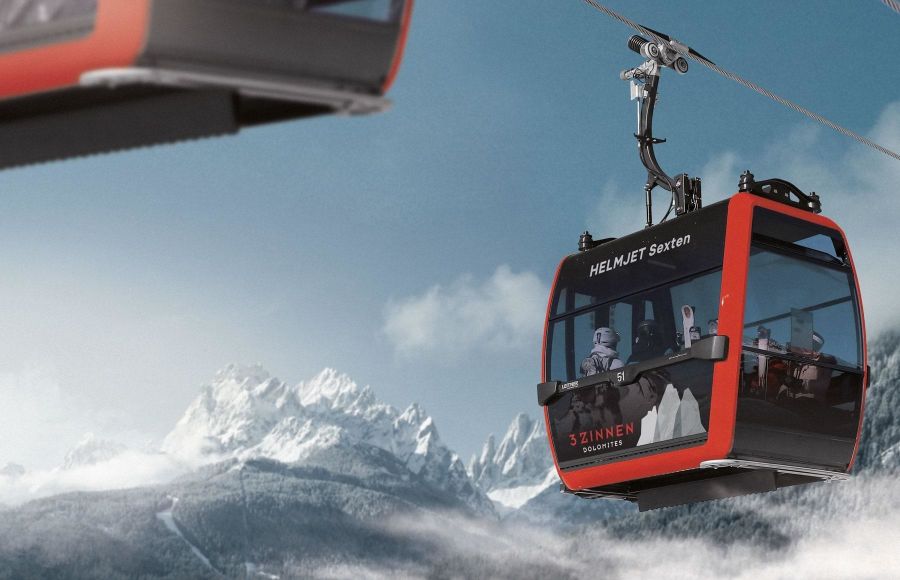 A new gondola due to open this winter at the 3 Zinnen Dolomites ski resort in a south eastern corner of the vast Dolomiti Superski region will be the crowning glory of a six-year project to transform the ski region, the lift company's CEO says.
The new 10-seater "Helmjet Sexten" gondola will replace the former Monte Elmo Sesto lift which began operation back in February 1981.
"Every new lift we build is special to me. But the "Helmjet Sexten" is a passion project: we have all been waiting for it for many years," said Mark Winkler, CEO of 3 Zinnen plc, who adds, "In a way, it is the jewel in the crown of the 3 Zinnen Dolomites sports and mountain destination—the last piece in the jigsaw puzzle of investments we made over the course of the past years. We are giving our main entrance in Sesto a massive upgrade: the state-of-the-art facilities will offer our guests much greater comfort while reducing the rush and waiting times of the old system. Personally, I cannot wait to sit in the new 'Symphony' premium gondola for the first time and take in the views of the Sesto Sundial."
The 3 Zinnen Dolomites ski resort did not exist under that name until 2014 when the transformation of the former Sesto Dolomites area began.
At the time the area consisted of 50 kilometres of slopes on two mountains, but since then this has been expanded to connect five ski mountains and 115 kilometres of slopes served by 31 modern gondola and lifts.
3 Zinnen Dolomites were added to the destinations offered by the UK's largest ski tour operator, Crystal, last year.