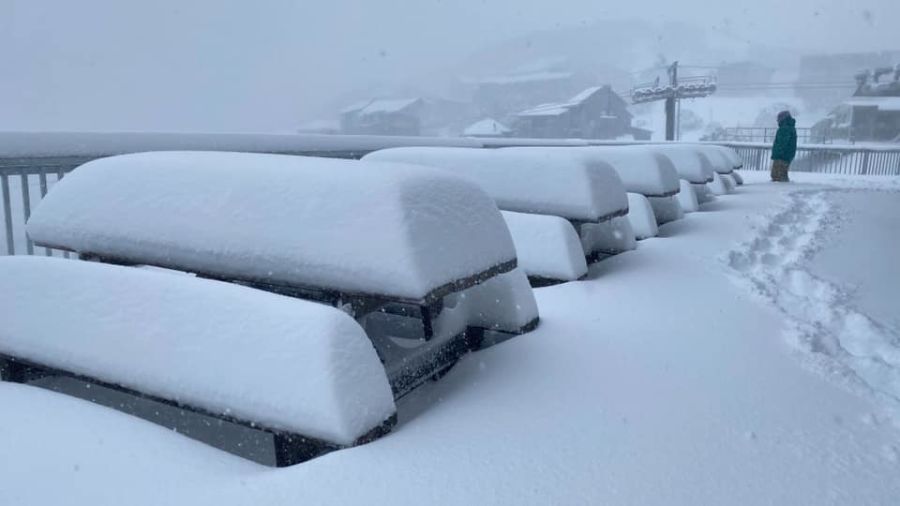 Ski areas in Australia have confirmed their expected 2020 season opening dates over the past 24 hours since he governments of both New South Wales and Victoria, where most are located, confirmed ski areas could open from June 22nd.
Not all will open on Monday the 22nd although several are aiming to. Others say they'll aim to start the lifts running on Wednesday 24th or Friday 26th.
Currently Mt Buller, Mt Baw Baw and
Thredbo
say they aim to open on the 22nd whilst
Perisher
,
Falls Creek
and
Hotham
(all owned by
Vail
Resorts) say they'll open on the 24 June. Mt Hotham is pictured above on May 1st this year.
Australia's highest ski area
Charlotte Pass
will have company operated accommodation open from Thursday 25th June, with the expected commencement of mountain operations from Friday 26th June.
Mt
Selwyn
had said it would remain closed for rebuilding during the 2020 season anyway, due to bushfire damage which destroyed lifts earlier in the year, even before the virus became an issue.
As with ski areas opening in other parts of the world, the areas are stressing the 'new-normal' on the slopes will include reduced numbers, advanced online ticket sales only, allowed on the mountain, social-distancing, increased cleanliness measures and so on.
The Australian ski season traditional begins on the Queen's Birthday long weekend, which includes a Monday public holiday, this year on the 8th, at the start of June. So opening is 2-3 weeks later than it would have been without the pandemic.
Australia is the second major country to confirm resorts are re-opening following New Zealand. Here too resorts are opening typically 2-3 weeks later than planned. First, and possibly first for the 2020 southern hemisphere winter will be Mt Hutt on June 12th.
Elsewhere in the southern hemisphere it remains unclear when or if ski areas will be able to open in the Andes where the virus spread is currently increasing. Chile appears to have particularly bad infection stats. Argentina has a hard lockdown and one ski area there, Las Lenas, has said it won't open this season even if that's eased at some point so it could.
In Southern Africa Lesoho has come out of lockdown and its Afriski area says it will open June 18th, a fortnight later than planned. It is reliant on business for South Africa, where the region's other ski area, Tiffindell, is located. However he lockdown currently continues there.