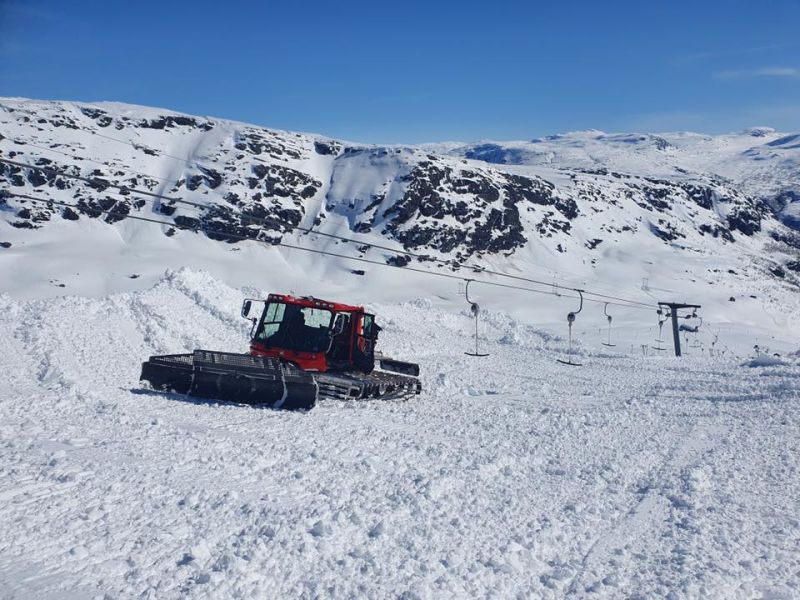 In the ever-changing and fast-moving situation around the world in terms of the ski industry's response to the COVID-19 pandemic there are some changes to report.
In Norway the number of small centres that have re-opened continues to grow. Roldal, which prior to its pandemic closure five weeks ago was posting the deepest base in the world at nearly six metres is one of the latest to do so, aiming to re-open at 10am tomorrow (it's pictured above prepping slopes before re-opening). The Fonna glacier, which reports 12 metre (40 foot) base says it will open on May 1st.
In the USA the small ski area of
Mt Baldy
in southern California has re-opened in what appears to be a unilateral decision. In an online statement it argues that as golf courses have re-opened nearby, it feels it should be able to as it will have fewer visitors, it thinks, spread over a bigger area. Conditions would normally be very much 'end of season' anyway at its location this late in April.
In Austria snow ski areas are open but, as we reported last week, ski touring will be allowed from a week on Friday, May 1st, when golf courses can also open. There are also new reports that Austrian ski racers on the national squad may be allowed to return to snow for training from early May too. With the country also hoping to re-open restaurants from mid-May – if the pandemic does not spike – it seems like we may be moving towards a reopening of glacier areas sometime later this spring or in summer, although there's no official announcement of that.
Elsewhere two areas remain open in northern Sweden, including "Europe's spring skiing capital" Riksgransen, they have not closed throughout the pandemic. However in Japan ski areas that had also operated throughout the pandemic finally closed at the weekend after a second, more severe spike in the pandemic there.
All open areas have a range of measures in place designed to ensure they do not cause any spread of the virus, they hope. These include, amongst other thing, the usual social distancing, advance online purchase of tickets only' gloves and masks to be warn, very limited numbers on the slopes, no indoor base facilities, only one person on a lift chair or T bar at a time (unless family members).