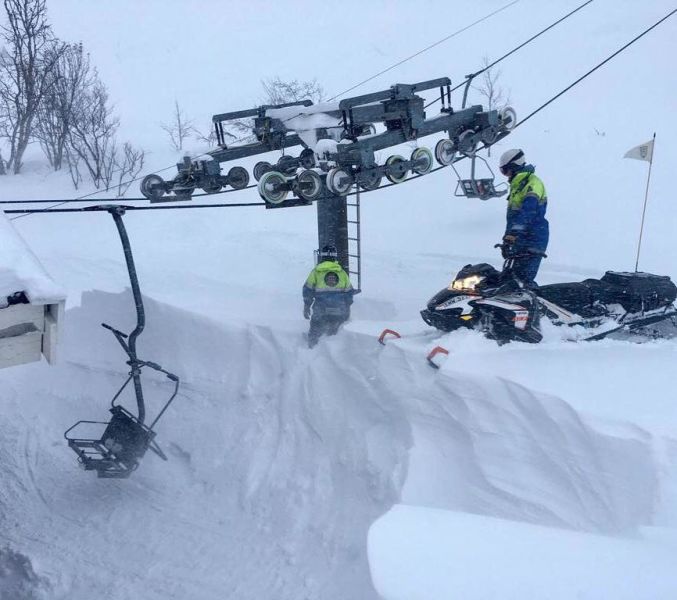 The deepest measured snowbase in the world at a still-operating ski resort has gone back above five metres, reaching 5.3 metres (17.7 feet) at Riksgransen in the Swedish Arctic Circle.
Previously several ski areas in Washington State including Alpental and Mt Baker in the US had passed five-metre depths during the winter before they closed a fortnight ago.
They had just been overtaken by Roldal in Western Norway which reached 5.4 metres just before it too closed.
Typically the world's deepest bases in any season are posted in March, after which thawing tends to outdo fresh snowfall and base depths start to ease.
It's rare for no resort to reach at least a six metre (20 foot) base during the season. Ski areas including
Andermatt
and
Engelberg
in Switzerland often reach six metre depths
Sierra Nevada
in southern Spain also posts deep spring snow most years and Mammoth in California has reached 30 feet/9 metres some winters.
Riksgransen (pictured above shortly before opening for the season a month ago), which only opened for its 2020 season at the end of February, has reported about a metre of snowfall in the past week and has more heavy snow forecast.
The current snow depth is reported to be the best in the region, which aims to offers skiing at midsummer each year, for more than 20 years.
The as-yet unopen Fonna summer ski area in Norway reports it found the snow was 11 metres deep on its glacier when it dug through to its slopes to prepare for the start of the 2020 season there, whenever that is allowed to happen.