J2Ski Snow Report 19th March 2020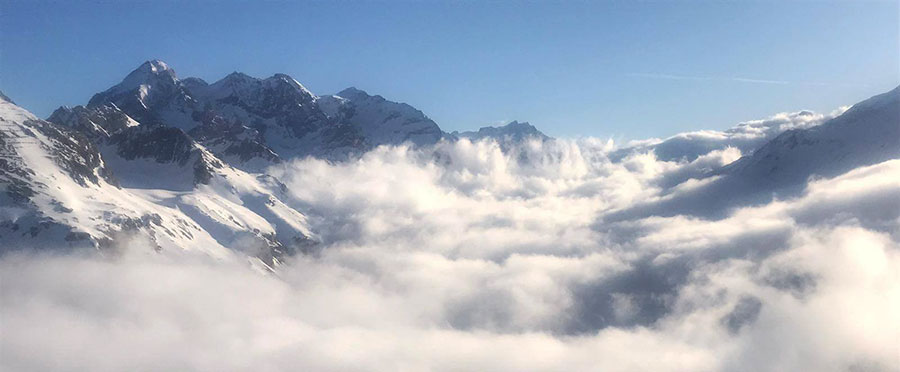 From the pisteurs of Val d'Isere this morning...
Ok, what just happened? Our world has paused, but the mountains remain.
We have some tough times ahead, so please follow your local health advice, stay safe and well, and look out for your neighbours! All the best from all of us!
In encouraging developments, we checked the webcams and the mountains are all still there waiting for our return, so let's lift our gaze from the gloom...
The Snow Headlines - 19th March
- Riksgransen posting the world's deepest snow for an open resort (as centres with 5m+ bases close).
- Heavy snowfall in California; up to 2.5 metres of fresh snow and a few resorts still open.
- Scottish ski centres still open.
- Most resorts close in Canada and US, but some stay open, especially in Idaho.
- Ski centres stay open in Scandinavia; most resorts open still in Finland and Sweden.
- Japan takes a different approach to Europe and North America; most resorts still open.
- Pre-2020 season snowfall reported in New Zealand.
With around 80% of the world's ski areas being instructed to close their lifts over the past week, it's a bit more difficult than usual to produce the J2Ski weekly snow report. However always ones for a challenge, we thought we'd give it a go!
There are in fact ski areas currently open in at least six major ski nations and of course, mother nature seems oblivious to coronavirus and keeps sending snow, along with lots of other weather, so we can still look at the closed slopes and dream.
Beyond dreaming we also have an optimistic eye on which resorts might re-open first once things begin to return to normal.
And as noted they're not all closed; some ski centres in Canada, the US, Finland, Japan, Sweden and Scotland remain open (at least they did when we wrote this).
It has kept snowing too, with California seeing some huge snowfalls in the past week, and snow in still-open Sweden too.
As we know, the Alps and Pyrenees are closed for skiers, at least in terms of lift-accessed ski slopes. First Italy, then Austria, followed by Switzerland, Spain and Andorra and finally, France shut down over six days last week. In the few days since restrictions have been tightened in the latter three nations placing communities there pretty much in 'lockdown' with only essential services operating.
But we are still hearing of people heading out ski-touring on the empty slopes, or cross-country skiing.
Resort operators are warning slopes are un-prepared and un-patrolled and ski insurance policies will likely be invalid for those who ski closed slopes. They also say it is irresponsible to ski when, if you have an accident, you'll take essential services away from fighting the outbreak.
How long will ski centres remain closed? Well for many it will, of course, be the rest of this season although many in North America are currently saying they're closed this week but will reassess their position by next weekend, perhaps with an eye to fellow resorts that have so far stayed open.
There are 50 or so ski areas in Europe and North America that can open in late May, June or July thanks to glaciers, northerly latitudes or just deep snowpacks so it will be interesting to see if any of these look to re-open later in the spring depending on how the pandemic actually plays out. J2ski will keep an eye on what their plans are.

You can still ski in Sweden (if you can get there) at the time of writing...
Re-publication :- our Snow Report Summary, being the text above this line, is free to re-publish, but must be clearly credited to www.J2ski.com with text including "J2Ski Snow Report" linked to this page - thank you.
EUROPEAN ALPS
Austria
Austria has been in an increasingly tight 'lockdown' since last Friday. First
Ischgl
announced its closure but that was followed within 24 hours by first to Tirol and Salzburgerland regions, then the whole country.
Initial closures were announced for March but then most resorts began saying the season was definitely over.
Austria has a number of glacier ski areas and some like
Hintertux
and Molltal are open year-round, or nearly- year-round, so will presumably be among the first to re-open when the crisis passes. Nobody is sure when that will be but some have been re-scheduling summer events to September so obviously feel that's a good bet for some return to normality.
France
The season, of course, looks to be over in France. Tens of thousands of skiers newly arrived in resorts, getting their rentals, lift passes and groceries in on Saturday afternoon were not happy when the French government announced that evening their resort had to close by midnight. Tour operators then scrabbled to find buses (with few planes still flying), to bring them home.
Most resorts say they have closed now for the season, although there are plenty of reports of people heading out ski touring in the classic ski resorts like
Chamonix
, with others questioning the wisdom of that due to possible medical need if things go wrong.
It remains to be seen now if there may be summer skiing in 2020 – Val d'Isere,
Tignes
and Les 2 Alpes.
Italy
Italy was the first ski nation to close, more than a week ago now. Again here it's believed some people have been out ski touring but all lifts are closed. There's not been much fresh snowfall reported this week and conditions are reported to have been more spring-like – although there's now less live reporting of course.
The next ski area due to open is Passo Stelvio, which usually opens from late spring through to Autumn if the country starts to relax restrictions within the next three months, but that, of course, is unknown at this point.
Switzerland
Swiss ski areas started to close down at the end of last week, initially canton by canton and then the federal government ordered all closed. In the days since, there have been a few twists and turns – with some cantons initially announcing restaurants, most non-essential shops and hotels all had to close, but then it was decided hotels could remain open, although most have closed anyway.
Resorts are also trying to tread a middle ground between obeying the restrictions and helping people to avoid depression and inactivity. So some are still highlighting that cross country skiing, ski touring, Nordic walking, tobogganing and the like are all still possible and setting up outdoor pop-up food counters to supply meals in as safe a way as possible.
Scandinavia
Besides Japan, Scandinavia has the most ski areas open in the Northern Hemisphere with (at the time of writing!) most centres in Finland and Sweden still open.
Norwegian centres have closed, primarily after the government there asked centres to consider if they had adequate medical facilities to cope if visiting skiers all got sick as well as locals. Most concluded "no" and closed slopes at the end of that last week. Since then even those that thought they could cope seem to have done the same.
In Finland and Sweden slopes are still open and there's even been 15-30cm (6-12 inches) of snowfall for many areas. Riksgransen in the north, only three weeks into its 2020 season which started at the end of February, now has the deepest base of any still-open resort in the world at 4.3 metres.
Pyrenees
Alas, all ski areas in the Pyrenees are now closed. Spanish centres began closing first on Friday, followed by Andorra's resorts and finally, ski areas in the French Pyrenees, as well as the rest of the country, on Saturday evening. Although unavoidable, the closures come at a time when the mountains had had a lot of fresh snow and were in some of the best shape of the season.
Scotland
Scottish ski centres have so far remained open and are hoping to continue through the Easter period if conditions allow and the ever-changing public health measures being announced by the Scottish and British governments don't lead to their closure.
If we ignore the virus, the five Highland centres are enjoying some of their best conditions for the past few years, particularly in the West where there's been more fresh snowfall in recent days and bases at
Glencoe
, in particular, are several feet deep with almost all runs open. This being the Highlands there have also been the usual periods when warmer temperatures have caused a little thawing, rain on lower runs and temporary lift closures due to gales, but all in all, conditions are very good.
Eastern Europe
A fragmented picture across Eastern Europe with the Czech and Slovak Republics as well as Poland closing resorts at the end of last week then closing borders. Bulgarian ski areas were still open at the start of this week but were closed down from Monday with more draconian total quarantine restrictions inflicted on
Bansko
after several positive coronavirus results were reported there.
North America
Canada
Canada has had a fragmented approach to the coronavirus impact over the past few days with Quebec issuing a provincial order that saw all ski areas there close at the weekend but ski areas in the West of the country make their own minds up on a resort-by-resort basis.
Some of the corporate-owned ski areas like Whistler decided quickly they were closing but others took several days to get round to their decision,
Big White
and
Revelstoke
for example only doing so on Tuesday;
Marmot Basin
and sunshine following on St Patrick's Day. And, at the time of writing at least, some are still open...
USA
Sunday, March 15th is being described as "the powder day that never was" in California as that was the day the sun came out after several feet of snow had been dumped on the state's mountains, the biggest and best fall of the year so far ...but most ski areas closed due to the coronavirus.
Most but not all... the big Alterra and
Vail
groups closed their resorts first and then many others followed suit. But a few dozen spread across the country are still open and they've been enjoying fresh snow and good spring conditions where they are.
As several more close each day it seems like we're tempting fate to name names as to what's open, at time of writing. However, Idaho is something of a 'hot spot' of resorts rebelling against the trend with around 75% of the centres there still open. One of them that you may not have heard of,
Pebble Creek
, reports the most fresh snow of any still-open centre anywhere in the world in the past 72 hours with 77cm (2.5 feet) of fresh snow.
Until next week, take care...