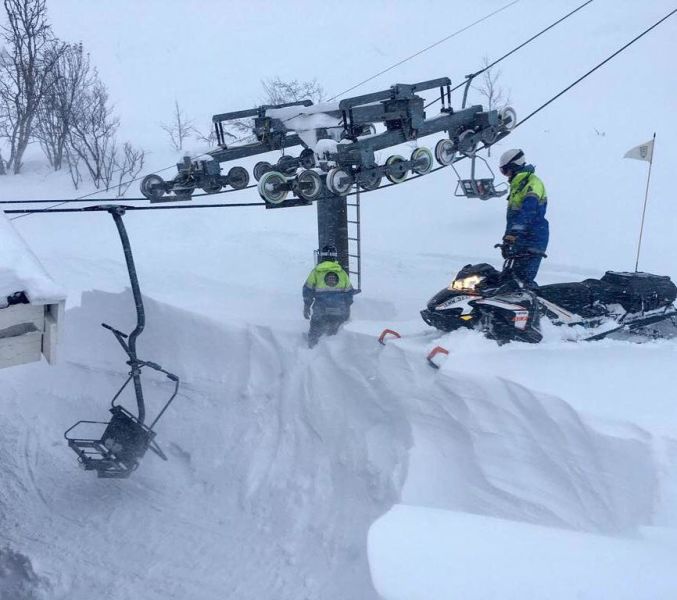 Riksgransen ski area in northern Sweden begins its 2020 season next Friday, but staff have found they'll need to dig out the resort's lifts first.
Access to the railway station many skiers use to access the resort's compact base (most of it one giant hotel complex) via an underpass also needs digging out.
Although Scandinavia as a whole has had one of its warmest winters on record, leaving many ski areas in the south and centre of the region short of snow, there have been constant heavy snowfalls on the mountains of Western Norway, and snow depths up in the Arctic Circle where
Riksgränsen
is located are at a 23 year high.
Known as the 'Spring skiing Capital of Europe'. Riksgränsen doesn't really open in the winter, when conditions are very cold most years and dark, opening at the start of meteorological springtime at the end of Februry.
It then stays open through into May, when it famously offers skiing and boarding under the midnight sun several days a week as 24 hour daylight arrives.
It also usually re-opens for a sell-out long weekend over midsummers day in the latter half of June, assuming there's enough snow left.
Riksgränsen means "The National Border" in Swedish and has offered skiing here since the railway line arrived in 1903. It is still popular to take the overnight sleeper train from
Stockholm
to get there as skiers have for generations.
Some ski runs at the centre crops in to Norway on their way down the mountain before returning to Sweden at the base and the railway line continues for 40 minutes or so to reach the Norwegian coast and the ski area of
Narvik
, which is also famous for offering skiing on slopes above the sea.