J2Ski Snow Report 14th November 2019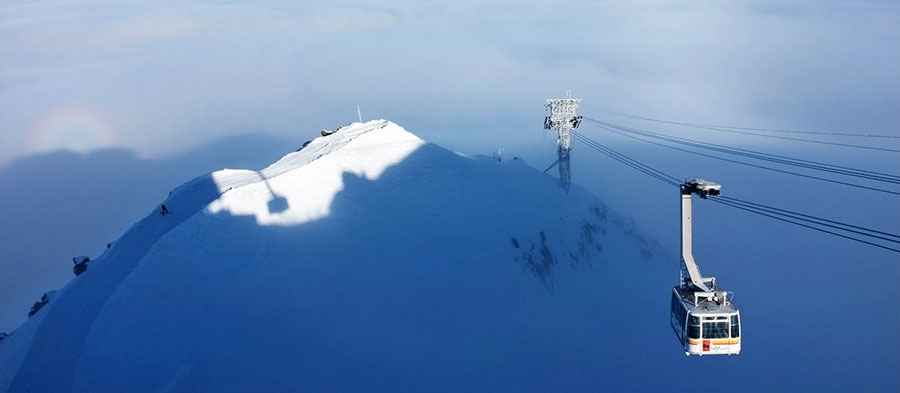 The Gemsstock, Andermatt, open weekends until December...
Snow this just happened... big snowfalls across Europe.
The Snow Headlines - 14th November
- Huge snowfalls in the Austrian Alps; up to 80cm in 24 hours... with more on the way.
- Season gets started early in French and Spanish Pyrenees.
- More than 20 US areas already open for 19-20 season as cold weather spreads East.
- Two killed in the first fatal off-piste avalanche of 19-20.
- Cortina kicks off Dolomites ski season 20 days early.
- Cold weather in northern Europe means good November in Scotland and Scandinavia.
- More big-name resorts opening this weekend including Are, Crans Montana,
Davos
and
Steamboat
.
Is it too early to get excited about all the snowfall in Western Europe in the first half of November? Some resorts have had more than 1.5 metres (five feet) of snow since November 1st, and the snowfall in recent days has gone down to valley floors below 1,000 metres altitude.
It's not just the Alps either, ski areas in the Dolomites and Pyrenees have opened early for the season in the past week and it seems to be looking good in Scandinavia, much of eastern Europe and even Scotland is having a mostly sub-zero and sometimes snowy November so far.
Of course, it could still all go horribly wrong but so far the signs are very good and there's even a load more snow in the forecast for the next week, with big snowfalls expected again in the Alps, Dolomites and Pyrenees in particular from Friday on.
There are more than 20 ski areas already open and more big names set to open over the next few days including Are in Sweden, Obergurgl and
Schladming
in Austria,
Formigal
in Spain and Crans Montana and Davos in Switzerland. So we'll be past 40 open in Europe by Saturday.
It's a more complicated picture in North America where more resorts are open in the US now than any other country by some distance, in fact, more than double the nearest competitor (Austria). But that's not so much down to big snowfalls as a big dip in temperatures which allowed resorts on the East (including
Sunday River
), Midwest and in California (Mammoth) to open last weekend.
More big-name resorts including Squaw Valley, Steamboat and
Vail
should open this weekend.
In the Alpine Forecast

More heavy snow in the forecast for Italy...
More heavy snow in the forecast, particularly for the south side of the Alpine ridge, in the next few days.
Further snow expected to the North and West of The Alps, after which temperatures should moderate and the weather settle for a while.
Re-publication :- our Snow Report Summary, being the text above this line, is free to re-publish, but must be clearly credited to www.J2ski.com with text including "J2Ski Snow Report" linked to this page - thank you.
EUROPEAN ALPS
Austria
After being overtaken by the US for 'most ski areas open' last week, Austria has been making headlines this past week for the right reasons – huge snowfalls, and also sadly the wrong ones – the first avalanche deaths of 19-20. Two Dutch skiers were killed in an avalanche off-piste at Solden.
The snow in Austria this week has been exceptional for early November, both in volume and the fact that it has brought heavy snow down to low altitude slopes and village. There's been so much snow up high though it has caused operational issues at some glacier ski areas this week with access roads blocked and lifts buried, but also some great conditions during clear spells between the heavy snowstorms (which are continuing). Obergurgl and Schladming are among areas opening for the season over the next few days.
France
France is getting its share of big snowfalls too with many of the country's resorts, which are due to begin opening en-masse in a little over a week's time, now reporting more than a metre of snow lying on upper slopes and 40-60cm in resort. Here too there's plenty more snow in the immediate forecast. For now, only
Tignes
remains open but some slopes in the
Chamonix
Valley may open at the weekend (yet to be confirmed) and down in the Pyrenees at least one ski area will open, confirmed, Porte Puymorens (see Pyrenees section below).
Italy
There have been some big snowfalls across Italy too in the past week with the eastern side of the country and the Dolomites posting the biggest totals – over a metre in 'yet to open'
Val Gardena
. A little further west,
Livigno
(now open at weekends) and
Bormio
both report 70cm of fresh snow. The 50cm or so that had already fallen by last weekend led Cortina d'Ampezzo to make a quick decision to open 20 days early for the season last Sunday. Otherwise, there are four Italian areas open daily – Cervionia, Sulda,
Val Senales
and the
Presena
Glacier.
Switzerland
Seven Swiss ski areas are now open with Glacier 3000 (near
Gstaad
and
Les Diablerets
) as well as
Andermatt
's Gemsstock area and
Verbier
opening their slopes for the season at the weekend, joining already open
Engelberg
,
Saas-Fee
, St Moritz (
Diavolezza
glacier) and
Zermatt
.
Three more – Crans Montana, Davos and
Grimentz
- have so far said they plan to open this coming weekend meaning Switzerland should be one of three countries where the number of areas open is in double figures by Saturday. Here too there's been lots of fresh snow over the past week and there's plenty in the forecast. The ski areas around St Moritz have reported the most fresh snow with 70-90cm this week.
Scandinavia
There are more than a dozen ski areas open in Finland, Norway and Sweden now with that number set to double for each of the next few weekends. The region's biggest ski area, Are in Sweden, is among those scheduled to open this Saturday. Generally, it's looking like a good start to winter 2019-20 in the region with low temperatures for snow-making and some fresh natural snowfall too. Bases are currently in the range of 30-90cm with the deepest reported snow at open areas in Sweden.
Pyrenees
The ski season got underway in the Pyrenees on Wednesday with the Alp 2500 ski area (shared by
La Molina
and
Masella
) in Spain opening first, as it was in 2018, although that year it was open by 1st November after a big late-October snowstorm.
A second Spanish ski area, Formigal, say they'll be opening early for the season this Saturday. The French ski area Porte Puymorens has also announced it plans to open some terrain in its Vignole sector on the 16th too. There's been plenty of snowfall in the Pyrenees so it's looking good, so far, for the main start of the season, which for many resorts in the region will be a fortnight later on the last weekend of the month. However with the forecast for more snow over the coming week, it seems likely more areas will decide to open early.
Scotland
Scottish ski areas have been enjoying more snowfall after the brief thaw last week. The forecast for the week ahead is for more snowfall and low temperatures continuing into the latter half of November, so whilst conditions can change quickly on Scottish mountains it currently looks promising for the season getting underway once bases are deep enough.
Most of the centres are also firing up their snow-making systems.
Eastern Europe
The snow cover continues to build on most of the mountain ranges in eastern Europe too. So far none have reported early openings with most targeting December 7/8 or one of the following two weekends for their season starts. However, it may come early to some if the snow conditions continue to improve still further.
North America
Canada
Alberta is the place to be in in Canada if you want to ski at the moment with five areas already open for winter 19-20 here and a nice 20-30cm of fresh snow topping up already good cover here at the weekend.
All three
Banff
ski centres are open as well as 1988 Olympic centre
Nakiska
and
Marmot Basin
up near
Jasper
.
Over on the east of the country, temperatures have finally dropped in Quebec allowing the first area to open there, Mont Sainte Sauveur, last weekend.
USA
The US is seeing the most ski areas operating with another 10 or so opening last weekend and similar numbers more expected this coming weekend, meaning about half-the world's total open areas will be in the US by Saturday; something Austria was claiming three or four weeks ago!
The latest resorts to open included
Breckenridge
and Copper in Colorado and Mammoth in California as well as half-a-dozen or so ski areas in the Midwest and on the East Coast. Sunday River in Maine was the biggest opener there. Actual snow conditions are a mixed picture across the country.
In the northwest and the Rockies ski areas are still benefiting from one of the snowiest Octobers in recent years but further south in the West there's been almost no natural snowfall and resorts like Mt Rose in Nevada, Mammoth in California and
Sipapu
in New Mexico are fully reliant on snow-making to open; and only have a run or two open.
In the Midwest it has been very cold and snowy at times and in the east, the warm October is behind them and there has been some natural snowfall (many areas reporting 15-25cm of fresh snow in recent days) but again it is snow-making that has been allowing them to open.
Southern Hemisphere
It's just a few weeks until summertime in New Zealand but one centre,
Whakapapa
on Mt Ruapehu is still opening one run at weekends for determined skiers and boarders there, the only centre still open for 2019 in the Southern Hemisphere.