J2Ski Snow Report 1st July 2019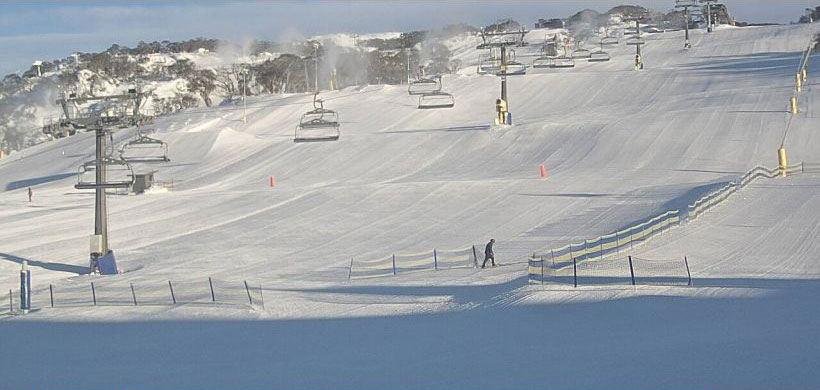 Perisher, Australia, this morning...
Welcome to our guide to where to ski this July!
This Week's Snow Headlines - 1st July 2019
- 2019 season now in full swing in southern hemisphere - almost all areas open.
- Six US ski areas to open for Independence Day July 4th holiday.
- Deepest bases in southern hemisphere pass metre mark in Argentina.
- The number of glacier areas open in Europe back up to double-figures for July.
- Japan's 'Gassan Glacier' enters final weeks of its 2019 season.
- Two areas open in Scandinavia through the summer.
The northern spring months saw some surprisingly cold and snowy periods in the mountains of Europe and North America right through to the summer solstice but now that summer is fully here, it's definite summer ski conditions and (north of the equator) a case of who can stay open with the snow cover they have?
In North America there are actually seven or eight who are doing just that as we enter July, but half only so they can say they were open for the independence day holiday on July 4th. After that they're closing.
In Europe, the number of glacier summer ski areas open is actually increasing in July compared to numbers in June, and we're now back to double figures. With record heat in the alps at the end of June though the snow cover will have taken a battering even 3000+ metres up which may cause problems for some later in the summer.
South of the equator it's now full winter for 2019 and almost all ski areas in South America, Southern Africa, Australia and New Zealand are open.
It is a mixed picture though; Australian areas got off to a great start with heavy snow a month ago, then suffered a warm spell but are currently back to cold and snow. For New Zealand it has been cold but natural snowfalls have been few and far between. In the Andes it has been snowing but a little late and most areas only just opened over the last few days of June.
However most were posting 20-40cm 48 hour snow totals for the final few days of June once they did open, and were amongst the first to pass the metre base depth mark in the southern hemisphere so far in 2019.
In the Alpine Forecast
The very high temperatures currently being experienced across Europe are expected to ease over the coming week, with seasonal averages more the norm by the second week of July.

More snowfall expected
, but not everywhere.
Re-publication :- our Snow Report Summary, being the text above this line, is free to re-publish, but must be clearly credited to www.J2ski.com with text including "J2Ski Snow Report" linked to this page - thank you.
EUROPEAN ALPS
After hitting a low with only four glaciers open (one in each of the big four Alpine ski nations) at the end of May, we're now back to nine areas and will hit double figures in early July. It's a big drop from the heyday of summer skiing 20-35 years ago when more than 30 areas could be open at peak season, but summer conditions this year are perhaps a little better than the average for early July after an often cold and snowy spring.
The last week of June was mostly a hot one, even up on the glaciers but there was some fresh snow around midsummer weekend. Most report 2-4 metres of snow lying at this point.
Austria
In Austria there's a choice of three open areas, the year-round
Hintertux
and the
Kitzsteinhorn
(above
Kaprun
) and Molltal glaciers. The latter re-opened a few weeks ago and will now aim to stay open daily through to May 2020. The Kitzsteinhorn will close again later this month after just three weeks' of summer skiing before re-opening for 'autumn skiing', probably in September.
France
Val d'Isere opened first in France in mid-May but it will also close first – in mid-July.
Tignes
and Les 2 Alpes opened just over a week ago and will make it through the month in to August unless either or both have a major meltdown.
Italy
In Italy Passo Stelvio re-opened last month, several weeks later than planned due to late spring snow and resulting avalanche danger. It has a 2.5 metre base and all half dozen lifts and runs open. It should stay open right through to the Autumn. Cervinia's lifts up to the Plateau Rosa ski area also started operating on the final weekend of June a few days ago.
Switzerland
For Switzerland it's just
Zermatt
open still as it was at the start of the month. However the year-round centre with Europe's highest lifts and biggest summertime vertical will be joined by neighbouring Saas Fee later this month when it begins its nine month season through to spring next year.
Scandinavia
Two of Norway's glacier areas –
Folgefonn
(sometimes known as 'Fonna') and Galdhopiggen are open through July for glacier skiing. Both have one long drag lift a piece serving the run. A third glacier area, Stryn, closed in late June.
North America
It's one of the snowiest starts to summer in North America in memory with more big snowfalls in the Rockies to herald the start of the supposed hottest season of the year on June 21-22.
Steamboat Springs in Colorado made headlines across the US with video of a nearly two foot (60cm) snow accumulation and the snow fell over a much wider are right up in to Alberta, closing high mountain roads and giving a brief bit of powder at the few areas still open.
It looks like six US ski areas will make it through to the July 4th Independence Day holiday weekend. Mammoth (which has already said it will stay open to August) and Squaw Valley in California,
Snowbird
in Utah,
Timberline
in Oregon, Beartooth Basin summer ski area in Montana and
Arapahoe Basin
in Colorado.
Snowbird says it will actually end its season at noon on the 4th itself, after an 8am start, the others will continue through the weekend.
Most of these areas have now been open for more than 7 months since starting their seasons in Autumn 2018, although Beartooth Basin only opened (after a three week delay) in mid-June. Only Mammoth and Timberline are likely to stay open past July 7th at the end of the Independence Day extended weekend celebrations and with Timberline reporting its snow depth at less than a foot – half of what it was a week ago – it seems unlikely it will be open to the end of July, perhaps not even to the middle of the month.
North of the border Whistler is currently open for summer skiing and boarding on its Blackcomb glacier and will be for the first half of this month.
Asia
Japan's 'Gassan glacier' ski area traditionally makes it in to July and 2019 is no exception with the snow (which was the deepest in the world at 10 metres when it opened for this year's season on 10th April) still two metres deep. Temperatures are now hitting the 20s Celcius in the daytime so the end is definitely nigh, but there may be a few more weeks yet.
Southern Hemisphere
Australia
Aussie ski areas got off to a great start at the beginning of last month with three opening almost a fortnight early after a huge pre-season snow storm blew in from the Antarctic. Unfortunately though the snow was followed by a very warm spell, with heavy rain which meant more than half the early snowpack was lost and conditions with what was left weren't that pretty.
The good news is that since mid-June things have been back to cold and snow-making systems have been running full blast. The last weekend of June saw a return to natural snowy conditions too so the season is back on track!
New Zealand
New Zealand's ski centres have had a less snowy start to the season than Australia, but it has been fairly consistently cool or sub-zero across the country through June. There has been a lack of snowfall after a few good dumps at the start of the season.
That has led some areas to delay opening, others to only have limited terrain available. Those with substantial snow-making definitely have had an advantage in the early season. But some NZ ski areas have performed well right from the start.
The 38-78cm base at the Remarkables is one of the deepest in the southern hemisphere and it has been fully open from day one.
Cardrona
,
Mount Hutt
, Porters and
Coronet Peak
don't have deep bases yet but they do have all or most lifts running and plenty of terrain open. The good news is that substantial snowfalls are expected in the first week of July.
Chile
The ski season in the Andes has got off to a slower start, although most centres in Argentina and Chile are now open for winter 2019, having started their seasons over the last two weekends of June.
The best known resorts like
Portillo
and
Valle Nevado
just opened for their 2019 seasons on Saturday 29th June. They had around 25cm of fresh snow for the occasion and relatively good opening day bases of around 60-80cm.
Argentina
With most of the ski areas only a little way over the border on the Argentinian side of the Andes from those in Chile, it's little surprise that it is a similar picture here to Chile. Most Argentinian ski areas opened for their 2019 season in the last few days of June whilst snow was falling heavily. So bases are building fast now and conditions for opening weekend were great for most.
Caviahuie was one of several resorts to report 40cm of fresh snowfall to start July and it also had the deepest base in the southern hemisphere as of July 1st at 115cm. Las Lenas and
Cerro Castor
also reported good late-June snowfalls and are not far behind with 1m base depths.
South Africa and Lesotho
Southern Africa's two small commercial ski field have seen the usual sporadic snowfalls over the past few months but their 500-1000 metres of ski slopes are maintained by efficient snow-making systems. Afriski in Lesotho actually had a big upgrade to theirs just before this season started a month ago. So conditions are pretty "normal" at both areas. There was a natural snowfall on 26th June in the region though and another is forecast for July 1st.