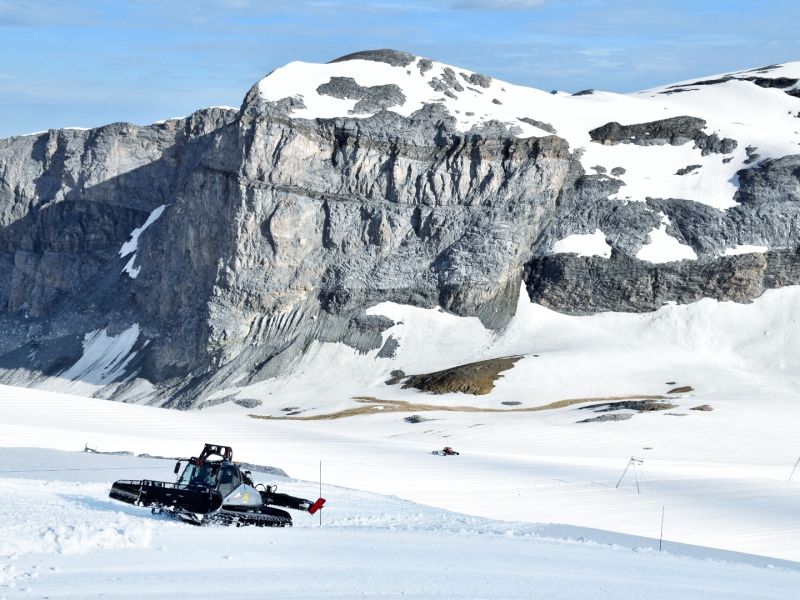 J2Ski are reporting between 7 and 15cm of fresh snowfall this weekend up on the glaciers as all three French summer ski areas open.
Val d'Isere opened a fortnight ago, but
Tignes
and Les 2 Alpes are scheduled to have opened for their summer ski seasons earlier today.
Les 2 Alpes is kicking off their summer season kicks off with their third Outdoor festival, designed to be a a weekend of fun showcasing Les 2 Alpes' summer activities: ski, snowboard, mountain bike, trail running and skateboard.
This year's programme include a ski and snowboard freestyle contest called Duo Pepito on Les 2 Alpes glacier, mountain bike and e-bike rides on new tracks, an enduro race in mountain bike, trail running races for all levels (from 3 to 39km) and a skateboard context on Les 2 Alpes new skate park.
And of course, there will also be lots of entertainments and parties in the resort.
After a snowy winter, the glacier is in excellent condition, according to a resort statement, with 265cm of groomed snow above 3200m.
Anyone planning to head to one of the three French glacier ski areas should beware of season closing dates – as it doesn't last long.
Val d'Isere will end its five week summer ski season in three weeks on July 13th. For Tignes it is a six week season to August 4th whilst Les 2 Alpes has the longest summer ski season of 10 weeks to August 31st.
All closing dates are subject to snow conditions remaining good. J2Ski reports that after the fresh snowfall glacier temps will rise to highs of +10 to +15C next week.
Tignes, which once opened 365 days a year like
Hintertux
in Austria and
Zermatt
in Switzerland, now endeavours to be sure it is open for snowsports for at least a day of every month of the year so was open in to May last season and aims to open for its main season in September each year. It is often the only French area open for much of Autumn. It has missed the September opening due to inadequate glacier snow cover in at least one recent year however.
Elsewhere in the Alps, the Molltal glacier has re-opened in Austria for its 10.5 month 2019-20 ski season through to May next year. It joins year-round Hintertux. The
Kitzsteinhorn
glacier is also scheduled to re-open next weekend.
Zermatt is the only ski area currently open in Switzerland and Passo Stelvio the only area in Italy.
Three small glacier areas are open in Norway and (for this weekend only) Riksgransen in Sweden.
In North America it looks like half-a-dozen ski areas in California, Colorado, Oregon, Utah and Montana will make it to US Independence day in a fortnight, along with Whistler (also to Canada day) north of the border in BC.
The Gassan glacier in Japan is also still open for snowsports.