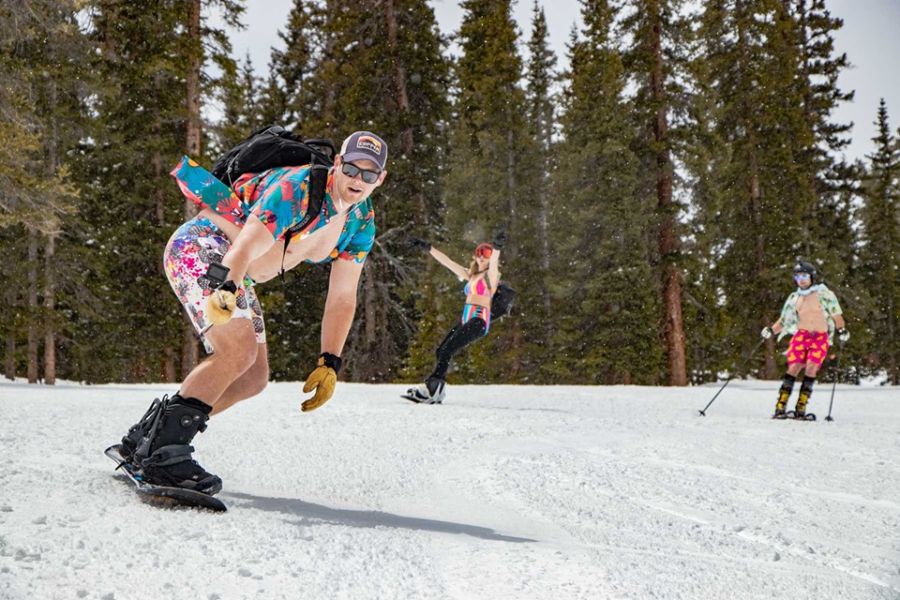 More ski areas are staying open later in the season than ever before in the USA, and there's been a good deal of fresh snowfall to help them along, with more forecast this weekend.
The dozen ski areas currently open in the US equals what's still open in the rest of the world combined.
Around two-thirds of the 12 US and 2 Canadian ski areas still open do normally make it to late Spring or even early summer each year, but the other third are new late-openers this winter.
Two of these,
Breckenridge
and
Heavenly
, both staying open to the last weekend of May, are run by
Vail
Resorts who are battling the Alterra Group for market share. Between them, the two multi-resort owning groups run about 20 leading north American Areas and both want to sell as many season passes to their groups as possible.
Recently as well as increasing the number of resorts included, length of season has become a new battle front, so having areas still open when19-20 ticket sales are underway is important.
The Breckenridge opening to the end of May is a permanent move, Vail Resorts say, saying it will now be open to the end of May every year, with
Keystone
opening earlier in October to give Epic Pass holders a near eight month Colorado ski season.
The Alterra Group have Mammoth and
Squaw Valley
, both still with around 4 metres of snow lying on their upper slopes and both saying they'll stay open to the start of July. This area is expecting 30-60cm of fresh snow over the next 72 hours.
Another interesting late opener is the southerly
Arizona Snowbowl
which is enjoying its longest-ever ski season, 158 days so far, and continued later in to May than ever before. It has had well above average snowfall – nearly nine metres, with the snow still falling in May, but it has also wanted to stress that a more than decade long legal battle to be able to use recycled wastewater to make snow on its slopes (native Americans who hold the land sacred and environmental groups objected) has paid off too. It will finally close though this coming Sunday May 19th.
On the East
Killington
in Vermont is open weekends trying to make it in to June. The base on its remaining Superstar trail, built up by snowmaking all winter, is down to a little more than a foot now but cold weather and snow in the NorthEast at present should help.
Also open:
Arapahoe Basin – daily to the 2nd June and announced yesterday it will re-open the following weekend to the 9th.
Sunshine ski area,
Banff
– closes next Monday after staging annual world's longest running pond skimming contest. Still using all natural snow, no machines.
Donner Ski Ranch – says it will re-open weekend so long as the snow lasts (but isn't reporting how deep the remaining snow is). Alpine Meadows closes this weekend.
Snowbird in Utah – now open weekends (final closing date unknown) after ending daily operations at the weekend.
Whistler – will be the last open in Canada on May 27th and will then re-open in early June for a month of summer skiing.
Mt Bachelor and
Timberline
in Oregon (former open to May 27th, the latter to late summer).