J2Ski Snow Report 11th October 2018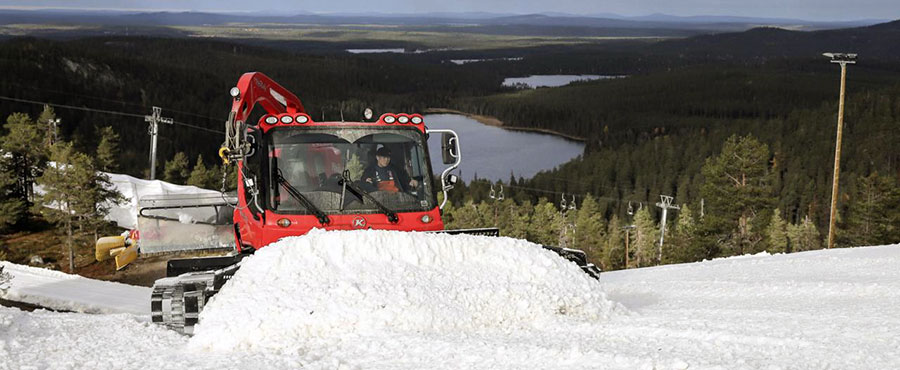 Just a Piste Basher getting things ready at Ruka, Finland...
J2Ski Snow Report 11th October 2018
Hello and welcome to our first Weekly Snow Report of the 2018/2019 northern hemisphere winter!
We hope your summer's been good, and that your coming winter's going to be even better...
October 11th Snow Headlines
-
Ruka
in Finland open; first non-glacier resort in northern hemisphere to do so.
- 8 Ski areas open in Austria from this weekend.
-
Brian Head
, Utah, reports 60cm of snowfall at start of week.
- Kitzbuhel opens this weekend; first non-glacier resort in the Alps to do so.
-
Tignes
has announced partial opening from 17th October (for good skiers only!).
- More snowfall and snowmaking underway in Colorado.
-
Engelberg
delays planned Titlis glacier opening to 20th October.
It's been snowing - on and off - for more than a month now in the Alps, North America and even in Eastern Europe, the Pyrenees, Scandinavia, Scotland, and Japan. Early autumn snow has been spotted everywhere. There's even the odd flurry still south of the equator where Spring has now sprung.
But the snowfall is, as usual at this time of year, a mixed bag...
Whilst a few areas have reported 50-60cm of snow over a few days, most have had very little and in some cases are struggling to open as it has been too warm. Several glaciers have postponed planned openings, have limited terrain, or have closed again after opening because it has been too warm.
On the other hand some have managed to open against the odds and resorts with no glaciers - but stockpiled snow - managed to open last weekend and will do next regardless of the weather.
First tracks have been reported in North America as resorts in Alberta and Utah received up to 60cm (two feet) of snow around the weekend. Nowhere is open yet but die-hards have been hiking up to ski it.
The 2018 season is just about over in the southern hemisphere but five ski areas are open still in New Zealand and two in the Andes.
In the Alpine Forecast
It's generally clear and a little mild in The Alps right now, albeit with some snow expected for the highest peaks over the next couple of days.
Temperatures are forecast to cool over the next week or two, and more un-settled conditions will bring further snow up high moving into next week.

See where it's expected to snow this week...
Re-publication :- our Snow Report Summary, being the text above this line, is free to re-publish, but must be clearly credited to www.J2ski.com with text including "J2Ski Snow Report" linked to this page - thank you.
EUROPEAN ALPS
Austria
Austria is dominating the northern hemisphere in terms of open ski areas as is usually the case until mid-November each autumn. Six of the country's glaciers, including five in Tirol region alone, are open and a seventh, the
Kitzsteinhorn
above
Kaprun
, plans to open on Saturday.
This weekend will also see Kitzbuhel open a few high slopes using snow saved from last winter in a big media event which attracts thousands of skiers. Although its old snow they claim its good snow as it has 'dried out' through the summer.
Despite up to four snowfalls on high slopes in the Austrian Alps since late August it's not been all good news though. The Molltal glacier was closed for three weeks until last weekend as it had inadequate snow and most of the other glacier that would normally have opened in early September delayed doing so until the end of the month or early October. The Kitzsteinhorn delayed again last week having planned to open last weekend. But nonetheless eight Austrian ski areas should be open this weekend compared to probably five in the rest of the northern hemisphere combined!
France
Only Tignes is supposed to be open for autumn skiing in France, but alas it isn't just yet. The planned opening in September was postponed whilst awaiting fresh snowfall on the glacial ice. Tignes has since announced a partial opening from 17th October, but "for good skiers only".
Les 2 Alpes is due to open for a week of ski testing and events in a fortnight's time but it's not yet clear what shape the glacier is in there (last year the event was cancelled).
Italy
Currently the choice in Italy is between Passo Stelvio, which is in the final weeks of its summer opening, and
Val Senales
which opened a month ago but until recently was limiting access to race teams who booked the slopes for training. The recent snowfall has allowed it to open a little more so now recreational skiers and boarders can visit too. Cervinia is due to re-open the weekend after next.
Switzerland
Swiss skiing has been limited to the glaciers of Saas Fee and
Zermatt
for the past three months or so since mid-July. That's about to change in the next few weeks although the scheduled opening of the Titlis glacier above Engelberg planned for this weekend has been put back to the 20th October, the same as the planned opening of the Diavolezza glacier near St Moritz in Engadin.
Scotland
There's nowhere open for the season in Scotland yet although on the basis of previous years an end-of-October opening is possible if the snow arrives –
The Lecht
have managed it in the past. Fresh snow has however been reported over the past few weeks at most Scottish areas on higher slopes.
Glencoe
has purchase a Techno Alpin all-weather snowmaking machine after last winter's trial so should be able to open pretty much whenever it likes.
Eastern Europe
Nowhere is reported open in Eastern Europe as yet although all-weather snowmaking did allow some small areas in the Czech and Slovak republics to open in October last year. Temperatures have allowed for snowfall on the high Tatra mountains in recent weeks however.
Pyrenees
Ski areas in the Pyrenees are due to open in late November and early December ahead of public holidays on the Spanish side of the mountains at the start of the month. There has been snowfall reported in the area and pictured on social media over the past few weeks.
Scandinavia
Ruka became the first ski area in the northern hemisphere without a glacier to open for its 200 day season last Friday. It uses snow stockpiled from last season and spread back out on the slopes to form a ski run, with snowmaking on top when cold enough, there's been a bit of natural snowfall too.
Geilo
in Norway had done the same the past three years but a new operator of the ski lifts decided that this way of opening early wasn't the best way to spend their money, in their case, so they're not doing it this autumn. Other Scandinavian areas should start opening from mid -October.
North America
Canada
Nowhere is open yet in Canada but there have been some big snowfalls, particularly in Alberta where
Nakiska
posted deep snow images at the weekend and reported up to 40cm accumulated. There were big accumulations at
Banff
too. These areas will be amongst the first in the country to start running their lifts again early next month so it bodes well.
USA
The annual battle to be the first to open for the season is underway in the USA. Fresh snowfalls on high slopes have actually been reported since late August and
Arapahoe Basin
in Colorado, definitely one of the contenders to be the first, began snowmaking in late September, its earliest start date in a decade.
Temperatures then warmed up a little but it has been cold and snowing lightly again in Colorado since the start of this week and Copper and Loveland (starting 10 days later than planned) have joined the snowmaking effort, raising hopes of an early opening, although no one has specified a date yet in the state.
That's not the case in California where Mt Rose by
Lake Tahoe
has said it will open in a fortnight on 26th October, the only area in North America to state an October opening day for sure, they hope. Other contenders include the usually open
Timberline
snow field on Mt Hood in Oregon which can open year-round but is currently closed "awaiting snow."
There's also the outside chance of an October opening for ski areas with powerful snowmaking systems and the will to open early on the east coast like
Killington
in Vermont, but so far conditions aren't cold enough.
The biggest natural snowfalls so far have been reported in the northwest of the country with Brian Head in Southern Utah claiming an unofficial 60cm accumulation over the weekend. It was one of the areas that saw skiers hiking up to ski the powder in the last few days even though the lifts aren't operating yet.
Southern Hemisphere
The majority of the ski areas in the Andes, Australia and New Zealand that had not already ended their winter 2018 previously, did so at the end of the day last Sunday.
However a few ski areas in New Zealand are remaining open for at least one more weekend as temperatures warm south of the equator and the days grow longer.
Five resorts are currently reported open in New Zealand –
Cardrona
,
The Remarkables
and Mt Hutt on the South Island and
Turoa
and
Whakapapa
on Mt Ruapehu on the North Island. All report temps of 3 degrees or higher but bases are still at least a metre with the Ruapehu resorts, often the last to stay open in the southern hemisphere, still with 3m plus bases – they've been the deepest south of the equator for much of 2018.
In South America the largest ski area in the Andes, Cerro Catedral in Argentina, is still open and even reported a few centimetres of fresh snow on Tuesday. However there's limited end-of-season operations with only 10 runs open and 4 lifts (of 34) running.
Nowhere is currently open in Chile but Nevados de Chillan in the south say they'll open for a final weekend of the season this weekend. The snow is lying 1.5 metres deep there.