La Rosière expands ski area with 5 new red runs
Started by Iainm
in Ski News

21-Jun-2018

- 4 Replies
Login
To Create or Answer a Topic
La Rosière
has confirmed that their new extended ski area - the Mont Valaisan Extension - will open in December 2018.
It is rare in the Alps, and in France in particular, for ski resorts to open up new areas of the mountain, but the Mont Valaisan project will give access to a genuine new ski area.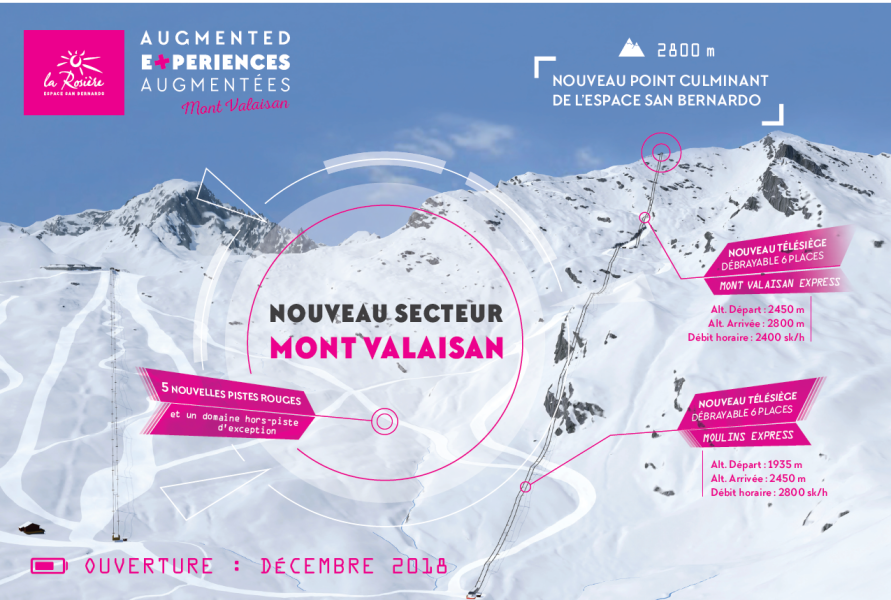 Two new 6-seater detachable chairlifts, made by Bartholet, will be added taking skiers to a new peak of 2800m. These lifts will give access to five new red runs and open up a large freeride area.
The Moulins Express chairlift will go from 1935m to 2450m and be able to carry 2800 skiers per hour. It will take just 4 minutes and 59 seconds. The higher Mont Valaisan Express will take up to 2400 skiers per hour 350 vertical metres to the 2800m summit in just under 3 minutes.
The total cost of the project is around €15 million.
The new lifts will make La Rosière the 13th largest ski area in France and the 34th largest in the world. La Rosière have also taken the unusual step of having the total length of their pistes certified by the independent experts at www.pistelength.com at 152km. That compares with 198km based on the measuring system used by most other ski resorts.
they certainly needed them ..before the best thing about les Ros was La Thuille
That's a bit harsh. I've been there with the family three times and enjoyed some good skiing in La Ros.
La Thuile
is still a pain to get to and not that exciting (although the hot chocolates are good). This will make La Rosiere a more interesting option though.
have to disagree with you Iainm. Without doubt the
La Thuile
sector is far far better than La Rosiere even with the needed extension. Terrain is more varied, pistes are kept in far better condition and the staff are friendly...unlike the miserable B,s in L ros. Oh and the prices are about half.

Carving leaves me all on edge
Yeah I've had a good family holiday in la Ros too with great ski excursions to
La Thuile
from there and drove to
Les Arcs
one day too (that was a windy road...) Seem to remember all staff were friendly in La Ros but going back a few years so may be forgetting. Saying that the moron ESF teacher at La Plagne who left my then 6 year old on the slopes in the middle of a 400km ski area and wasn't sorry about it at all having 'forgotten' he was in his class does stuck in the memory (we did find him pretty fast by lucky chance with no help from the ESF staff). Maybe depends a bit on what you're after?
Topic last updated on 22-June-2018 at 11:00