La Rosière
has confirmed that their new extended ski area - the Mont Valaisan Extension - will open in December 2018.
It is rare in the Alps, and in France in particular, for ski resorts to open up new areas of the mountain, but the Mont Valaisan project will give access to a genuine new ski area.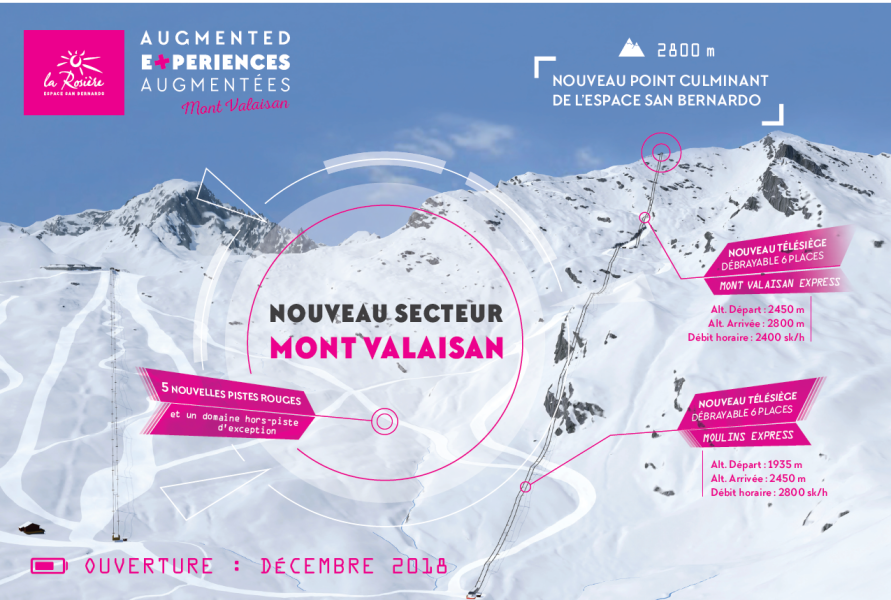 Two new 6-seater detachable chairlifts, made by Bartholet, will be added taking skiers to a new peak of 2800m. These lifts will give access to five new red runs and open up a large freeride area.
The Moulins Express chairlift will go from 1935m to 2450m and be able to carry 2800 skiers per hour. It will take just 4 minutes and 59 seconds. The higher Mont Valaisan Express will take up to 2400 skiers per hour 350 vertical metres to the 2800m summit in just under 3 minutes.
The total cost of the project is around €15 million.
The new lifts will make La Rosière the 13th largest ski area in France and the 34th largest in the world. La Rosière have also taken the unusual step of having the total length of their pistes certified by the independent experts at www.pistelength.com at 152km. That compares with 198km based on the measuring system used by most other ski resorts.