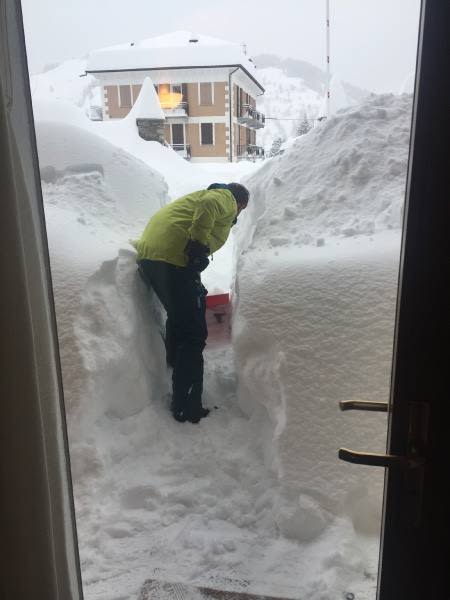 Pic top shows tour op Crystal's staff digging themselves out in La Thuile as their working season begins.
The snow is continuing to fall very heavily in the Alps with several ski resorts in France and Italy now reporting up to 1.3 metres (4 feet, 4 inches) of snowfall since Saturday.
The snowfall is very widespread across Europe with areas in the Pyrenees also reporting up to 1 metres of snow and in the Dolomites up to 75cm.
Coming after a succession of snowstorms through October and November and with the first of the main package tour ski holidays starting this week, the start of winter 17-18 is now officially one of the snowiest this century, particularly welcome news after the three poor snowfall starts to the last three seasons.
However the snow is of such a quantity it is causing some logistical problems, closing roads and meaning resorts need to dig out lifts, the avalanche danger is a also very high.
Centres that have posted 1.3m of snowfall include Masdesimo in Italy and Orcieres Merlette in France.
However lots of areas have now reported over a metre of snow and most at least 50cm. Among the biggest accumulations so far have been
La Thuile
(120cm);
Adelboden
and
Bormio
(both 105cm); Montgenevre (90cm) and Sestriere (85cm).
In the Pyrenees Font
Rome
u report 1m of fresh snow and in the Dolomites, which is an area that has had very little early season snow for the past three seasons, there's been 75cm reported by Cortina d'Ampezzo.
This morning's snow tallies for the past 24 hours alone include 60cm (two feet) at Bormio, Cortina and Val Senales and 50cm at
Laax
,
Arosa
, St Moritz and
Gstaad
.
Some resorts are believed to have already had more snow than they had all of last season.