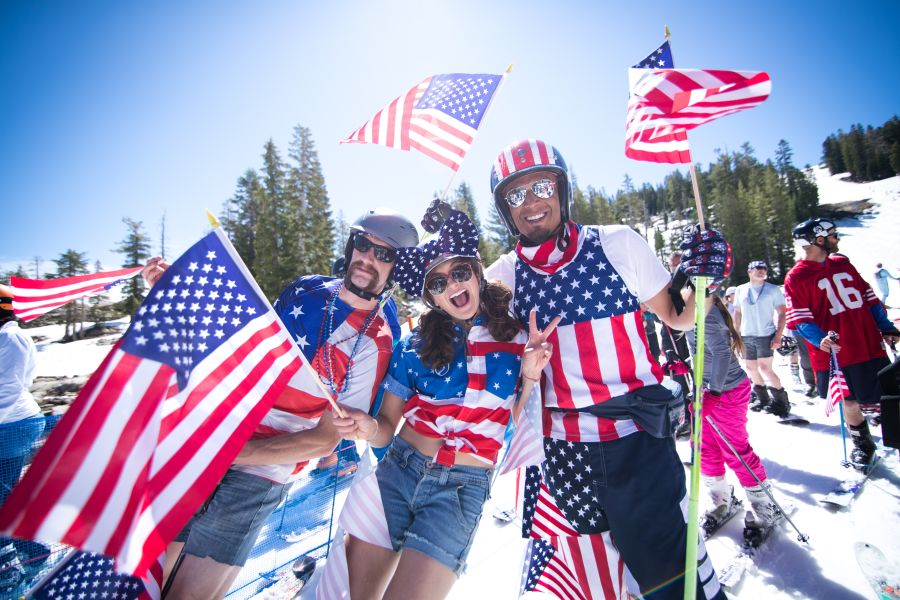 Squaw Valley in California has announced that its operations last Saturday, July 15th was the last day of its very long 2017-18 ski season.
The ski area by
Lake Tahoe
in the US had said in the spring that it intended to stay open for as long as it could in 2017 opening for snowsports on Saturdays in the sumer amd potentially in to autumn leading to media speculation of an 'unending ski season' continuing in to the start of winter 2017-18.
However despite having the second deepest snowpack of any major ski area in the world last winter – peaking at more than 6m/20 feet of snow depth - current unseasonably high summer temperatures in California has led to a rapid thaw of the remaining snow cover and the resort's decision to call it a day.
"With unseasonably warm temperatures in the region, the snowpack has seen a rapid rate of melt, primarily in the key areas of lift loading and unloading zones. While teams have been working around the clock to maintain the snow surface, there is not sufficient snowpack for a safe, consistent slope, forcing the resort to conclude operations," a statement issued by Squaw Valley states.
Seven hundred and twenty-eight inches of snow fell at Squaw Valley this winter, equalling more than 60 feet/nearly 20 metres . Ten 'atmospheric river weather events' hit the resort, where the average season sees two to four.
January 2017 at Squaw Valley broke the resort's record for most snow in one month with 282 inches, snowing 23 feet in 23 consecutive days. "Januburied" was followed by the snowiest February ever with another 196 inches.
"This season was one we will not soon forget," said Andy Wirth, president and CEO of Squaw Valley Alpine Meadows. "Mother Nature dealt out her fair share of challenges, with snow totals, wind speeds and overall volatility of weather the likes of which have never been seen in the Sierra Nevada since ski areas have been in operation. The monumental snowpack, however, brought the historic opportunity to operate well into summer. The spring skiing capital evolved into the summer skiing capital, and skiers and riders from across the country were enjoying the sun and snow right up to July 15."