J2Ski Snow Report - January 21st 2016
Re-publication :- our Snow Report Summary, being the text up to "The Alps", is free to re-publish, but must be clearly credited to www.J2ski.com with text including "J2Ski Snow Report" linked to this page - thank you.
More snow this week, although not everywhere...
This Week's Snow Headlines
- Some claiming powder conditions in Austria are currently amongst the best ever.
- Base depths at resort level in France pass the metre mark at several altitude stations.
- Up to 50cm of snow in 24 hours in the Pyrenees
- Four foot of snow in 7 Days at
Jackson Hole
- World's snowiest resort this season nears 400 inches/10 metres snowfall-to-date,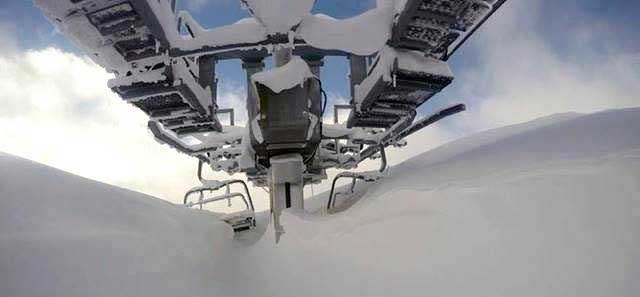 A snowy chair lift at La Plagne, France this week
It has been another fairly snowy week in Europe with the Western Alps once again seeing the best of the fresh snow, although with Austria and Germany rather than France seeming to do marginally better this time around. The southern half of central Europe was less lucky and the Dolomites continue to be in need of a decent dump. The Pyrenees have also received a healthy snowfall and Scandinavian and Scottish slopes continue to be in pretty good shape.
Across the Atlantic it has been very snowy once again in the West with up to 1.2m (Four feet) of fresh snow reported in the last week and the continent's snowiest ski area this season nearing 400 inches/10 metres of snowfall this season. The East Coast however continues to need more snow, especially up in Quebec although a decent snowstorm is now forecast.
In The Alpine Forecast
Temperatures look set to rise a bit, and to be a few degrees above seasonal averages by the start of next week. Following further snow expected at the weekend, however, clearer conditions are likely across much of The Alps so - with good snow on the ground in most places - next week should be very pleasant!
There's not much agreement in the models longer-term, at present, but we should have more clarity on the outlook for Februrary in next week's update.
The Alps
Austria
It has been another snowy week in Austria, probably snowier than forecast in most cases. Some people have been claiming the resulting powder is "amongst the best I've ever seen in Europe." Snow depths are certainly completely transformed from a month ago almost everywhere with an increasing number of areas reporting 1.5-1.8m (5-6 feet) lying on upper slopes including Saalbach, Solden, Lech and St Anton. The majority of areas have reported between 15 and 45cm of fresh snow since the weekend with Kitzbuhel,
Mayrhofen
, resorts in the
SkiWelt
and
Pitztal
receiving some of the biggest falls. Lech reported another 20cm in the last 24 hours.
France
Conditions remain excellent in the French alps. After the huge snowfalls in the first half of the month the rate of snow has slowed a little, but there's still fresh snow falling, with many areas in the Northern Alps reporting 10-15cm of snow on Monday/Tuesday for example and up to 30-50cm over the past seven days. Some of the biggest snowfalls have been down in the French Pyrenees where
Cauterets
reported 50cm in 24 hours earlier this week.
Chamonix
continues to claim the deepest snow at 3m and
Avoriaz
has claimed the biggest seven day accumulation with 70cm, but most resorts in France now have at least a metre and many towards 2m of snow lying on upper slopes. Some, including Avoriaz,
Tignes
, Meribel and Les Arcs report more than a metre of snow down at resort level now too.
Italy
There's not been much snow in Italy this past week which is bad news for the dolomites, which has hardly seen any snow this winter still, with the exception of a few moderate falls in the past few weeks. But many areas in the North East still have only 10-30cm at resort level and 20-40cm higher up. What snow there has been, and it's not been so much as in previous weeks or elsewhere in the Alps, has been as usual this season in the West of the country, with 30cm in Cervinia. Resorts in the west of the country are indeed, in contrast to the east, looking very healthy.
Courmayeur
has 100cm at resort level and 180cm on upper slopes, the most in the country, for example.
Switzerland
Another snowy week in Switzerland with mot resorts reporting between 15 and 60cm (6-24 inches). Saas Fee claimed the biggest snowfall. Snow depths are general very healthy across the country now although in the far East things remain less than ideal, with just another inch of snow reported at St Moritz and snow depths still only 35-45cm.
Engelberg
by contrast claims the deepest base on the continent at 3.1m (over 10 feet).
Scotland
It has been a good week in Scotland with mostly sunny skies, little wind and cold temperatures and some fresh snow. Most of the slopes at the five centres are currently open and even the road from
Aberdeen
to
Glenshee
has been patched up so you can reach the slopes. There's a bit of a possible blip on the horizon with milder temperatures from the weekend but hopefully the sloops will survive through to the next cold spell.
Pyrenees
The Pyrenes got a big snow boost on Tuesday when resorts on the French (Cauterets) and Spanish sides of the mountain range reported 50m accumulations in 24 hours. Other areas, including Andorra, did not report so much but pistes were certainly refreshed. Overall, on-piste conditions are good across the Pyrenees.
Scandinavia
Things remain fairly snowy across Scandinavia and snow depths are close to normal in Norway (40-80cm), Sweden (30-60cm) and Finland (40-60cm). The biggest snowfall reported in the last seven days at the country's leading resorts was 11 inches/27cm at Are in Sweden, with areas in Norway posting more modest 10-20cm accumulations.
Eastern Europe
The optimistic forecasts of up to 60cm (two feet) of snow in Bulgaria last weekend failed to materialise, but there was some snow, albeit about a quarter of the volumes expected – 15cm/6 inches. Conditions are reported to be pretty good with 50-100cm base depths. Further north it has been a largely quiet week with only 5cm of fresh snow reported in Romania, Slovenia and the Slovak Republic, but the wintry weather in Austria and Germany continued North and east to the Czech Republic with a foot of snow reported at Spindleruv Mlyn.
North America
Canada
Canadian resorts have been receiving more snow than during the first fortnight of January in the last few days. Whistler has done particularly well with more than two feet of snow in the last few days – 69cm to be precise. Big White still has the deepest base in the country at 222cm. The snowfall has slowed in the East with only a few centimetres more in Quebec and conditions still a bit lacking in snowy lustre at resorts like Mont Sainte Anne (25-45cm).
USA
The snow has ramped up to a higher level once again in the US with significant snowfall out West, although it's Jackson Hole in Wyoming rather than the Pacific coast that has reported the biggest numbers – a remarkable 4 foot (1.2m) of fresh in the last seven days. That's double the closest totals, claimed by areas like
Solitude
in Utah at around the 60cm/two feet mark. But most other areas in Colorado, California and the like say 30 -45cm. The East Coast has not had much in the last week but a big snow storm is now starting to hit that's expected to bring at least a foot of snow to most areas, and potentially much more. Also worth noting is that
Alyeska
in Alaska is on the brink of hitting the 400 inches/10 metres snowfall-to-date this-season stat, the biggest in the world.