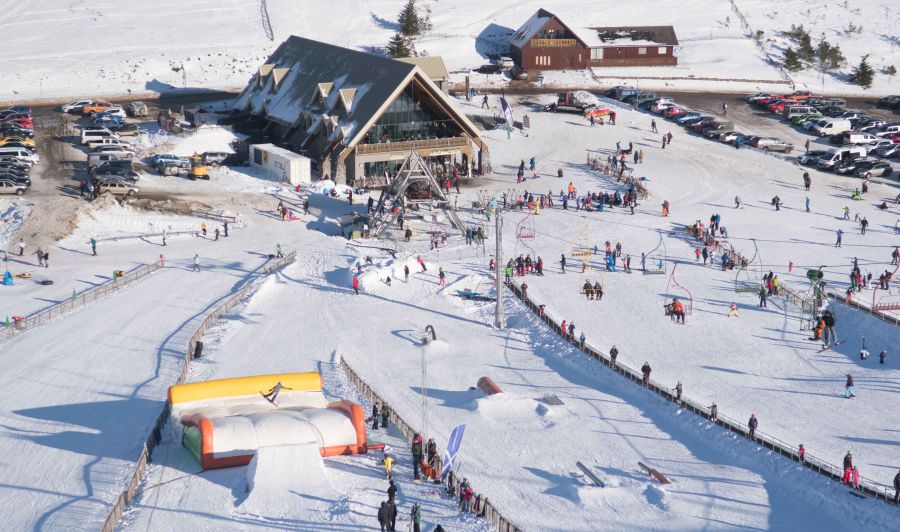 Scotland's ski season is fast approaching with snow reported above 800m altitude above Aviemore this week.
There's good news and less good from Highland slopes with
The Lecht
investing to upgrade facilities and simultaneously cut its CO2 emissions, but
Cairngorm Mountain
unfortunately having issues once again with is key funicular railway, which is out-of-action once again …although its hoped it may be running again by the start of the season.
The Lecht Ski Company is spending £270,000 on a project to improve operational efficiencies that will result in a 23-tonne reduction in carbon emissions over the next three years, the centre says. The project will also increase capacity for snow sport beginners.
The investment will go on a more efficient piste groomer, a new magic carpet lift and retro fitting of more up to date controls for existing lifts which will help to reduce energy consumption.
Half of the money is coming from government agency Highlands and Islands Enterprise who have worked with the centre for more than 25 years and has supported investment in plant, equipment, infrastructure, marketing, strategy development, business modelling, mentoring and digital advice.
Meanwhile Cairngorm Mountain have described the latest closure of the funicular railway as, "…a frustrating situation for our customers and for the entire team."
The area is owned by Highlands and Islands Enterprise whose main contractor Balfour Beatty and project consultants continue to manage the current programme of snagging works.
"Due to ongoing technical difficulties coupled with the approach of the winter weather we have been given no definitive date yet for the railway re-opening," a spokesperson said.
Despite this Cairngorm have confirmed that their winter season will open on Friday 22 December. The centre's all-weather Snow Factory snowmaker will be operational at the base of the slopes from the end of November, and this guarantees snow for the beginners' zone, which does not require funicular access, for the opening date.
"If we also have some real snow by that time, the surface lifts will be operating, and the team will do its best to ensure we have snow sports for as many people as we can safely accommodate. At weekends, if there is no real snow, the tubing slides will be open for family-friendly tubing activities" the spokesperson added, noting that "early bird lift ticket pricing would continue all winter."