J2Ski Snow Report 14th July 2022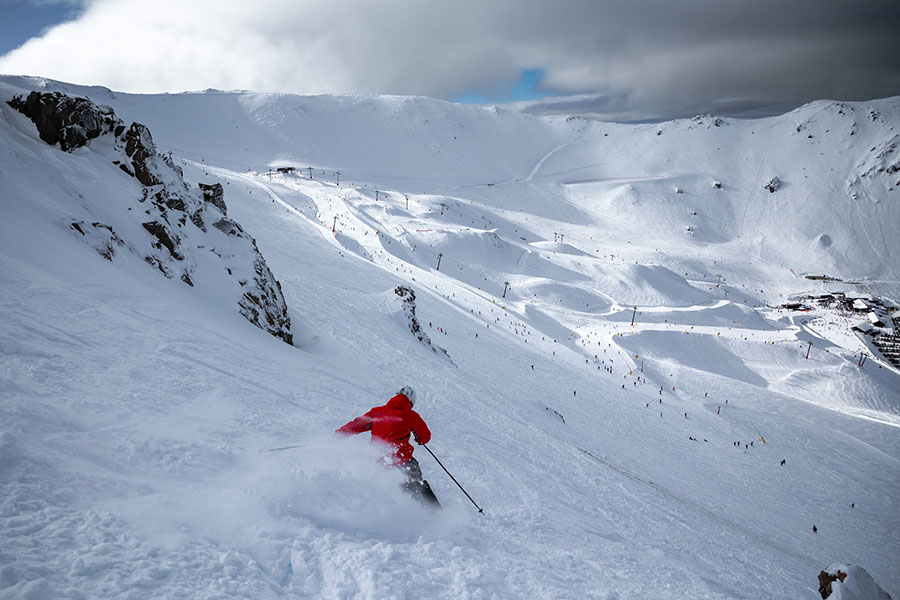 Mount Hutt, New Zealand looking pretty good this week...
Lots of snow in the southern hemisphere, warm in the northern.
Wait! What? A Snow Report in the 'summer'? Yes, in a break to our approach of many years - and thanks to our many new readers from Australia and New Zealand, where it's now winter, we're going to trial running our weekly snow reports all year around. Clearly, the weather gods got wind of our plan and have been delivering the goods...
The Snow Headlines - 14th July
- Big snow in the Andes; resorts report up to 90cm (three feet) of snowfall in past week.
- Hot weather in the Alps closes all French summer glacier ski areas.
- Major storms close New Zealand ski slopes but bring plenty more snowfall.
- Sole ski area still open for 21-22 in North America extends season to "late August".
- Saas Fee opening for 2022-23 season but initially only to race teams.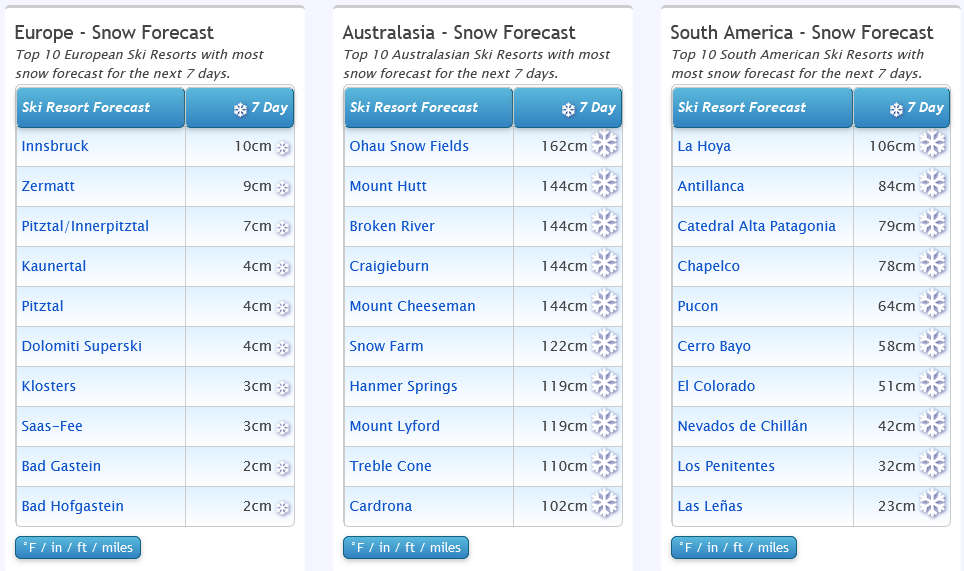 Incoming for New Zealand (again)...
Re-publication :- our Snow Report Summary, being the text above this line, is free to re-publish, but must be clearly credited to www.J2ski.com with text including "J2Ski Snow Report" linked to this page - thank you.
World Overview
Winter is in full swing on the ski slopes of the southern hemisphere and the past week has seen some big snowfalls in the Andes of South America and on the ski slopes of New Zealand, bringing plenty of powder to both - and there's more on the way.
Ski areas in Australia meanwhile are in good shape from earlier falls and are now running at capacity.
In the northern hemisphere, the summer sun is making its presence felt and having a severe impact on Alpine glaciers in Europe leaving an all-time low number of centres able to open for summer skiing. There was though a little fresh snowfall up high on glaciers in Austria, Germany and Switzerland at the weekend.
It's hot too in Japan and the US but ski slopes are still open in both countries. With one centre open in southern Africa too, it means lift-accessed skiing remains possible on six continents at present.
Australia
After two stop-start seasons (mostly stop, unfortunately) through the pandemic, Australia has been enjoying a great winter 2022 to date with big snowfalls at the start of last month helping build bases then predominantly cold weather since, with plenty of sunshine but also light to moderate snowfalls topping up cover.
That's been the case again this past week and most of the country's ski areas are now fully open (or almost so) with the busy school holiday period underway.
Mount Baw Baw
posted 20cm of fresh snow on Tuesday, the largest reported accumulation. The country's biggest resort,
Perisher
, has more than 60km of slopes open while
Thredbo
is posting the deepest base in the country at 1.1 metres.
New Zealand
Conditions were already pretty good across New Zealand with most resorts reporting decent snow depths and most terrain open but the past few days have seen a major storm system dump several feet of snow on many centres, temporarily closing resorts while the storm blew through and access roads and lifts were dug out.
So with the weather remaining cold and frequently snowy, it's looking good at almost all of the country's ski areas including
Mount Hutt
,
Cardrona
,
Treble Cone
and
Coronet Peak
.
On the North Island, there has been a week's delay to the season start at
Turoa
but that will now hopefully happen this coming weekend after plenty of fresh snow on
Mount Ruapehu
.
The
volcanic activity alert
in the region which had been on level 2, meaning a 2km exclusion zone around the crater, encroaching a little way onto the ski field, has been lowered to level one so that's additional good news for the season start.
South America
After a bit of a stop-start first month of the South American ski season with early snowfalls not really being built upon, things have improved dramatically this week with many resorts in the region reporting a metre or more of light Andean powder dumping on their slopes and creating some of the best conditions in years – not that many skiers have been able to get there the past few winters.
Indeed resorts including
Portillo
,
Valle Nevado
and Las Lenas are really only opening for the first time in three seasons. But borders are now open again and travel in to enjoy the powder is possible once more.
Africa
Lesotho's small Afriski centre remains open and after a fresh natural snowfall at the start of the month, it is back to relying on its machine-made snow cover. South Africa's only ski area Tiffindell unfortunately remains closed for the third successive season but there's talk of its re-opening in 2023.
Europe
It's believed to be the worst summer on record for summer skiing in the Alps with just three areas still open and each of them struggling to open all of their normal summer terrain.
The mountains are suffering a double whammy of below-average winter snowfall lying on the glaciers then hit by record high temperatures for much of spring and early summer. All three French summer ski areas – Les 2 Alpes,
Tignes
and Val d'Isere have closed early (well Val d'Isere decided not to open).
This past week has seen more of the same, with temperatures again hitting 20C at 2,000m and 10C at 3,000m. The three glaciers still open are Austria's
Hintertux
, Italy's Passo Stelvio and
Zermatt
in Switzerland (which can also be accessed from Cervinia in Italy at present). A fourth glacier,
Saas-Fee
, is due to open this weekend for its 22-23 season, but initially, because of conditions, will only allow team training on about half of its usual area, with no public access.
All that being said, there was actually a 5-15cm snowfall up high on glaciers last weekend, not unusual and not likely to change the overall direction, but a brief respite at least.
Further north three small ski areas are open in Norway, which had a snowier winter than the Alps and conditions are generally reported to be better. One of these, Stryn, will end its 2022 season at the end of the weekend though.
North America
The permanent snowfield at
Timberline
on Mt Hood in Oregon is the only ski area open to the public in North America in July. The weather has been hot, sunny and dry but fortunately big snowfalls in spring built bases five metres (17 feet) deep in May and two months later there's still more than half of that left. So much so that the centre has extended its expected season to "late August" over the past week.
If you sign up for a private camp you can also ski or board on snow terrain still open and lift-accessed above
Copper Mountain
in Colorado and on the Blackcomb glacier above Whistler in BC, Canada.
Asia
The only lift-accessed skiing still open in Asia is the Gassan snowfield in Japan. It's lost three-quarters of the eight-metre snow-depth it had when it opened for its 2022 season in April and its main lifts and runs have closed for the season, but still has limited skiing and boarding on its upper slopes, some of it hike-to after using the T Bar to get most of the way up. It's aiming to stay open to the end of July.