J2Ski Snow Report 24th March 2022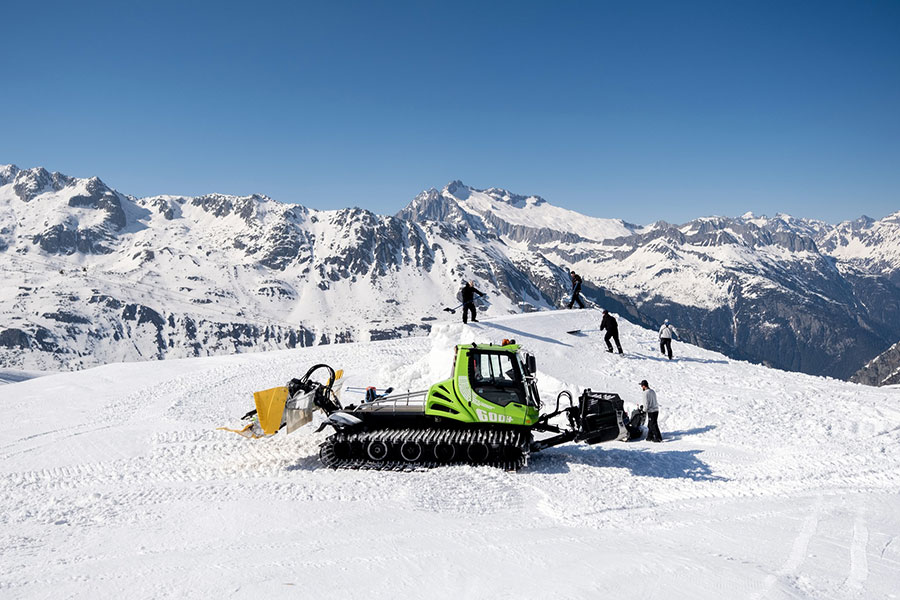 A very cool piste basher helping prep for the RedBull Super Ski Scross coming up at Andermatt, Switzerland, this weekend.
Spring in the mountains, but a little winter return...
The Snow Headlines - 24th March
- Another predominantly sunny week in much of Europe, most snow in the south.
- Snow falls across North America but more centres end their seasons as spring starts.
- Further easing of pandemic restrictions across Europe and North America.
- Scottish ski centres close earlier than hoped as UK temperatures soar.
Although Spring has got a grip in the Alps, we're in for a change at the end of the month... although the forecasts remain very uncertain at this point.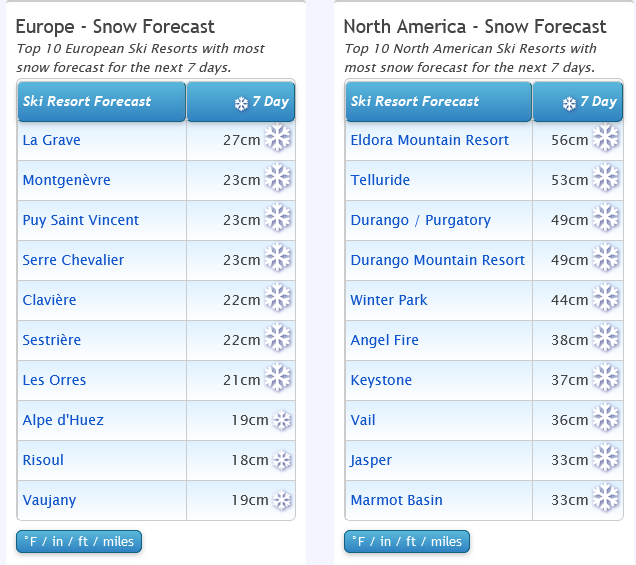 Some top-ups on the way...
Re-publication :- our Snow Report Summary, being the text above this line, is free to re-publish, but must be clearly credited to www.J2ski.com with text including "J2Ski Snow Report" linked to this page - thank you.
World Overview
Europe
The unusual picture of warm, sunny weather in the northern half of Europe and colder and snowier conditions to the south (east) has continued into a third week. Well, in reality, most of Europe has been warm and dry, it's just the southwestern and south-eastern corners that have seen more snow.
There was just a bit of light snowfall in the Eastern and Western Alps (less so in between) but the main picture has been warm sunshine and blue skies making the slopes sticky to quite high altitudes by lunchtimes and pushing the snowline ever higher up mountain faces.
The most snowfall has been reported in the Pyrenees and down in countries like Bulgaria again, although not so much as previous weeks, more in the 5-10cm total range for most areas.
North America

North American ski areas have had another roller-coaster week of repeated fronts bringing snowfall across the continent, but then warm weather troughs – sometimes very warm – coming between the snowfalls.
It's not a bad start to spring in most areas, although ski centres have begun closing across the USA with a few doing so in Canada too. Still, most of the big names north of Arizona and New Mexico remain open.
Against that, a growing number of resorts have announced extended seasons thanks to decent snow depths and fresh snowfall. As this is now officially spring skiing, the best conditions tend to be in the mornings and in the upper mountains.
Europe
Austria
Austria's predominantly warm and sunny March - after its frequently snowy February - has continued with few areas reporting even a dusting of snow and most just wall-to-wall sunshine.
What there was a dusting of, at the end of last week, was sand blown up from the Sahara... So with most of the country's smaller, local ski areas quite low lying it's no surprise that about a third of Austria's less well-known areas have already closed for the 21-22 season. Happily, though the bigger, higher, destination resorts remain open and the biggest areas like the Skiwelt,
Arlberg
and Saalbach regions are almost fully open with 90-95% of their slopes available.
The country's glaciers, some open to late spring or summer, are posting the deepest upper-sloppe base depths with year-round
Hintertux
topping the table with 2.5m.
France
Everyone watching the World Cup Finals in
Courchevel
– Meribel at the end of last week and through the weekend couldn't fail to notice the green valleys and sticky-snow by mid-morning as temperatures quickly climbed to double-digits above freezing.
So springtime is definitely here in the French Alps and the snow thawing fast. But despite the less than perfect late-season conditions and lack of freeriding opportunities the spring touring conditions are good and most of the groomed runs are open, with piste-bashers pushing snow down onto lower runs where needed.
Italy
Italy has seen similar weather to the rest of central and northern Europe – another week of predominantly sunny skies, temperatures getting above freezing even at altitude and 10-25C degrees above freezing in valleys.
So here too most resorts are now in full spring sunshine mode. There's not much change in the forecast either, just the chance of a little snowfall up high on Friday/Saturday as a weak front moves across the northeast of the country, with the best hope of a few centimetres in the Dolomites and Trentino.
Switzerland
A straight sunny week in Switzerland too.
There's a chance of a little fresh snow up high in the East of the country at the start of the weekend, but mostly it's full-on spring here too.
Photos have emerged of some glacial ice already visible as the snow cover has melted off, so a snowy April would be a bonus.
As with most major ski areas across the northern hemisphere, although it hasn't been a great season for snowfall, most Swiss resorts have plenty lying to see out their planned seasons and remain fully open.
Scandinavia
Scandinavian ski areas have not seen much snowfall in the past seven days either with plenty of sunshine here as well, in common with the rest of northern Europe.
Temperatures have stayed closer to freezing than further south, thanks to the latitude, but nonetheless have been creeping to +4 or 5C in the afternoons except in the very far north.
Daylight hours are also stretching out with 24-hour daylight only a little over a month away up in the Arctic Circle.
All in all, it's a positive picture across much of the region with most centres here planning to stay open for over a month more to the start of May, and currently having all runs open and the snow in good shape.
Pyrenees
The Pyrenees have had a slightly colder, snowier week than ski areas further north in the Alps, repeating the picture of the past few weeks.
There was some fresh snowfall through the week, although spring is making its presence increasingly felt with temperatures climbing up to double digits above freezing at times. Overall base depths are on the decline, unsurprisingly for late March, but most areas remain fully open (or almost so – 80-90% of runs) with base depths up to 2.3 metres ...down a metre on their high point three months ago, but still good for the final weeks of the season.
Scotland
Scotland saw the warmest weather in the UK over the last week with temperatures hitting +20C in places.
Although not so warm in the ski areas it was warm enough. This was a mixed blessing with fabulous weather for snowsports but obviously also rapid thawing temperatures, particularly for lower slopes.
The Lecht
has lost its snow cover and is closed for now, as is
Glenshee
, having announcing their 21-22 season was officially over.
Cairngorm has decided to close during the week with the aim of opening at weekends but says there's a walk to the base now and no beginner terrain available. Further west things have stayed open so far with
Glencoe
continuing to post the deepest remaining base.
Eastern Europe

Europe's southeast has continued to post the continent's coldest and snowiest weather through March and the first week of spring has not seen much of a change with fresh snowfall reported on the mountains of Greece as well as down in Istanbul.
In the wider region, it's been a mixture of warm sunshine and snowfall once more in Bulgaria where snow depths are excellent for this late in the season and conditions some of the best in Europe at present.
North America

Canada
Some snowy weather in both Western and Eastern Canada over the past seven days with ski areas around
Banff
– where the season lasts into May – posting 40-60cm accumulations and snowfall too in Quebec over on the East coast of the country bolstering bases there.
Snow depths of up to three metres are still in place in the West but the first of the big-name resorts are getting into their final week or fortnight of the 21-22 season with some closing the first weekend of April, others the second and a third or so planning to stay open to Easter.
USA
Snowfall has been reported across the US over the last seven days, with March turning out to be a much snowier month than January in the West particularly.
When it's not been snowing though it has tended to be warm, sometimes unusually so for March, with temperatures leaping to 10 or even 20 degrees above freezing and plus temps even two miles up in the Rockies.
This is kind of normal spring weather of course, if perhaps a little turbo-charged compared to the average fluctuations.
Most resorts in the south of the country as well as the Midwest, have ended their seasons over the past few weekends but some in states including Alaska and Colorado and elsewhere have announced the intention of staying open longer into spring with
Vail
open to the start of may now and
Alyeska
in Alaska, which has the continent's deepest snowpack at 4.2 metres, staying open weekends to mid-May.
We'll have more detail on that snow expected for Europe next week...