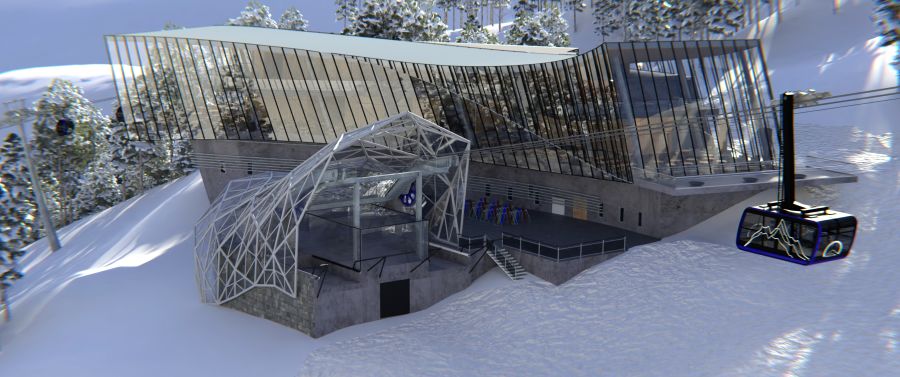 Montana's Big Sky ski resort has announced two major new lifts as "the final chapter" of a 10 year development plan between 2015 and 2025 which has seen it install North America's first eight-seater chairlift and the country's fastest six-seat chairlift, among many other upgrades.
Big Sky
has one of North America's largest ski areas and by some measures (if you include the linked private ski area of Yellowstone Club, although only property owners there are allowed to ski its slopes) THE largest.
In 1995 it opened The Lone Peak Tram an unusual aerial tramway (cable car) up to the ski area's then new highest point at Lone Mountain at (11,166ft /3,403 m), opening up what was for a time the biggest lift-served vertical in the US (4,350ft /1,326m), what was unusual about the lift was that its base station was not connected to the top of another lift, and that it could only carry 15 passengers in each cabin.
The new lifts now announced will see a new Doppelmayr gondola lift, complete with mid-station, run from the base of the mountain. At the top of the gondola there will be a new integrated base station for a new, full-size Lone Peak cable car/tram, replacing the 1995 lift.
Garaventa will build the new Lone Peak Tram which will be much bigger as well as faster and twice as long as its predecessor.
"The new lift system from the base area to the summit of Lone Peak will revolutionize the way we access 'America's Matterhorn' in both winter and summer," said Big Sky Resort president and COO Taylor Middleton.
Construction of the new lifts and their stations will begin this summer and is expected to take two summers to complete, opening for the 2023-24 season. The existing lifts will continue to operate next winter.