J2Ski Snow Report 20th January 2022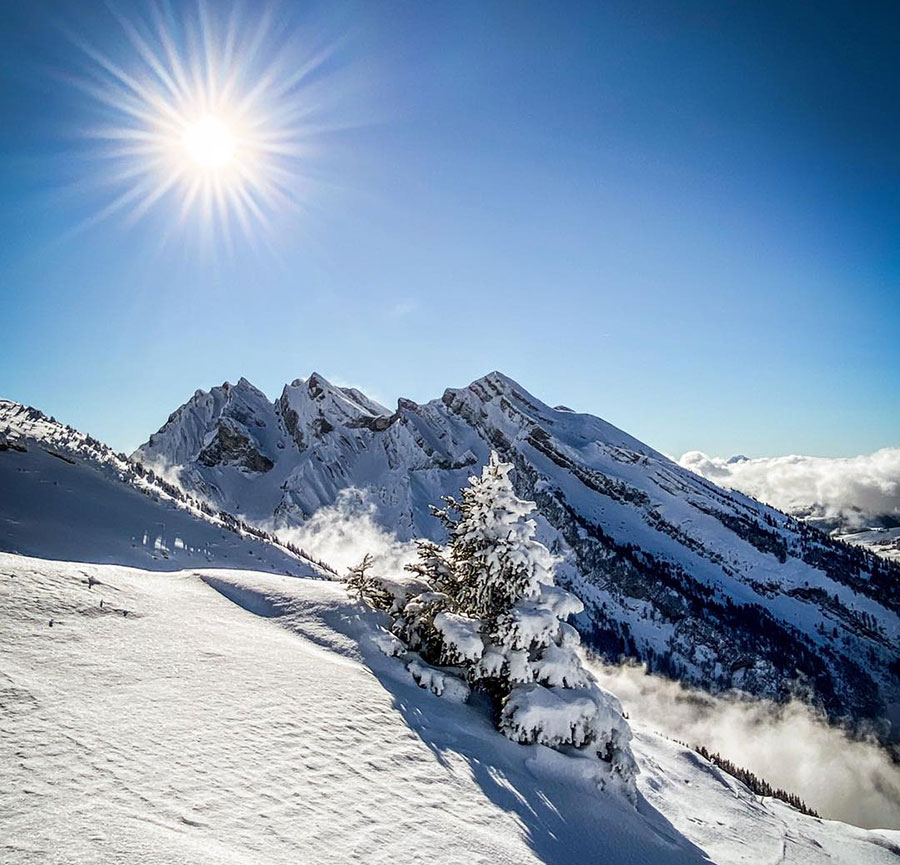 Sunshine on a snowy La Clusaz, France this week...
Sunshine in Europe, Snow in Japan...
The Snow Headlines - 20th January
- Wall to wall sunshine all week in the Alps (and most of the rest of Europe).
- Some ski areas report over two feet (60cm) of snowfall in eastern US.
- Warm weather sends Scottish ski areas back to the beginner slopes.
- Very cold temperatures continue in Eastern US, and a major snowfall this week.
- More heavy snowfall for Japan but borders remain closed.
- Warm weather in the US Northwest but deep bases to survive the impact of that.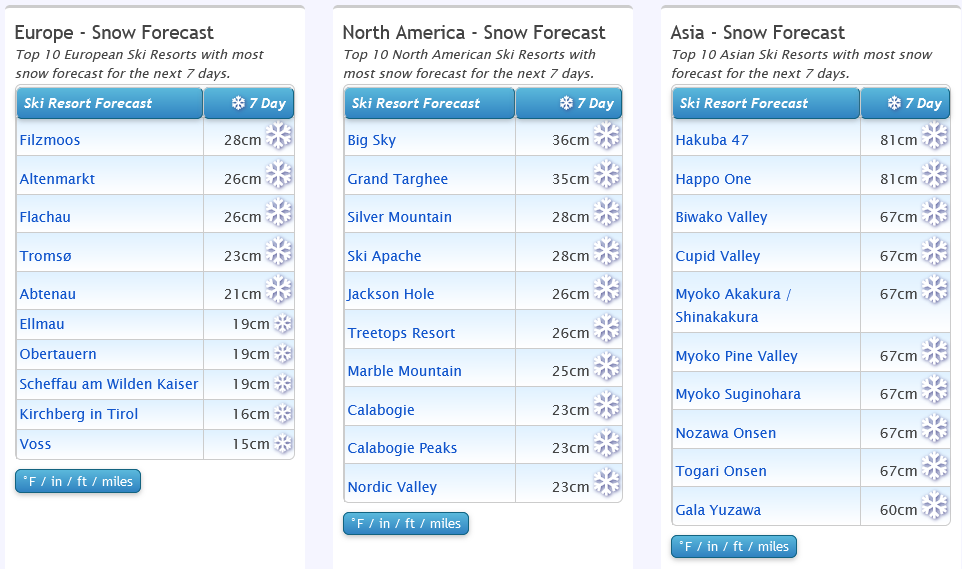 Japan still leading the forecasts...
Re-publication :- our Snow Report Summary, being the text above this line, is free to re-publish, but must be clearly credited to www.J2ski.com with text including "J2Ski Snow Report" linked to this page - thank you.
World Overview
Europe
Most ski areas across Europe have been using words like "paradise" and "dream" to describe conditions over the past seven days. Whilst that might be a bit too enthusiastic (these are marketing people after all) there's no denying it has been great almost everywhere.
Snow depths are pretty good, almost every run is open, the skies have been blue, the sun out all day, the wind light ...all in all near perfection for piste ski lovers. Perhaps a little less so for freeriders having an ever-harder time finding any remaining powder.
The reports from the north are less magical too. Some Norwegian areas closed after freezing rain landed on the snow surface whilst in Scotland warm temperatures have thawed away much of the snow cover.
North America
It seems that when one side of North America is doing well this winter, the other side suffers.
This time it's the East that has benefitted from a healthy snow dump to start the week, with some areas reporting 12-24 inches (30-60cm) and more snow falling whereas the west has been largely dry and up to 40 degrees warmer at the base of the slopes in the Northwest than over in the North East – unseasonably warm in states like Oregon and Washington, 20-30 degrees below freezing in Vermont and Maine.
Further north it's a less dramatic difference; fairly cold across Canada (very cold in the east, and south of the border) and light to moderate snowfalls reported across the country.
California still has the deepest snowpack reported in the US after the late December snowstorms.
Europe
Austria
Austria has had a week of fairly non-stop sunshine although things are starting to change now with clouds rolling in and the first snowflakes for nearly a fortnight for some areas starting to fall. The snow is generally light, but a heavier fall is expected around Friday/Saturday.
Most centres are fully open and though it has been a little warm in valleys, conditions on piste are generally reported to be excellent. Some significant snowfall would be welcome, many areas are getting by on 50-100cm of snow cover and even up on the glaciers depths up top are below two metres for most, which is below average. But most skiers won't notice that as there's plenty of piste cover for now.
France
There's no fresh snowfall to report in France and that has been the case for nearly a fortnight now. It's not a huge worry though as temperatures have not been too warm, despite full sunshine every day, and bases from early season snowfalls remain healthy at the big destination resorts. The result is that they're all more or less fully open and piste skiers reporting superb conditions. There's little fresh snow left off-piste, however.
The deepest snowpack in France (and Europe) continues to be reported down in the French Pyrenees, the only part of the continent where it is up to three metres/10 feet deep.
Italy
Italy has had sunny weather across much of the country for another week too, although it is starting to change in the north with light snow showers reported since the middle of the week, expected to continue through the weekend.
Further south, the sunshine should continue at least into next week, making it a fortnight straight for many areas. Most Italian resorts are fully open and report great on-piste conditions. The only hiccup is tightening COVID restrictions as infection rates rise. This already meant only fully vaccinated people allowed on the slopes in most cases, but in addition has led to, for example, limits on the number of people on the slopes in the
Aosta Valley
announced this week. That said the region reports the reduced numbers allowed are still greater than those wanting to buy lift tickets at present.
Switzerland
Swiss slopes are mostly in great shape after a sunny week here too. It perhaps got a little warm last weekend but on the whole, temperatures have been fairly low and on-slope conditions glorious in the sunshine.
As with the rest of Europe, almost all slopes are open now, and snow depths are relatively good, although here too there has not been a lot of fresh snowfall for nearly a month. Still, there has been occasional light to moderate snowfalls giving a refresh.
The 4 Valleys has the largest amount of terrain open in the country with more than 90% of its 410km of runs open.
Scandinavia
While it has been mostly sunny for most of Europe it's been a much more mixed picture in Scandinavia, with plenty of clouds and some snowfall, prolonged for parts of the north, heavy at the start of the week for ski areas like
Voss
on Norway's West Coast.
It's (even) more difficult to forecast aurora visibility, than snow, but some areas where skies have cleared have been treated to a good display over the past week too.
Overall, most ski areas in the region have about 60-80% of their slopes open with not yet terribly deep bases, and in the south not terribly cold temperatures either, although further north things remain well below freezing.
Pyrenees
The Pyrenees have been posting the deepest snow in Europe for more than a month now. That's quite unusual but as both the Alps and the Pyrenees got some good snowfalls in the first half of December, but neither not very much since, it seems the Pyrenees did slightly better. In any case, this is the only area in Europe posting up to a 3 metre (10 feet) base depth, they also have all their terrain open.
Like further north, it has been a mostly cold, mostly sunny week. Here though there's no immediate sign of much changing over the next few days either with sun forecast through the weekend.
Scotland
January weather in the British Isles has been particularly bizarre over the past seven days with a topsy-turvy picture seeing freezing fog and frost in the south of England but +10C and spring-like conditions in the Scottish Highlands. That's nice for gardeners wanting to get an early start-up north but bad news for the ski centres which are back to stage one with much of the mountain snow thawed away once more and just all-weather-snowmaking-machine snow left to open small areas at the base.
Some deep snow patches are surviving though so the most optimistic picture is of a quick recovery once temperatures dip again.
Eastern Europe
Although there were snow flurries to start the week in Southeastern Europe, and more significant snowfalls up in the Tatra mountains of the northeast, the past three or four days have seen sunshine for much of eastern Europe too.
Resorts in Bulgaria have been posting lower temperatures – double digits sub-zero – than those in the Alps.
The weather is set to change here to end the week and through the weekend with clouds moving in and some snowfall expected, although probably just a few centimetres. Conditions remain good across the region though with healthy snow depths and everything open.
North America

Canada
Things are looking good across Canada, with all centres open, and most now nearing full opening too.
Not a huge amount of snowfall to report but there have been small to moderate falls across the country. The biggest issue has probably been the extreme cold in the east with temperatures dipping to -30C and some areas closing for safety reasons at times as a result.
By contrast, the west, Alberta and BC, which had been very cold at the start of the year, has warmed up to closer to freezing. The continent's largest ski area Whistler now has a foot of snow lying on lower slopes and has passed the two metres mark up top and is now more or less fully open.
USA
It has been warm and mostly dry on the Western side of the US. In many ways that's a good thing as the big snowstorms that hit at the end of last year were driven in on gales and resorts had to close for days as the damage was repaired and lifts and access roads dug out. Now they can open but they are probably not so happy that temperatures have been getting quite so warm as they have, particularly in the northwest where we're getting double-digit plus temps and snow depths are dropping in mid-January.
Mammoth though is maintaining a 16-foot base on its upper mountain, the continent's deepest.
The big snowfall news of the past week hit the Eastern third of the US. After very cold temperatures (20-30 degrees below freezing) in the Northeast, a major snowstorm dumped 1-2 feet of snow on Sunday - Tuesday, including quite far south. This is the biggest snowstorm of the season so far and feels like a return to normality after a fairly tame start to the season. It's certainly provided a big boost to the region's ski areas which had been relying predominantly on machine-made snow up to now.
Killington in Vermont, the region's largest ski area, said it had received two feet (60cm) of snowfall by Wednesday.