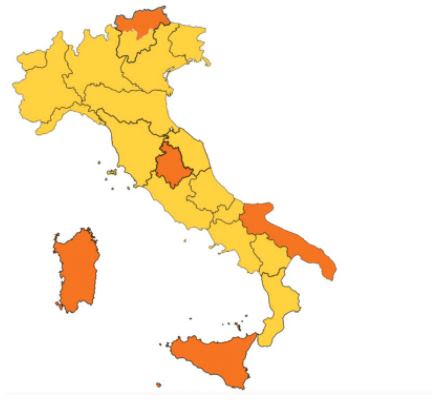 Most Italian ski areas will be allowed to re-open their ski lifts from Monday 15th February, it currently appears.
The date has been in the calendar for some time but previous dates have come and gone without any real hope resorts would re-open. This time it currently looks more promising for most areas.
The Italian government's Technical Scientific Committee has ruled ski areas in "yellow zones" under the country's new tiered lockdown rules, can open from the 15th. Current yellow and orange zones are highlighted in the map above.
Normal pandemic operating procedures for ski areas the world over are to be in place including mask-wearing, social-distancing and the promotion of online ticket sales.
They rejected a proposal from the regions concerned to allow ski areas in orange zones to re-open with a 50% capacity reduction on lifts and the mandatory use of Ffp2 masks.
It is also currently unclear if Italians will be able to travel from a higher risk zone into a yellow zone to ski.
If Italy's ski lifts do start turning again it will leave only France of the 'big four' Alpine ski nations where the lifts remain out of action.
The opening of Italy's ski lifts is not the same as the resumption of ski tourism, particularly international ski tourism.