J2Ski Snow Report 10th December 2020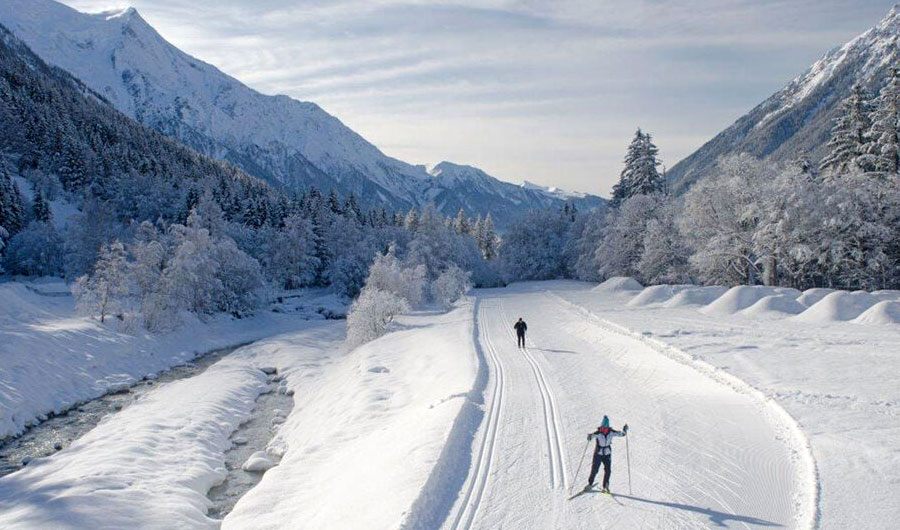 The lifts may be shut, but you can still ski in Chamonix...
Huge snowfalls in Europe. Many ski areas in USA, Switzerland, Asia now open.
The mountains are waiting for us... please stay safe and follow local advice on travel. We can't all go skiing just yet but we can dream!
The Snow Headlines - 10th December
- Heavy snowfall in the Alps, Dolomites and Pyrenees - up to 2 metres reported.
- 20-21 ski season gets underway in Slovakia, Poland, Romania and Scotland.
- Most major ski areas and many smaller centres now open for 20-21 in North America.
- Leading Norwegian ski areas begin to open for season.
- Andorra joins France, Germany and Italy in deciding not to open ski slopes until Jan 2021.
- Most northern hemisphere nations announce ski areas will be opening for 20-21 as normal.
It's been another turbulent week in world skiing with skiers asking (1) will there be any snow? and (2) will resorts open due to COVID?
On the first question, huge snowstorms over the past week mean it is a definite "yes" at last, for most at least, after a worryingly dry month before. The snow is now lying deep on most European slopes, supporting the 'Murphy's law' prophecy of many skiers throughout 2020 that if ski resorts are closed, it will be a great winter for snow conditions!
In fact, all sorts of weather was thrown at Europe including strong winds and some warm spells when rain rather than snow fell and that all sent the avalanche danger warnings up to Level 5 - the maximum - in Austria and Switzerland. Monday saw an avalanche fatality off piste near
Engelberg
too, underlining the danger.
It is early days for snow, of course.
Ski area opening remains complicated, particularly in Europe. So far not many ski nations appear to have succumbed to the French/German/Italian call for Christmas/New year closures. Andorra has but Spain (and non-EU Switzerland) so far continue to resist, as do all countries in Eastern Europe and Scandinavia as far as we can tell.
Ski areas are opening across Asia and North America, including in virus hotspots, where the government perspective appears to be that ski areas with pandemic-spread-prevention measures in place are good to open to promote physical and mental well-being when everything else must close. With the main season upon us, it looks like around 1,000 ski areas will be open in North America, China and Japan this coming weekend.
Away from the Alps and mainland Europe, it has turned increasingly wintery at last further north and more ski areas have been opening in Scotland and Scandinavia. More surprisingly, there's been snowfall too in Australia and New Zealand in the southern hemisphere to start December, where it's currently summertime.
In the Alpine Forecast

French Pyrenees now in the firing line for some heavy snowfall...
Re-publication :- our Snow Report Summary, being the text above this line, is free to re-publish, but must be clearly credited to www.J2ski.com with text including "J2Ski Snow Report" linked to this page - thank you.
Europe
Austria
Austrian ski resorts seem to be accepting their government's decision to keep ski resorts closed to locals until Christmas Eve, and tourists until January 7th, better than their neighbours in France and Italy. Perhaps they are being better compensated than ski resorts in France and Italy or perhaps they recognise the decision really comes from neighbouring Germany which also supplies the majority on their international guests.
So Austrian resorts have switched fairly seamlessly to saying opening day (for locals) is only a fortnight away. The opening day snow conditions are looking much more promising too after the snowfall of the past week put several feet of snow on previously bare slopes, although it was heavy and wet at times and parts of Tirol were among areas where the avalanche danger level suddenly ratcheted up to the max level five. But once things settle down, it's looking good.
France
In France, ski resorts and the regions in which they are located are increasingly angry about their enforced Christmas closure and the lack of support from the country's government.
Oddly, given the stated aim of suppressing virus spread, the resorts themselves can stay open and are allowed to offer all activities except downhill skiing. Restaurants and hotels will be able to open BUT won't qualify for support, the resorts say - and won't make enough money either as skiers won't be there.
Concerns have also been expressed about the safety of ski tourers on closed and un-patrolled ski area slopes.
In the meantime, French resorts have been posting pictures of snow-covered slopes and Val d'Isere is prepping to stage the first World cup downhills of the season this coming weekend.
Italy
There was a huge amount of snowfall for Italian ski slopes in both the Dolomites and the Alps over the past seven days. Ski areas like
Arabba
were all but cut off and the
Dolomiti Superski
region has been warning of high avalanche danger, noting that slopes are closed to ski tourers and hikers and not being made avalanche-safe or patrolled as they would normally be.
The country will host its usual World cup races in
Alta
Badia and
Val Gardena
later this month, behind closed doors, however, and GS races were staged at
Santa Caterina
(having been moved from Val d'Isere) over the weekend, with Sunday's race postponed to Monday due to the storm.
Switzerland
Although Switzerland is reported to be under continuing pressure from its neighbours on all sides to close its ski areas, so far it is resisting. More centres opened last weekend and those that had already open expanded the terrain they had skiable.
The main 'problem' faced was heavy snowfall and strong winds which sent the avalanche danger up to max at a number of areas.
Andermatt
and
Laax
were among those closing for a few days as a result until things were made safer whilst World Cup racing at St Moritz was postponed. It remains to be seen if Swiss ski areas are allowed to continue to operate through Christmas; many other businesses in ski resorts in some cantons have been forced to close.
Around 25 ski areas are open so far, including most of the big-name resorts (
Grindelwald
,
Leukerbad
, Murren and
Wengen
among those newly opened at the weekend), and that number is set to jump again this coming weekend.
Scandinavia
Ski resorts have been open in one part of Scandinavia without a break right through 2020, the only part of the world where that's the case. Riksgransen stayed open through the spring pandemic and then summer ski areas in Norway were open through summer and autumn.
As the main 20-21 season begins it has been mostly smaller centres to open so far, along with Finland's
Ruka
and
Levi
which have already clocked up two months of the season. Although the virus numbers are better than most of Europe in Finland and Norway there's been some concerns in Sweden but the regions largest resort, Are, just announced it would open from December 18th.
The first of Norway's big hitters,
Geilo
, opened last weekend with a 40cm base and neighbouring
Hemsedal
is due to join them this weekend.
Pyrenees
The Pyrenees got plenty of snowfall over the weekend and at the start of this week too, and unlike in the alps where the snowfall seems to be easing off briefly, it is forecast to keep dumping through the latter half of this week too. Alas, here too COVID decisions are for closures through Christmas and New year. At least that's the case for Andorra, which is joining the French/Western EU call for shut down through the festive period. Spain though, remains undecided it seems.
All resorts were closed as we went to press but several in the Pyrenees appear to still hope to open in the next fortnight if they can, it appears to be local health advice preventing that happening so far, rather than a national directive.
Scotland
Scottish ski areas received their first 'big dump' of the autumn with heavy snowfall at the end of last week. The borderline between rain and snow was marginal with many Highland valleys getting torrential rain instead, but there were 20-40cm snow accumulations at altitude.
Glencoe opened for the season on Saturday using mostly snow made by its all-weather snow factory and for sledging initially, not skiing, but it is also allowing ski tourers to use its chairlift to access high altitude natural snow. Other Scottish centres are also offering some snow play, only Nevis range remains closed and plans to probably stay so into the new year.
Eastern Europe
It appears Eastern European countries are rejecting the call for all EU countries to closer their slopes over Christmas and New Year, so far at least. Slovakia's largest resort Jasna opened at the weekend, centres in Poland and Romania have too and resorts in Bulgaria and Slovenia look to have got the green light from their governments as well,
Borovets
has targeted the 19th.
After a warm, dry November conditions have been improving with colder weather, some natural snowfall and snow cannons fired up.
North America
Canada
Almost all ski areas in western Canada are now open and the season is really off to a great start for most with good snow depths and most slopes open – better than almost anywhere else in the world in fact.
Alberta has again been seeing some healthy dumps in recent days after a dry spell and there have been powder days at
Jasper
and
Banff
once more. Set against the snow joy there's the virus and restrictions have been increasing including a ban on non-essential travel in BC meaning driving to the slopes can be illegal with fines issued.
Over in the East, the picture remains 'challenging' – more with the weather here though the virus is also a factor of course. But repeated warm spells means cover remains thin and few areas have opened so far.
USA
Hundreds of ski areas are now open across the US although with the virus infection levels already high and getting higher restrictions are getting ever tighter. Many areas have closed restaurants, some (Mammoth) hotels too and in Aspen a negative virus test result is required before you can hit the slopes.
It has been a quiet week for snowfall, with more mostly dry weather, the main exception being the northern corner (especially Maine) of the Northeast where a storm brought several feet (60cm) of weekend snowfall to resorts including
Sugarloaf
.