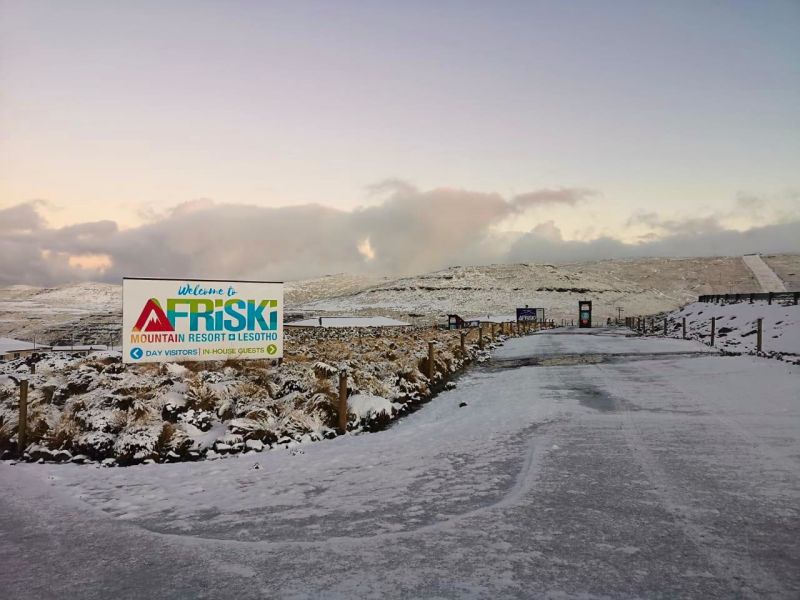 The 2020 ski season has got underway in the southern hemisphere with the first ski area to open Afriski (pictured above this April) in the small African nation of Lesotho.
Prior to the pandemic Afriski had been one of the areas that had set an early season start date targeting Thursday, June 4th. Mt Hutt in New Zealand was aiming for June 5th and Australian resorts June 6th. The only other candidate was the small 'Happy Valley' snow play and beginner ski area on
Mount Ruapehu
in New Zealand which has all-weather snowmaking and planned to open on May 30th.
All of these dates were missed due to the pandemic, although Mt Hutt plans to open next Friday 12th June, a week late, and is currently enjoying cold weather and fresh snowfall in New Zealand ahead of that date. Australian resorts will open from June 22nd.
Lesotho has had very little impact from the pandemic so far and was one of the last countries to report cases and has had no deaths but has now lifted its lockdown. However South Africa, which surrounds it and from where most of Afriski's skiers and boarders arrive, remains in lockdown and the borders closed, so the slopes have only opened for local, Lesohoi-based skiers and boarders only so far.
There's not much terrain open either. In peak season the centre has a kilometre or so of trails but after snowfall in spring it has been dry and sunny for the past two to three weeks, although cold enough for overnight snowmaking, allowing a few hundred metres of snow slopes to be opened.
It's currently unknown when or if ski areas in the southern hemisphere's other main ski nations, Argentina and Chile in the South American Andes will happen this year with their lockdowns still firmly in place and cases rising on the continent.