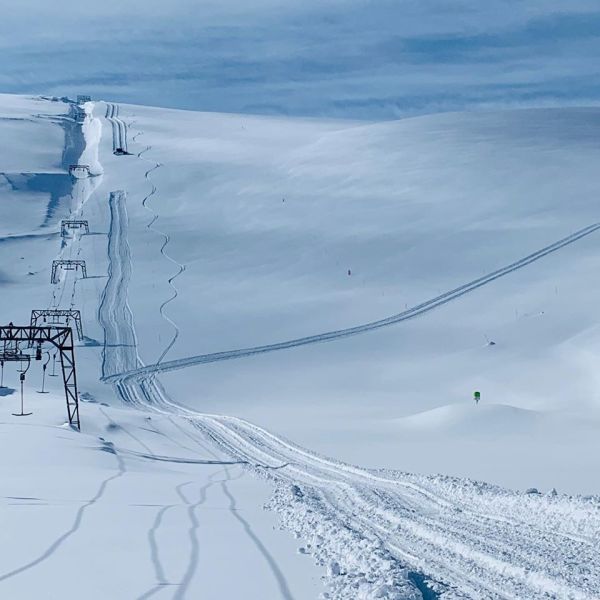 The half-dozen ski areas still open in Norway are reporting superb powder skiing this week after a major snowstorm hit the country's ski centres at the weekend.
Two of the country's glacier areas reported a metre of snow landing in 48 hours. One of them, Galdhopiggen, had been due to open for its 2020 season on Saturday but delayed to Monday due to the extreme weather.
Another, Fonna, which is already open was closed for three days before re-opening on Tuesday and declaring this a 'powder week' and recommending skiers arrive with snorkel and sunscreen as the weather is now sunny.
Fonna is currently posting the world's deepest base (for some years) lying more than 15 metres deep.
It's believed to be the first time since mid-March that ski areas have been closed by snowfall rather than the virus.
A number of other Norwegian areas have re-opened for the past month after restrictions there were eased in mid-April.
Hovden
,
Myrkdalen
near
Voss
and Roldal ski areas are among those to have re-opened. However late May is also getting late for non-glacier ski areas to be open, even with the fresh snow, and some others have already closed again, whilst several of those now open will close (again) for the season on Sunday.
The only other ski area open in Scandinavia, Riksgransen, is also due to close then, having been the only centre to operate through the pandemic. It has confirmed it will re-open for is traditional midsummer skiing weekend in a month's time however.
With possibly only the two glaciers in Norway, Kanin in Slovenia, and one ski area in Oregon due to be open next week it may again be the lowest number of ski areas to have been open on the planet in the history of modern skiing. There is a chance however that more centres will re-open at very short notice and some non-glacier areas in Norway may continue to operate.
The numbers will start to grow from the end of next week however with more glacier areas due to open in the Alps and Scandinavia followed by the first southern hemisphere centres a few days later.