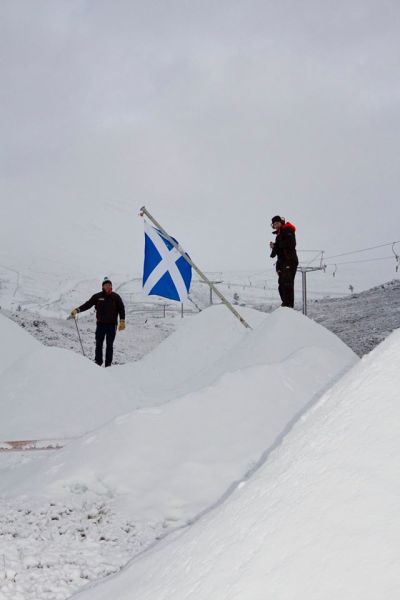 The 2019-20 ski season in Scotland will officially kick off on Saturday at Cairngorm ski centre above Aviemore.
The centre's 'Snowsports Festive Launch Event' will take place from 10am-3pm, and include snowsports taster sessions for under 5s, demos from Cairngorm Ski Club, Scottish Ski club and Gordon Ski Club and Cairngorm Snowboard Club as well as mince pies and mulled wine and the chance to meet Santa and his reindeer.
With temperatures in the valley forecast to reach 11C on Thursday/Friday, along with a yellow weather warning for heavy rain, it unfortunately currently seems unlikely there'll be much, if any, natural snow cover on the slopes. Cairngorm is planning a lot of activities to get the season started though and has been making flake-ice snow with its all-weather TechnoAlpin SnowFactory machine for over a month.
Slightly ironically it has been sub-zero with natural snow cover for much of November in the Scottish mountains, but has now warmed up as we enter December and most of the natural snow has gone.
However the centres are posting images of large amounts of all-weather snowmaking machine snow with
Glencoe
reporting they now have a 200 metre long run for sledging and beginner ski lessons.
This winter all five Scottish Highland ski area have all-weather snowmaking systems after the two that didn't install them last year,
Glenshee
and Nevis range both installed their own system with investments of around £1m a piece.
The
Nevis Range
system is different to the TechnoAlpin machines most commonly used, with a Dutch system, built in China, that is set to be especially powerful.
Cairngorm's opening comes as the centre's future continues to be uncertain with a decision still to be made on whether its key funicular rail link to its upper mountain is repaired at an estimate cost of around £10m, or removed at an estimated cost of £13m and replaced with something else at further cost., It will be the second winter that the funicular has not operated.