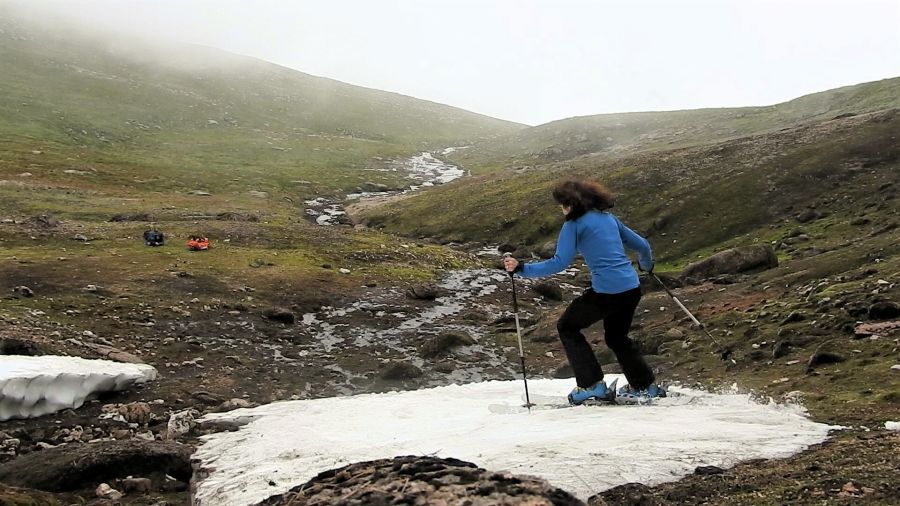 A former Geography teacher from Inverness has - despite climate change- managed to ski for 120 consecutive months on Scottish snow. Her record breaking achievement has seen her hike many miles with her skis in summer and autumn to ski tiny remaining snow patches in the Cairngorms and Nevis area.
With this month looking like all remaining snow patches from last season may disappear, 65 year old Helen Rennie was hoping for new snow and yesterday on the 2nd of October her wish was granted, and there was just enough to make some turns below the summit of Cairngorm.
The previous month she had hiked 6 miles to a patch at Aonach Beag accessed primarily by the gondola at
Nevis Range
(pictured above on 1st August this year).
"Way back in November 2009, I headed up Cairngorm to enjoy the first day of the snow sports season, never for a moment imagining that day would be the start of a record breaking achievement," said Helen, adding, "It was an epic ski season and snow lay in the mountains throughout the summer, so I decided to try to ski for twelve consecutive months by hiking up to the remaining snow patches- and then it just kind of snowballed!"
Helen first tried in 2006 and managed 11 months but in the October of 2007 was diagnosed with oesophageal cancer so didn't manage the full year.
"The real heroes of this achievement are my GP's and the staff at Raigmore hospital because without them I wouldn't have been here to attempt this challenge," Helen added.
The challenge has been more difficult these past three years, as there has been less snow accumulating over the winter and as a result smaller amounts remaining over the summer. Helen has become fascinated with snow patches and their survival, something which is being monitored by snow patch enthusiasts and those interested in climate change. Helen says going up in the summer is now not only about skiing the patches but also about monitoring their changes over each year.
Helen who celebrated her 10 year achievement with a strong coffee concluded,
"I don't plan ahead and live life a day at a time but it would be good if this winter was like 2009 /2010, the epic one that started it all!'