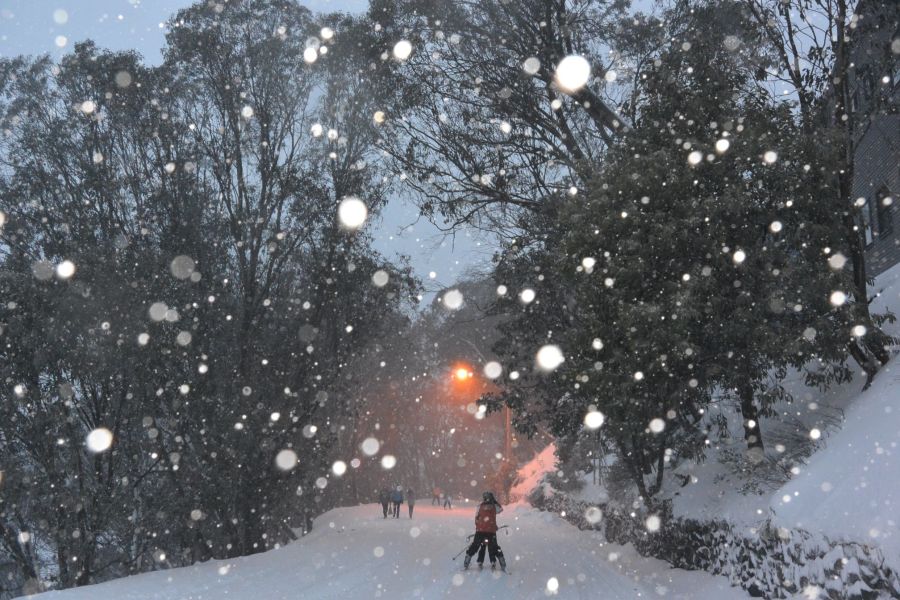 Australia's largest resort, Perisher, reported that pre-season snowmaking got underway earlier today there with the 2019 ski season only four weeks away.
J2Ski are also forecasting heavy snowfall for ski slopes in New South Wales and
Victoria
on Thursday and Friday this week, with temperatures dropping to around -3C as a cold front arrives from the Antarctic, a fact also noted by the resorts themselves.
"We are expecting 50cm of pre-season snow on Thursday and Friday," a spokesperson for Falls Creek (pictured above last year) said, whilst at Thredbo a spokesperson said, "Solid falls are forecast down to the village on Friday."
Currently the cold weather and thus the snow is not expected to last in to next week and long-term forecasts for the season ahead remain uncertain with Oceanic temperatures in The Pacific finely balanced between good news and bad for 2019 snow.
Snow is also expected to arrive in New Zealand towards the end of the weekend although probably not so much – that forecast is still some way off however so may change.
The southern hemisphere's 2019 ski season is due to begin in just over three weeks on the first day of meteorological winter south of the equator, Saturday 1st June, with
Whakapapa
and
Cardrona
in New Zealand both aiming to open some terrain, possibly requiring the use of all-weather snowmaking systems.
Next scheduled to open is Tiffindell in South Africa on Wednesday 5th June followed by the other southern African ski area, Afriski in Lesotho, the next day, Thursday 6th June.
The following weekend is a long one in Australia with a public holiday to celebrate the Queen's birthday on the Monday and most Australian ski areas traditionally open that weekend whether there's snow or not.
Las Lenas in Argentina has targeted Saturday 8th as their opening date too but otherwise, most South American's ski areas don't usually open until miod0-June onwards.
Of course, its possible ski areas will open sooner than June 1st if there's early snow build up and that some people may hike up to ski the Aussie snow if it arrives as forecast at the end of this week.