J2Ski Snow Report 25th October 2018

Alpine Snow accumulations by Monday; Switzerland in the middle, orange is 50cm, dark red is 1m+!
Image courtesy of the excellent
Ventusky
J2Ski Snow Report 25th October 2018
And... there's snow in the forecast, and quite a lot of it!
October 25th Snow Headlines
- Big snowfalls expected from this weekend across Europe
- At least 9 ski areas expected to be open in US to end October, compared to 2 last year.
- 2018-19 World Cup ski season scheduled to begin with races in Solden this week.
- California's 2018-19 season underway.
- More than 20 ski areas now open in Northern Hemisphere.
-
Killington
and
Sunday River
start ski season in Eastern North America.
- Southern Hemisphere 2018 season over.
- Three ski resorts open already in Colorado.
After a largely warm, dry, October a return of winter is forecast for the Alps and indeed much of Europe from the start of the weekend to end the month.
The biggest snowfalls are expected on the South side of the Alps where substantial snow could accumulate by the end of the month, although snowfall looks likely across a wide area.
The Eastern Alps, Dolomites, Pyrenees, Scotland, Scandinavia, Bulgaria and parts of North America should also see good snowfalls on their ski slopes too, just not so much.
Fresh snow will be particularly welcome on the dozen or so Alpine glaciers that have been struggling to maintain skiable terrain after another week of mostly warm conditions. That said, it has got colder since the weekend in some areas with some midweek snow falling on high Austrian slopes.
Regardless of too much or too little snow by Saturday, the FIS has however given permission for Solden to stage its annual World Cup season opening weekend.
Last weekend was unusually active for mid-October in North America with three ski areas opening in Colorado as well as Sunday River in Maine and Killington in Vermont, the first in the East for the 18-19 season.
California's Mt Rose Ski Tahoe started their season a week earlier than planned thanks to snowmaking.
Snow in Battersea Park!
Today sees the annual London Ski and Snowboard Festival get underway in Battersea Park.
In the Alpine Forecast
The "distinct change" we flagged in last week's Snow Report has shaped up into a bit of a monster; cold temperatures and wide-spread heavy snow is going to be pushing into The Alps this weekend. Accumulations of a metre or more are quite possible across a wide area, with the biggest snowfalls to the South of the main Alpine ridge; much of Austria, southern Switzerland and northern Italy will be affected.
Caveat! The weather systems producing the expected storm(s) are, by their very nature, extremely dynamic and difficult to forecast precisely. Considerable disruption to travel and lift operations is likely, with very localized snowfall in places.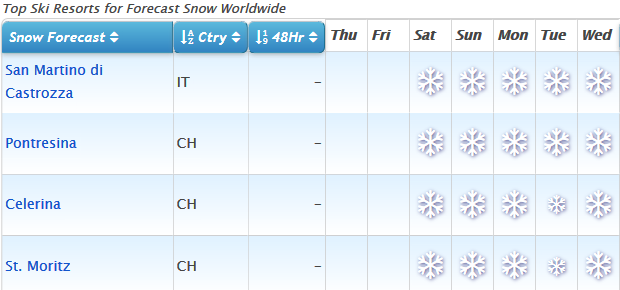 See where it's expected to snow this week...
Re-publication :- our Snow Report Summary, being the text above this line, is free to re-publish, but must be clearly credited to www.J2ski.com with text including "J2Ski Snow Report" linked to this page - thank you.
EUROPEAN ALPS
Austria
Most of Austria's glaciers, plus Kitzbuhel, are now open and it should be a bit of a holding pattern for the next three weeks until the 'main' season begins just after mid-November with
Obertauern
and Obergurgl likely to open first.
Solden will stage the first World Cup races of the northern hemisphere's 18-19 campaign this weekend on its glacier as it has done for more than three decades now.
Conditions should be getting increasingly wintery on Austrian slopes over the coming week. There was actually some snowfall reported on Austrian glaciers midweek as a prelude to what's about to come this weekend.
France
The French ski season started last week at
Tignes
, a little over a fortnight after the scheduled start date, when glacier snow-grooming teams managed to move enough snow around to create a thin cover acceptable for good to advanced skiers to make some turns on. In what's thought to be an unprecedented move, access is limited to morning or afternoon sessions with skiers and boarders required to wear a coloured arm band depending on which they choose.
Les 2 Alpes, which was due to open from this weekend for a week, had previously announced it will not open for its mid-autumn glacier ski week for the second year in a row, as there's no decent snow cover on the glacier.
That could all change from this weekend however if the forecast snowfalls arrive as expected.
Italy
Cervinia re-opened last weekend joining
Val Senales
and Passo Stelvio to give Italians a choice of three glacier ski areas once again. Two more areas, Sulden and
Passo Tonale
, say they'll open this weekend too taking Italy's open total to five, third in the world behind the USA and Austria.
We're in to the last few days of the unusual spring-autumn six month season at Passo Stelvio now. It normally closes after the last weekend of October, or first of November and this year says next week will culminate in a five day end-of-season party to the 4th November.
Cervinia, which is currently closed midweek, will be open daily until next May from this Saturday on, so it has the other six months of the year covered. Val Senales is primarily open for ski team training but there is a limited area open to the general skiing public too. As with the rest of the alps, Italian slopes are expecting big snowfalls from this weekend onward.
Switzerland
The number of Swiss ski areas grew by 50% last weekend – from two to three – with the
Diavolezza
glacier in the Engadin Valley joining Saas Fee and
Zermatt
. Next to open may be
Engelberg
's Titlis glacier but it keeps setting back its target opening date back by a week or so, most recently to give Thursday 1st November as the earliest possible date, but not confirmed. As with the rest of the Alps some big snow falls are expected in Switzerland over the coming weekend and in to next week.
Scandinavia
It shouldn't be long until more Scandinavian ski areas open, joining
Ruka
in Finnish Lapland which did so a fortnight ago using snow saved from last season. There have been some colder days and fresh snow on the fells but still it's a bit early for most. Levi will be next up after Solden with World Cup competition in just a few weeks' time. Snow is forecast here at the weekend but generally only small accumulations. However snowmaking systems will be able to operate at capacity.
Pyrenees
There's been more snowfall in the Pyrenees and further south on
Sierra Nevada
the peaks are looking very white indeed, but it's still a month until the season is due to start here, unless there are any surprise early openings. Significant snowfall is expected here too from the weekend.
Scotland
More snowfall is expected on Scottish slopes over the weekend when an 'Arctic Blast' is forecast to hit northern hills and mountains, to the malicious glee of tabloid newspapers and genuine glee of Scottish snow lovers. Whether we will have a repeat of
The Lecht
's Halloween opening, last seen almost 20 years ago, remains to be seen.
Eastern Europe
There's nowhere reported open yet in eastern Europe but snowfalls are expected here as well, on higher slopes, over the weekend.
North America
Although there's no ski area planning to open in Canada before the start of November there's been a bit of an early opening frenzy in the USA with half a dozen areas from coast to coast last weekend and more planning to join them this weekend.
There has been some new snowfall (and more is forecast) but most of the areas opening did so thanks to snow-making. The Colorado total is now up to three with
Arapahoe Basin
and Loveland joining first-to-open
Wolf Creek
. The first ski area in California, Mt Rose Ski Tahoe also opened and on the East Coast both Killington in Vermont and Sunday River in Maine opened some terrain with snowmaking.
Among the resorts that have so far announced plans to open this weekend are
Mount Snow
, a second area in Vermont,
Wildcat Mountain
in New Hampshire with its earliest ever opening, and
Lookout Pass
in Idaho will open trails and lifts Sunday.
Southern Hemisphere
The ski season in the southern hemisphere ended earlier this week when the last areas open on Mt Ruapehu on New Zealand's North Island decided to call it a day on winter 2018, despite having more than three metres of snow still lying on the slopes.