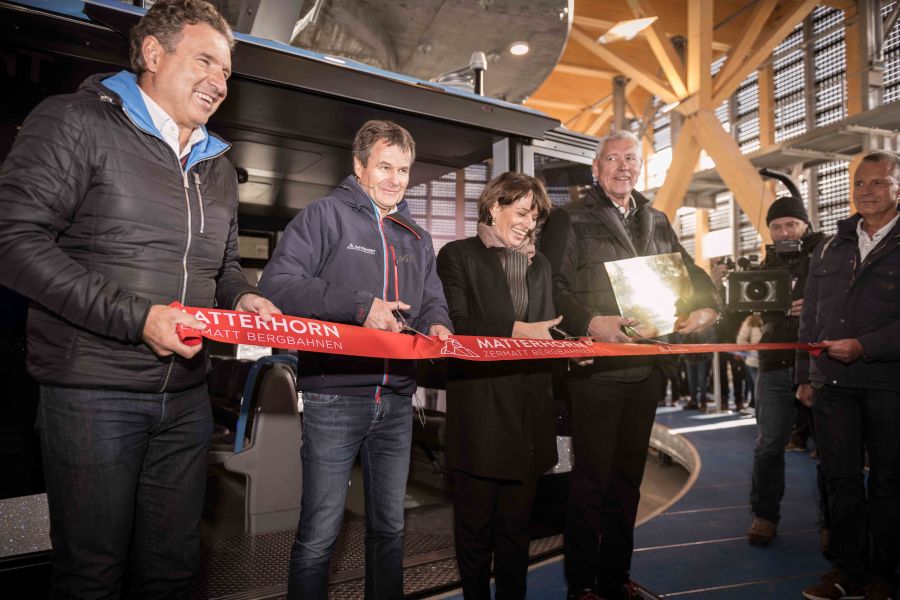 The remarkable new 3S gondola lift which was officially inaugarated at Zermatt this weekend after 2.5 years under construction will be just the first stage in the creation of a new skiing super region across the Swiss-Italian border of 540km of piste, according to the new chairman of Zermatt's lift company.
Speaking at the lift's official opening ceremony and blessing, Franz Julen, the new Chairman of the Board of Directors at
Zermatt
Bergbahnen AG said,
"The construction of the highest 3S cableway in the world to the Klein Matterhorn is just the beginning of an even bigger vision: a first step towards the realization of a continuous lift connection between Zermatt and Italy. An 'Alpine Crossing'. This will be possible with the addition of another 3S cableway already planned to link Testa Grigia and 'Matterhorn glacier paradise' (on the Klein Matterhorn). In a second stage, our Italian partners envisage two cableways to connect the Zermatt – Cervinia – Valtournenche ski area with that of Val d'Ayas – Alagna –Gressoney (the Monterosa Ski resort). With the addition of 180 kilometres of slopes to create a total of 540 km of pistes, we would have one of the biggest ski areas in the world."
The new Leitner built lift which climbs from Trockner Steg (2923 metres) about 900 metres higher up to the Matterhorn glacier paradise (Klein Matterhorn) at 3891m has cost 52 million Swiss Francs to build with around 38 companies involved. It is the world's highest 3S cableway.
The new lift has 25 comfortable cabins, each seating 28 and a carrying capacity of 2000 passengers an hour.
"The nine-minute ride at a travel height of almost 200 metres above the ground offers first-class comfort and a fantasic all-round view of Zermatt's majestic high-alpine panorama The facts tell the story: for good reason, the construction project is being described as a true pioneering achievement. Waiting times will be a thing of the past," said a spokesperson for the lift company.
The opening ceremony was attended by members of the construction workforce, media representatives and celebrities from all over Switzerland. Further underscoring the significance of the project for Switzerland and the tourism industry, Federal Councillor Doris Leuthard was there to cut the red ribbon: she congratulated everyone involved on their superb achievement, which she said showed that Switzerland was capable of setting new standards both in tourism and cableway construction.
"This is something we should be proud of," the infrastructure minister declared, highlighting the impressive feat of building the cableway under such difficult circumstances on a construction site at an altitude of almost 4000 metres.