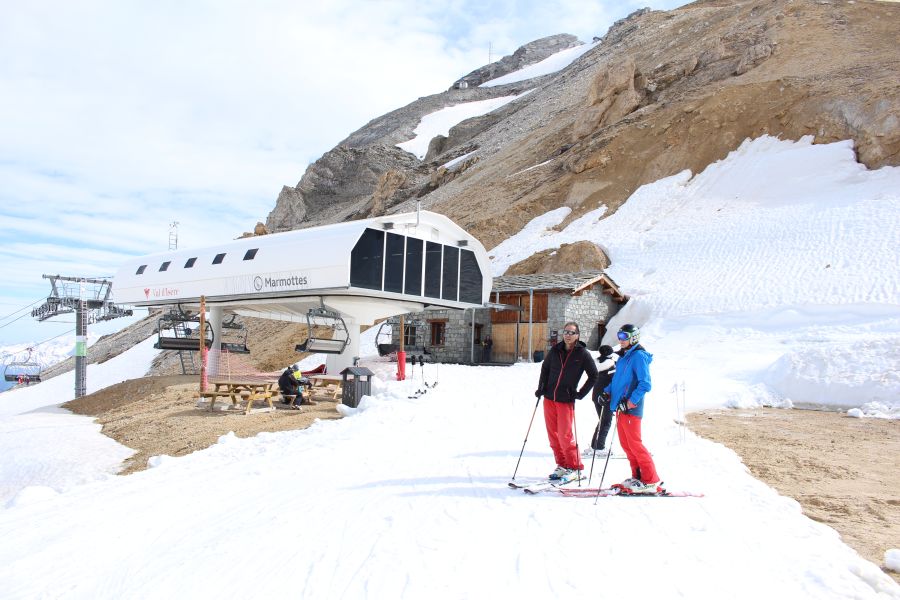 Val d'Isère in the French Alps reopened its winter lifts for summer skiing yesterday for the first time in its 82 year skiing history.
The resort is one of three in France that do offer summer glacier skiing from later in June, but this year Val d'Isère have re-opened some of their (non-glacier) winter slopes for the first time ever because of all the snow that fell last winter, about 50% more than usual, which is still lying several metres deep on the ski runs.
Yesterday, just over a month since the village had closed for the ski season on May 1st, around 200 skiers and snowboarders rode the Funival funicular to the top of Bellevarde where the first sections of slopes OK, Diebold, 3J and Verte were open, with snow more than a metre thick.
David McCallum, a British property developer who lives in Val d'Isère says: "It was quite remarkable. You can ski 400-500 vertical metres and, after half a dozen runs, we felt we had done a full morning's skiing with tired legs to match!"
After each run, enthusiasts could jump on the Marmottes chair for another go; exactly the same as in winter.
The winter skiing on Bellevarde will remain open for two weeks, with the lifts and runs operating in the morning before it gets too hot, while snow-clearance teams continue to battle their way up to the Pissaillas Glacier where summer skiing will continue at 3,000 metres until 13 July 2018, weather conditions permitting.
Although most of the hotels, chalets and apartments are not open at this time, you can still find accommodation, and companies such as SnowDrone can transfer guests from/to the
Geneva
airport (the usual buses have stopped). The resort fully reopens for the summer on 30 June 2018.
The Bellevarde slopes close at 12.10 pm each day. Lift passes cost from €28 pp per day or €330 pp for the summer season.