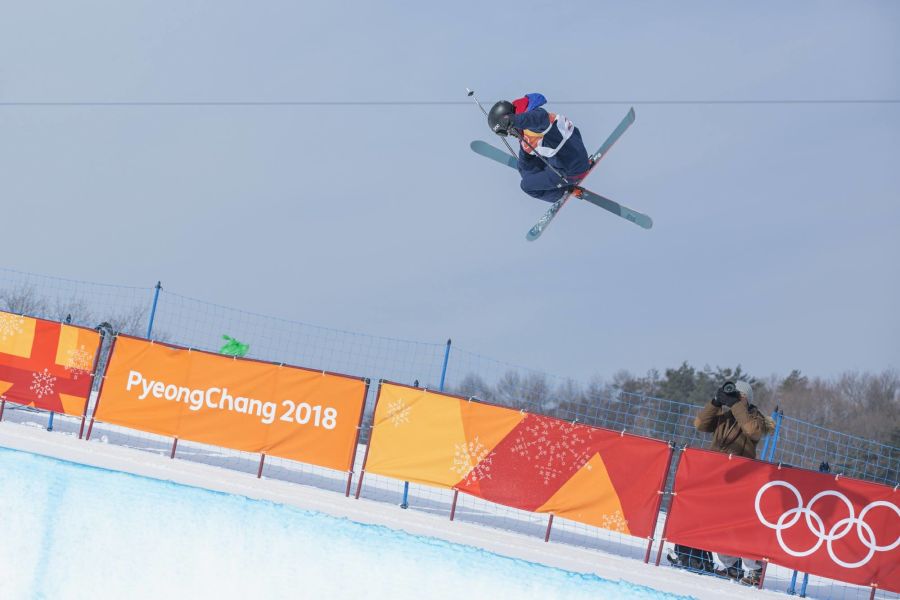 Rowan Cheshire posted a great Olympic result this morning with a top 10 fining in the ladies' ski halfpipe.
After not making it to the start line in Sochi following a heavy crash in training, Cheshire managed her PyeongChang competition extremely well to show why she is considered one of the best in the world.
Like in qualifying, Cheshire laid down a score on her first run, enabling her the freedom to push harder as she moved deeper into the final.
Cheshire's opening run was good enough for 75.40, and while she crashed out on the second and third trips through the pipe, her opening score was good enough for seventh overall.
The competition was won by Canada's Cassie Sharpe (95.80) ahead of Marie Martinod (92.60) of France and USA's Brita Sigourney (89.80).
"It feels amazing, I'm on top of the world at the minute," said Cheshire after the event. "It was always the goal to make finals. But you never know sometimes, I could have fallen, I didn't know if I was on form. And obviously all the girls have been training so hard.
"So it's hard to judge sometimes if my run is going to be good enough, especially with the limited time on snow I've had with injuries."
Cheshire, who had a grin on her face from the start of qualifying to the conclusion of the final, added: "I will look back on this day with a lot of joy and happiness. I qualified into the finals in ninth so it's great to bump up a few places into seventh. I couldn't really have asked for much better."
FREESTYLE SKIING: MEN'S HALFPIPE at Phoenix Snow Park
Team GB Results: Murray Buchan 14th, Peter Speight 15th, Alexander Glavatsky-Yeadon 26th
Murray Buchan and Peter Speight were within sight of a place in the men's ski halfpipe final with the pair falling just shy of the top 12.
Buchan (66.00, 14th) and Speight (64.80, 15th) were only just outside the cut-off point of 68.60 which would have seen them through to tomorrow's final.
Alexander Glavatsky-Yeadon pushed hard on both runs but fell on both occasions leaving him back in 26th.
While Speight and Glavatsky-Yeadon were making their Olympic debuts, Buchan – who was the last skier to drop – improved on his
Sochi
position of 17th where he was almost 10 points outside qualifying for the final.
"I'm really pleased to land both my runs although I'm disappointed to be so close," said Buchan. "I feel like my chance to make the final is gone, you never know when you're going to get another shot so it's disappointing.
"But I really hoped that I was going to land one of my runs with both doubles in it and I did it twice so I'm really happy with that. It's a great experience. It's still not really sunk in. Because you're in the thick of it, you don't really realise the scale of things. It's all really exciting and new. Hopefully I get to do it again."
Speight, who crashed out on his first trick on the first run, was happy to land his second run and knock on the door of the Olympic final.
"I'm really stoked to put down a solid run in the Olympics," said Speight. "There was a lot pressure at the top there after falling on my first run. That second one was a decent run for me so I'm really stoked.
"I felt the pressure on that first run unfortunately. I just wasn't expecting it to be so crazy when I went out. Second run I just let it go, I was feeling good and I just managed to make it down.
"It would have been nice to have landed the first one so I could have gone all out for finals but overall I'm really happy."
While Glavatsky-Yeadon failed to land a run, he was pleased to even be standing on the start line after blowing out his anterior cruciate ligament last year.
"Last June I had a bad crash and unfortunately I tore my ACL," he said. "I spoke to a surgeon and he thought I could make the Olympics without an ACL so I got my meniscus repaired and then did heaps of physio, got back on my skis and managed to qualify.
"Qualifying without an ACL was really tough for me but I feel that it's been totally worth it. I'm standing at the bottom of the halfpipe after my first Olympics, I'm stoked on that.
"I didn't manage to land both my runs though so I'm a little bit gutted but it just motivates me to get back out there and push myself to get to where I want to be."
DAY 12 PREVIEW
SNOWBOARD: MEN'S BIG AIR at Alpensia Ski Jumping Centre
12:30am (GMT) – Rowan Coultas, Billy Morgan, Jamie Nicholls
After being the first three athletes to hit the competition arena for Team GB in PyeongChang, Rowan Coultas, Jamie Nicholls and Billy Morgan have had to wait a week and a half before their next appearance in tomorrow's big air qualifying.
Billy Morgan has finished inside the top 10 at World Cup level in big air on four occasions, including a podium at Mönchengladbach at the end of 2016 when he finished third. He also finished seventh at the 2015 World Championships.
While Jamie Nicholls' two big air World Cup top 10s both came in London when he was a teenager, he will still be targeting a trick which can land him in Saturday's final. He failed to land his jumps at the World Championships in Spain last year but will be confident of a strong performance after a solid outing in the slopestyle qualifiers last Saturday.
Rowan Coultas' first Olympic campaign continues tomorrow and he will be striving to make amends after not locking down a run in slopestyle qualifying. As a 17-year-old, Coultas was 25th at the 2015 World Championships but his best big air result came at this venue in 2016 when he finished third in his qualifying heat before earning eighth place in the final of a World Cup event.