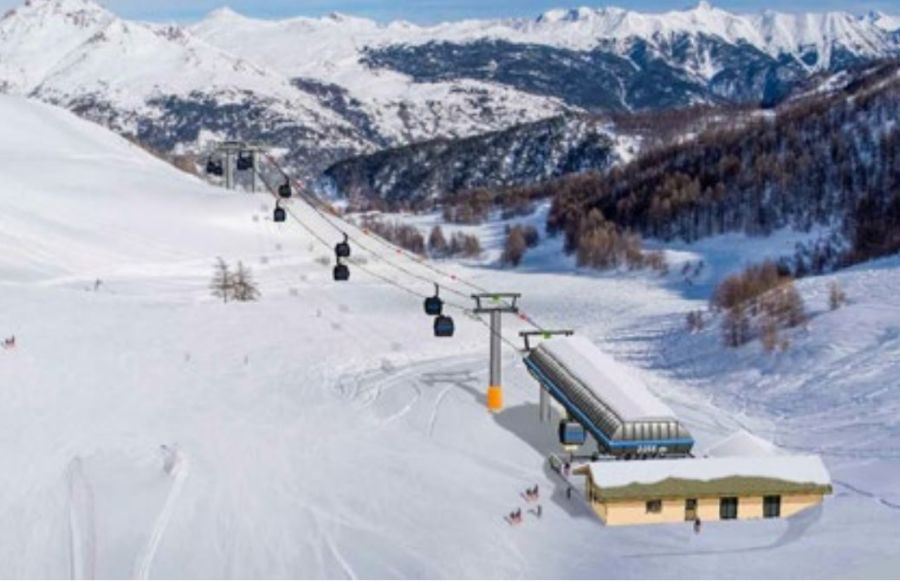 A new €26m gondola due to open this winter at Serre Chevalier ski area will do the usual job of a new lift – increasing capacity, comfort and speed of ascent over its predecessors – but unusually the resort is much keener to talk about its environmental benefits and future proofing for climate change than it is the tech spec of its shiny new Pontillas gondola lift.
While most resorts are spending more and more on snowmaking to try to pile up snow to build bases when it's cold enough,
Serre Chevalier
is taking a different approach and all but giving up on that approach. Instead they're proudly announcing they've cut back on snowmaking by 20% in the last two years and say they new lift will enable them to cut back further.
The idea is that the lift will ascend to a new beginners area at the top station, so that when there's no snow at the base in early or late season beginners can just take the lift up to where it is. Similarly no piling on the snow overnight from machines in autumn or spring to keep a run down to resort open for everyone else, once the snow I gone there's now the gondola to ride the last section back down on.
The two old lifts the new gondola replaces are not going in landfill either with Serre Chevalier working with a specialist environmental company to salvage and recycle as much as they can, including both renovation and repair jobs around the resort and providing spare parts to other ski resorts using the same model of lift. The number of support towers is down from 31 to 18 with 375 tonnes of scrap steel gone for recycling.
Serre Chevalier has been working to cut its environmental impact for many years now, pioneering solar, wind and hydro power on site to generate green energy while working in many ways to adapt its offer for the impact of climate change.