J2Ski Snow Report August 11th 2023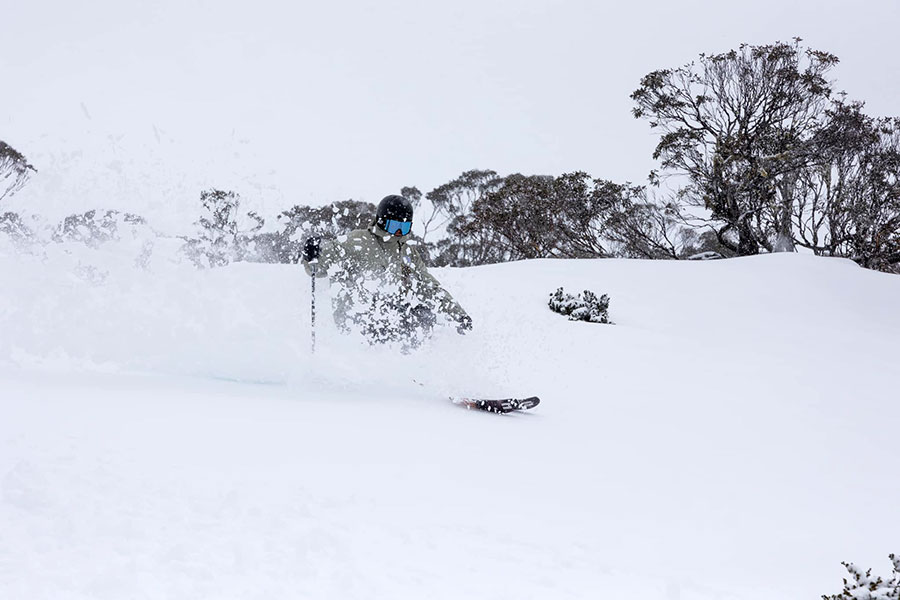 Perisher, Australia, just got a top-up...
Snow in New Zealand, and more coming, and Australia got a bit.
The Snow Headlines - August 11th
- Deepest base in southern hemisphere overtakes deepest in northern.
- More light fresh snowfall for high slopes in the Alps.
-
Mammoth Mountain
concludes 9 month 22-23 season with 3 months to 23-24 start.
- More snowfall and cold temperatures in New Zealand bring improving conditions.
-
Tignes
announces it will open for the 23-24 season in late November.
- Loveland sets countdown clock to start of 23-24 season snowmaking.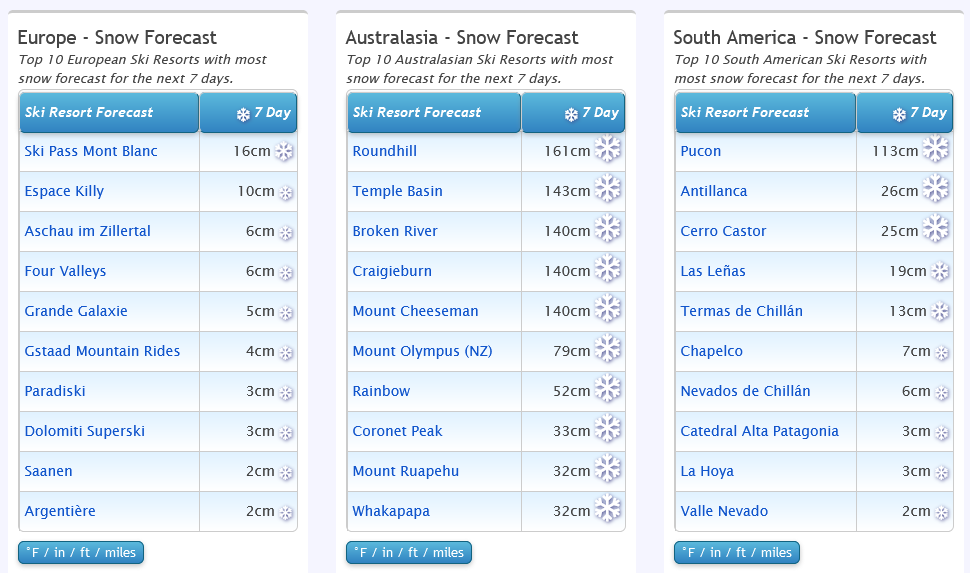 More forecast snow inbound for New Zealand
Re-publication :- our Snow Report Summary, being the text above this line, is free to re-publish, but must be clearly credited to www.J2ski.com with text including "J2Ski Snow Report" linked to this page - thank you.
World Overview
New Zealand has seen some of the best of the weather in terms of cold and snow over the past week with most centres there almost fully open open and the two deepest reported snowpacks in the southern hemisphere, including the only one over 2 metres.
In fact
Mount Ruapehu
is now posting the deepest base in the world.
Fairly cold with some snowfall in South America too but Australian areas are still battling warmer-than-average temperatures and little fresh snow, although there was 5-10cm reported on Thursday and more's now forecast for next week. In any case most of the larger centres are surviving on snowpacks built up earlier in the winter.
In the northern hemisphere, there's been more high-altitude snowfall in the Alps dusting high peaks. It's also just over a month until more glacier ski areas start to open in the Alps to join the four that already are.
In a month and a half, snowmaking will get underway in Colorado and in less than two months the season will start, thanks to snow farming, at several ski areas in Finland.
Southern Hemisphere
Australia
Australia's winter has stalled rather in recent weeks after the cold and snowy end to June and start to July.
Fortunately, snow built up in the cold spell and continuing overnight lows cold enough for snowmaking means that most areas still have most of their slopes open, but a couple –
Selwyn
and Mt Baw Baw have little (in Mt Baw Baw's) or nothing (in Selwyn's) still open.
Of the big players though,
Perisher
still has about 50km of slopes open and snow more than 1.2m (4 feet) deep up top. Others like
Hotham
,
Falls Creek
,
Thredbo
and Mt Buller have less snow cover left but still have 50-80% of their slopes open.
The good news is there was some snowfall in the past 24 hours, if only a few inches, and the forecast is looking snowier, at last, for next week.
New Zealand
Conditions continue to improve in New Zealand where temperatures have been mostly sub-zero and there have been several more snowfalls, albeit largely lighter than last week's.
Tūroa on Mt. Ruapehu on the north island is the standout, the only ski area in the southern hemisphere to have passed the 2m base mark. In fact on Thursday more fresh snowfall took it past 2.5m overtaking
Saas-Fee
to take the deepest snow stat in the world from the northern to southern hemisphere.
The real good news though is that it now has about 80% of its slopes open, getting around earlier staffing issues that had stopped it from opening more.
The picture is much improved right across the country, with
Mount Hutt
now having 90% of their terrain open and the snow lying six feet deep up top. The 37km of open slopes is the most in the country but others like
Cardrona
,
Coronet Peak
and
Whakapapa
are not far behind.
South America
Argentina
The season is ticking along at Argentina's ski areas without any big snow accumulations to report in recent weeks. By contrast, most areas have seen plenty of sunshine, but temperatures have remained cool and below freezing on higher slopes/overnight so centres are still 60-80% open.
The largest, Catedral near
Bariloche
, has by far the largest area open on the planet at present, with nearly 100km of slopes accessible.
Chile
It has been a snowy few days in Chile, where resorts are posting deeper snow stats than Argentinian ski areas further east. 20-40cm accumulations have been reported with the snow still falling and temperatures getting down as low as -10C overnight.
Portillo has the deepest snow in South America at over 1.2 metres (4 feet) but
El Colorado
and
Valle Nevado
are each posting the largest ski areas open to date – with around 32km/20 miles of slopes open at each.
Africa
There was more natural snowfall reported on high slopes in Lesotho and South Africa this week but unfortunately, neither the former's Tiffindell resort nor the latter's Afriski are offering skiing or boarding this winter.
Europe
Alps
There was more fresh snowfall reported for high slopes in the Alps earlier this week with ski areas including
Avoriaz
posting pictures of a light dusting on their higher slopes on social media channels, quickly gaining thousands of likes in an (extremely) early bit of excitement for the 23-24 season.
However, it seems there'll be a bit of a wait before we can ski French slopes again as Tignes appears to have given up on opening in Autumn, saying its 23-24 season will start at the end of November alongside resorts like
Val Thorens
and still over three months away.
In the meantime, four glacier ski areas remain open in Austria, Italy and Switzerland with another half-dozen areas in those three countries expected to join them next month.
You can currently ski at
Hintertux
in Austria, Passo Stelvio in Italy and Saas-Fee or
Zermatt
in Switzerland, the latter is also accessible from Cervinia. However, the changeable conditions that brought the summer snowfall have caused some operating issues at times as it has also brought hill fog, gales and rain between sunny periods.
The weather is looking a little more settled and sunny going into the weekend. Saas Fee has the most terrain open, about 14km of slopes, and is posting some of the world's deepest snow at 2.5 metres on the glacier.
Scandinavia
Norway's Galdhopiggen glacier, home to Scandinavia's highest slopes, is the only centre currently open in the region, with about a mile of runs skiable. At this northerly latitude and high altitude, temperatures have been hovering close to freezing and more fresh snowfall has been reported, along with most other kinds of weather through the last week.
The week ahead looks similar with more snowfall expected along with rain, sleet, gales and low cloud, plus some sun.
North America
We are down to one ski area still open in North America after Mammoth Mountain concluded it's 275 days long 22-23 ski season last Sunday.
The only slopes open to the public now are above
Timberline
Resort on Mount Hood in Oregon. However cover there is wearing thin after months of warm weather, reported to be down below a metre now with about two miles of runs still open. There's no closing date announced but, usually, the latest opening is a holiday weekend at the start of September.
Next month should see snowmaking start on high slopes at resorts like Loveland in Colorado which aims to open for the season as early as it can in October.