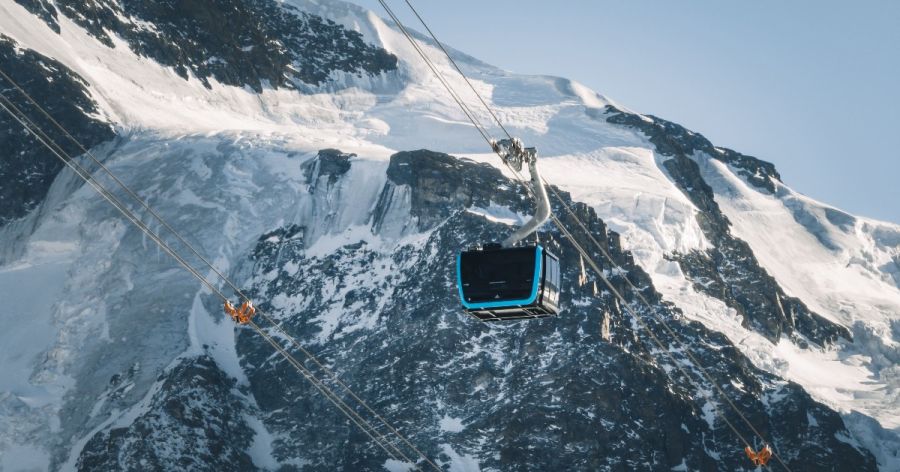 A return ticket to travel on the newly completed Alpine Crossing, a series of interconnected gondola and cable car lifts that crosses the Swiss – Italian border between the ski resorts of Zermatt and Cervinia has been put at 240 Swiss Francs, currently £211. A one way ticket for the approximately 90 minute journey is 164 Swiss Francs or £137.
The crossing price may vary depending on demand as
Zermatt
uses so-called "dynamic pricing" like hotel rooms and airline tickets for its passes. Children up to age 9 and dogs always travel free of charge. Children up to age 16 pay half price and there are various other discounts available to students, groups etc.
The Alpine Crossing, which has been "a dream for many years," allows pedestrians to cross the border by the Matterhorn and passing via one of Europe's highest lift served points at the Klein Matterhorn, without needing to go outdoors, travelling within cable car or gondola cabins. It also passes one of the world's only year-round ski and snowboarding areas, at the Matterhorn Glacier paradise.
The ticket price also includes admission to attractions along the way including the Glacier Palace, use of the viewing platform and Cinema Lounge, the SnowXperience Plateau Rosa and admission to the 3S InfoCube.
"Surrounded by the breath-taking mountain panorama of the Alps the new route offers thrills, luxury and the highest level of comfort. An experience in a class of its own – gliding above the amazing mountain landscapes of Italy and Switzerland with views of the instantly recognisable Matterhorn."
Passengers also receive a 'Boarding pass' souvenir brochure with the most important information about the Matterhorn Alpine Crossing. There are around 6 or 7 sections to the crossing depending on route taken on the Swiss side. Passengers can get on and off at different stations on the route at their leisure, they do not need to keep travelling.
The final stage of the lift, which has large gondola cabins descending from the Klein Matterhorn down to the Italian border, is due to open this Saturday, 1st July, about a year later than planned due to pandemic delays and related supply chain issues.