J2Ski Snow Report June 8th 2023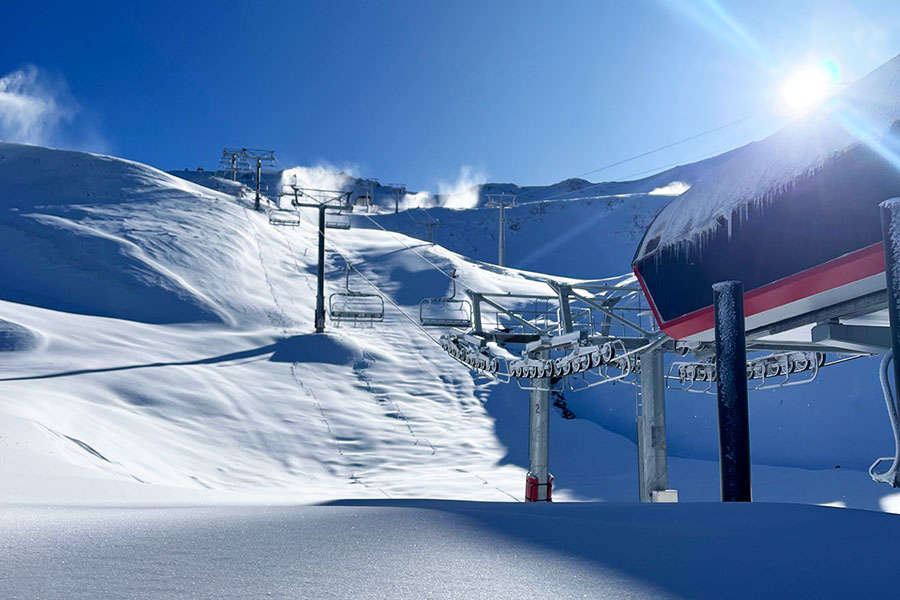 Mount Hutt, New Zealand, reports "very thin cover" but will open Saturday 10th June...
Southern hemisphere ski season about to start.
The Snow Headlines - 8th June
- Southern Hemisphere's 2023 season start imminent.
- Final area still open in Colorado closes with fresh snow falling.
- Four ski areas in four countries open in the Alps.
- Val d'Isere summer ski season scheduled to start this coming weekend.
A little hope in the snow forecast...
Re-publication :- our Snow Report Summary, being the text above this line, is free to re-publish, but must be clearly credited to www.J2ski.com with text including "J2Ski Snow Report" linked to this page - thank you.
World Overview
The southern hemisphere's 2023 ski season is due to get started this coming weekend with the first ski areas in Australia and New Zealand (and possibly in the Andes too), all aiming to get the lifts running from this Friday or Saturday. The only fly in the ointment is spells of mild weather that have been impacting the pre-season snowpack build-up in Australia and New Zealand. So it's fingers crossed.
In the Northern Hemisphere, there are still areas open from the 22-23 season although the numbers continue to slowly decline with the last area still open in Colorado closing last Sunday. But at the same time, more
summer
ski centres are opening with lift-served skiing resuming in Italy at the weekend and a second French glacier area set to open this coming Saturday.
Southern Hemisphere
Australia
Australia's ski season is due to get fully underway this weekend, the traditional season start date with a long weekend including a Monday holiday reallocated to celebrate King Charles III's birthday, despite its lack of proximity to the actual date.
Things were looking promising for much of May with repeat snowfalls totalling about a metre through the month in some areas, plus temperatures low enough for snowmaking, but annoyingly the week up to the opening date has seen warm and wet weather dominate.
So no early openings in the end but thankfully temperatures are now dropping with overnight lows below freezing so snowmaking can resume. There was snow reported overnight Thursday-Friday at many ski areas and a little more in the forecast too.
However it's not looking like enough in the near term unfortunately and a growing number of areas are saying that although they'll open at the weekend, there'll be no skiing possible initially.
Thredbo
(one of those reporting snowfall on Thursday night) and
Selwyn
(opening for the first time since 2019 after a catastrophic bushfire destroyed it in each 2020 and a subsequent rebuild) are among those with "no snow sports possible" openings. At the time of writing Mount
Hotham
,
Perisher
, Thredbo,
Falls Creek
and
Mount Buller
(which has all-weather snowmaking) had not confirmed if they're able to have some slopes open or not.
New Zealand
After a rather warm end to May, the weather seems to be coming good just at the right time with snow falling and temperatures dropping on New Zealand's South Island as the start of the 2023 season nears.
There were some decent, 20-30cm, snowfalls last weekend and snowmaking has been fired up as temperatures have dropped. Only
Mount Hutt
had hoped to open this weekend and it said the decision was on a knife edge earlier this week, but on Wednesday it said it will open, limited terrain, just 24 hours later than hoped, this Saturday 10th.
Potentially it'll be the first area opening to stay open for 2023 (club field
Manganui
opened last month for three days after a particularly good pre-season snowfall but has closed since).
More NZ ski areas are due to open from the 17th.
Argentina
It has been cold and snowy in Argentina, although the start of the season is still at least a week away for most centres here.
La Hoya
was among the resorts posting a big snowfall at the weekend.
Catedral, the continent's largest ski area, has said it may open some slopes this weekend if conditions allow, but has not yet confirmed if it will.
Chile
It's a similar story to Argentina with most Chilean ski fields having seen some good re-season snowfalls. The famous
Portillo
ski resort said it had had about 25cm of snowfall in a recent storm. Some agencies are reporting
La Parva
may open this weekend but the centre itself has not yet confirmed this.
Africa
At present, it does not appear that either of South Africa's ski areas – Tiffindell in South Africa, which last opened in 2019 for skiing and Afriski in Lesotho – will open this winter. Afriski says it will be open but that it won't be able to run its lifts and snowmaking for logistical reasons, so snow play only. It's a shame as it has had more cold and snowy weather in the past week.
Europe
Alps
There are four ski areas currently open in the Alps, one in each of the big four Alpine nations.
After a very cold and snowy spring, there are signs of the weather starting to warm with a lot of dry, sunny conditions since the start of the month. Snow depths are not looking that spectacular at most glacier centres however so it remains to be seen if those areas planning to stay open through July to September manage to do so this year, when most didn't last - although spring 2022 was much warmer.
You can currently ski or board at Les 2 Alpes in France although it appears to have dropped its long repeated "Biggest skiable glacier area in the Alps" marketing and has a smaller area, complete with boarder and terrain park available this year. It only plans to stay open through June and close later this month but Val d'Isere and
Tignes
, the latter reporting the snow lying 4 metres deep on its glacier when it closed last month, are due to open over the next two weekends.
Val d'Isere should be first, opening two lifts serving seven runs from Saturday 10th for a four-week season to July 7th. However, four of those runs will be for race team training only and closed to the general public who'll just have access to the other three between 7 am and noon daily.
In Italy, Passo Stelvio opened at the end of last week for a five-month 2023 ski season and the year-round centres of
Hintertux
in Austria and
Zermatt
in Switzerland, remain open.
Scandinavia
It remains the three small glacier ski fields in Norway – Fonna, Galhopiggen and Stryn – open to all, Galdhopiggen reports it has 5m of snow lying, the most of any open centre in the world.
Most of these centres have just one or two drag lifts and a few kilometres of slopes plus a terrain park, but Stryn is offering low-priced summer cat skiing to terrain not served by the lifts.
North America
There are four centres currently open in the USA.
Mammoth and the Palisades in California both plan to stay open into July while
Timberline
in Oregon has its Palmer Summer Snowfield opening, although its snow depth start is dropping fast so it's unclear how long it will stay open.
Finally, the Beartooth Basin summer ski area in Wyoming on the Montana border is also currently operational.
It's classic summer ski conditions with plenty of sunshine but temperatures still get to freezing overnight but warm by lunchtime so the best conditions are in the mornings.
Snowbird in Utah has said it will re-open the weekend after next as it still has lots of snow lying.
The last areas that had been open in the east, Sommet Saint Sauveur in Quebec, Canada and
Killington
in Vermont both ended their long 22-23 seasons in the last week having made it into June.