J2Ski's Where to Ski in June 2023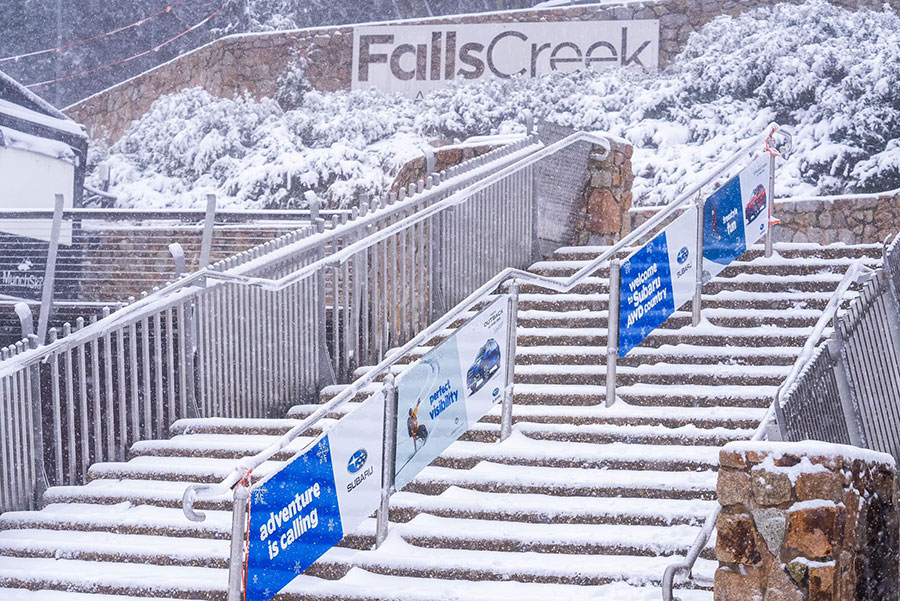 Falls Creek, Australia, opening soon...
US resorts extend into June, season approaches for the south.
June is traditionally the month when the southern hemisphere's ski season gets going properly, Europe and North America get their glacier summer ski seasons underway, and there are also up to a dozen 'survivors' that have been open since the previous autumn and are still going after 7 or 8 months keep their lifts turning.
Of course, it is not quite as neat as that; some southern hemisphere areas open in May if there's good early snow; fewer glacier ski areas open for ever shorter seasons, and some already opened earlier in the year.
Right now it looks promising for those 'still open from last winter' northern hemisphere areas, thanks to huge snow build-ups across western North America, with at least half-a-dozen areas planning to continue into June in 2023 (some years it's only one...).
There's also a novelty this year with the chance to slide on snow in Abu Dhabi, for the first time.
Re-publication :- our Snow Report Summary, being the text above this line, is free to re-publish, but must be clearly credited to www.J2ski.com with text including "J2Ski Snow Report" linked to this page - thank you.
Southern Hemisphere's June 2023 Ski Season Kick Off
Australia
Australia's 2023 season is due to start on 10th June for most ski areas.
That's the beginning of the long weekend break that for seven decades celebrated Queen Elizabeth II's official birthday but is now commandeered to celebrate King Charles III's instead.
The good news is that a mostly cold and frequently snowy May means things are currently looking good for opening day. The first week of June is looking mild and possibly wet, but it should be cold and snowy again just in time for the opening weekend.
Mount Buller,
Thredbo
,
Hotham
,
Perisher
and
Falls Creek
are all lining up for first lift rides of the season and
Selwyn
Snowfield will re-open for the first time since a catastrophic 2020 bushfire. Rebuilding is now completed and the ski area expects to re-open with the rest.
New Zealand
New Zealand's
Mount Hutt
has the earliest scheduled opening date of any southern hemisphere ski area – 9th June.
Coronet Peak and
The Remarkables
are targeting a week later, the 16th of June, with
Cardrona
going for the next day, the 17th of June. The Happy Valley area at
Whakapapa
and
Treble Cone
hope to open on the 24th.
May has seen some good snowfalls on higher slopes in New Zealand and one club field,
Manganui
, already opened for three days in May following an early snowfall, the first in the southern hemisphere for 2023. The end of May was a little mild but colder weather is forecast for early June, so fingers are crossed.
Argentina
The last third of May brought good news for Argentina's ski centres with some very healthy snowfalls. Nowhere more so than the leading resort of Las Lenas which reported over a metre of snow lying on 22nd May after a huge pre-season snowfall.
Chapelco posted images of a 20-30cm fall there a week later on the 30th, so the signs are good. Most of the country's biggest resorts, including the largest in South America, Catedral near
Bariloche
, should open from mid-June.
Chile
Most ski areas in Chile begin to open from mid-June.
Things have been looking promising with some good late-May snowfalls and temperatures low enough for overnight base-building snowmaking too.
Portillo
posted pictures of white slopes on May 30th,
Valle Nevado
, Nevados de Chillan and a dozen other resorts should be open for the latter half of the month.
Africa
Africa is the only continent with ski areas in both the northern and southern hemispheres, despite having the lowest total number of any continent.
Unfortunately, though, its northern hemisphere ski areas in Algeria and Morocco didn't operate their lifts last northern hemisphere winter 22-23 and it is looking like the same will be true for Afriski in Lesotho and Tiffindell in South Africa this season too this southern hemisphere winter.
Afriski appears to be dealing with practical or political problems, saying it will be open for snow play with natural snow this winter (and it's had some already in mid-May), but it won't run its lifts in 2023. It has had some good natural snowfalls in the latter half of May too, the latest on the 30th closed the access road.
Ski Areas Open in June 2023 in North America
June 2023 is looking like it will see more ski areas open in the US than any summer in the past decade. Half-a-dozen ski areas have now confirmed plans to open at least part of the month, thanks to huge snowpacks still lying from last winter and spring snowfalls. Most are opening at weekends (Friday to Sundays) and earlier in the day (typically 8 am-2 pm).
In California, Mammoth and The Palisades still have snow lying more than 12 feet deep and both plan to stay open into July this year.
Timberline in Oregon's Palmer Snowfield is also expected to stay open through June if the snow holds, as is the recently reopened Beartooth Basin summer ski area on the Wyoming/Montana border.
In Utah,
Snowbird
has announced it will reopen at weekends from mid-June, and keep opening so long as the snow lasts and Colorado's
Arapahoe Basin
is also opening for the first weekend of June, closing on the 4th.
Besides these centres, you can also ski or ride on the Horstman Glacier on Blackcomb Mountain above Whistler in BC and at a terrain park above
Copper Mountain
in Colorado but only if you sign up to a private camp at either.
Killington also decided it will open its Superstar trail with less than foot of snow left for advanced skiers on Thursday June 1st. It looks a lot like this will be the final day of the 2022-23 season, although that's to be confirmed.
May saw several ski areas re-open after having been closed for a month, and this may happen in June too.
Glacier Skiing in Europe in June 2023
Fortunately, spring 2023 has been much, much cooler and snowier than spring 2022 was on Alpine glaciers, so it's a more promising picture for ski slopes that plan to open in June.
Tignes posted the deepest base in Europe much of the winter, at nearly 5 metres at the peak in early spring, so it remains to be seen if that stat has changed much. It is due to open for summer skiing on June 17, a week after Val d'Isere on June 10, both joining already-open Les 2 Alpes, which has moved its 'summer ski' season to earlier in the year and hopes to stay open through June.
The three centres put France well ahead of Austria, where just the
Hintertux
Glacier is expected to be open in June. Italy should have two centres open by the end of the month, with Passo Stelvio due to open at the start of June and be joined by Cervinia from 24th June, while Switzerland has just
Zermatt
open.
So there should be seven Alpine glaciers open through, or at least at various points during, June.
Scandinavian Glaciers and Skiing at Midnight at Midsummer
Three small glacier ski areas are open in Norway and posting the deepest snowpacks in the world – with snow up to 8 metres deep. Fonna, Stryn and Galdhopiggen Glacier ski areas are all expected to stay open all month.
Sweden's
Riksgränsen
ski area, one of the world's most northerly, closed at the end of May but has announced it will re-open its slopes over the Midsummer period in late June.
Skiing Asia and The Rest of The World in June 2023
Elsewhere in the world, Japan's Gassan summer ski area is open for its 2023 season and has about 4 metres of snow lying at the start of June.
Over 100 indoor snow centres are open worldwide and June 2023 offers the novelty of playing in the snow in Abu Dhabi for the first time as the company behind Ski Egypt and Ski Dubai opens a new indoor snowpark, the first in the Arab Emirate.