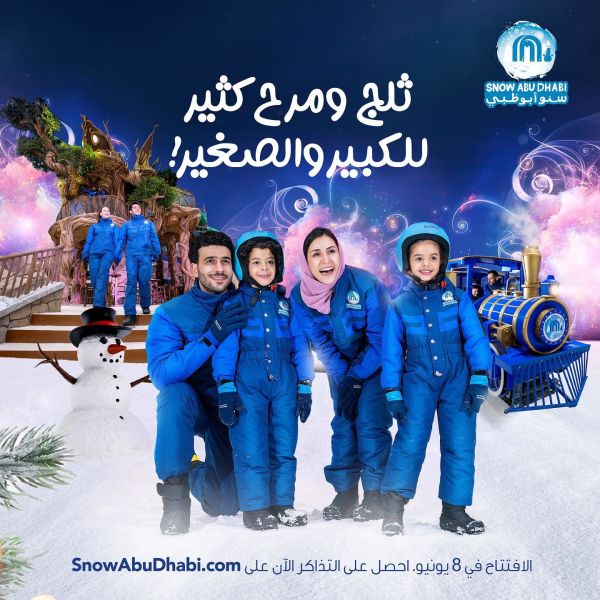 A very long planned indoor snow centre will open in Abu Dhabi next month, believed to be the first time snow will have piled up on the ground in the Arab Emirate.
Snow Abu Dhabi, construction work on which began in 2017 after the complex had first been announced many years before, will finally open next week. The surrounding Reem Mall has had a number of different developers over the years but is now operated by the Majid Al Futtaim Group who already run Ski Dubai, Ski Egypt and the most recently opened Snow Oman. They've they've worked with the LA-based American group, Thinkwell, who are responsible for theme park and attraction design around the world, including Harry Potter themed projects in Florida and London, on the snow and ice attractions of the new centre.
What's not yet clear is whether the facility will offer any skiing or snowboarding? Some reports say it will, but most refer only to the 'rides' and it being "…one of the largest snow parks in the world." All should become clear when it opens on June 8th.
"We can look forward to 12 exhilarating rides and 17 engaging attractions spread over a 9,300 sqm snow area. The temperature will be regulated to a super chilly 2ºC, and the slopes will be dusted in a snow capped coating to a depth of 50cm," one reviewer anticipated ahead of opening.
Feature rides and character theming created by a team that incorporates American theme-park designers Thinkwell and the company behind Ski Dubai and several other indoor snow parks in the region, Majid Al Futtaim Ventures.
Confirmed attractions include two giant slides, one named 'Ice and Floes Toboggan Race' which sounds nice and gentle, and 'Grauppel's Summit Escape' which sounds less so.
Attractions include "Flight of the Snowy Owl" billed as, "a suspended journey over the enchanted forest offering breathtaking views of the project."
Other rides include The Magic Carpet, Polar Express Train, Crystal Carousel and Ice and Floes Bumper Tubes, which are all currently reported to be in the testing phase. Trolls Bowl, Drifts Downhill Run and Snow Hares Bunny Hill, are all nearing completion too. The Snowflake Garden will be the place to build a snowman, enjoy a snowball fight or navigate the ice labyrinth.