J2Ski Snow Report March 23rd 2023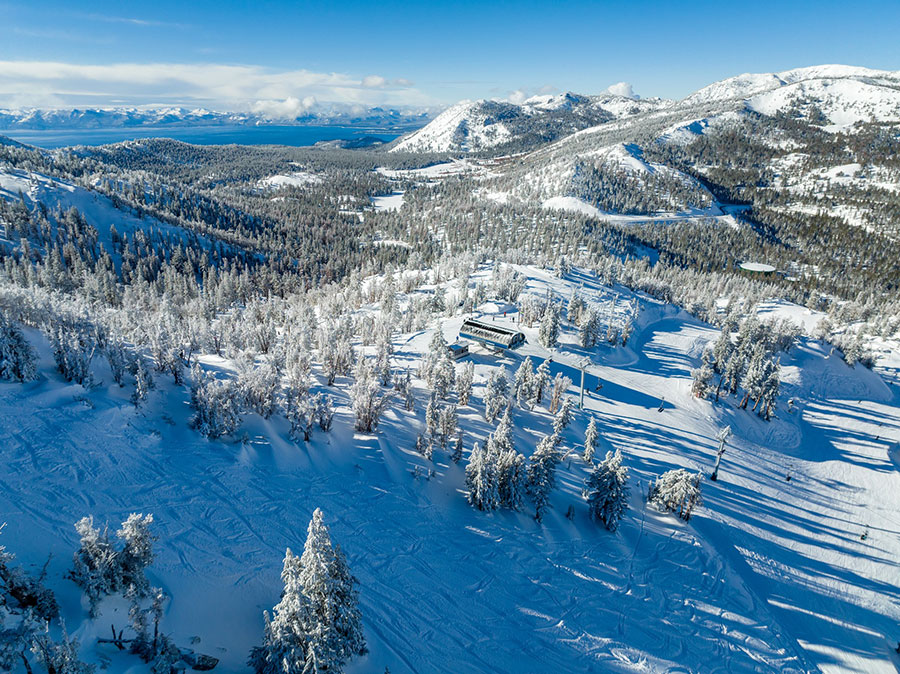 Mount Rose, Lake Tahoe, has no shortage of snow...
A touch of Spring in Europe, yet more snow in America.
The Snow Headlines - 23rd March
- Mammoth, with a 25 foot (7.5m) base, says ski season will continue "at least" through July.
-
Tignes
nears 4m base up high with 1m of snowfall forecast.
-
Heavenly
extends season by three weeks to May 7th.
- Fresh snowfall reported in New Zealand.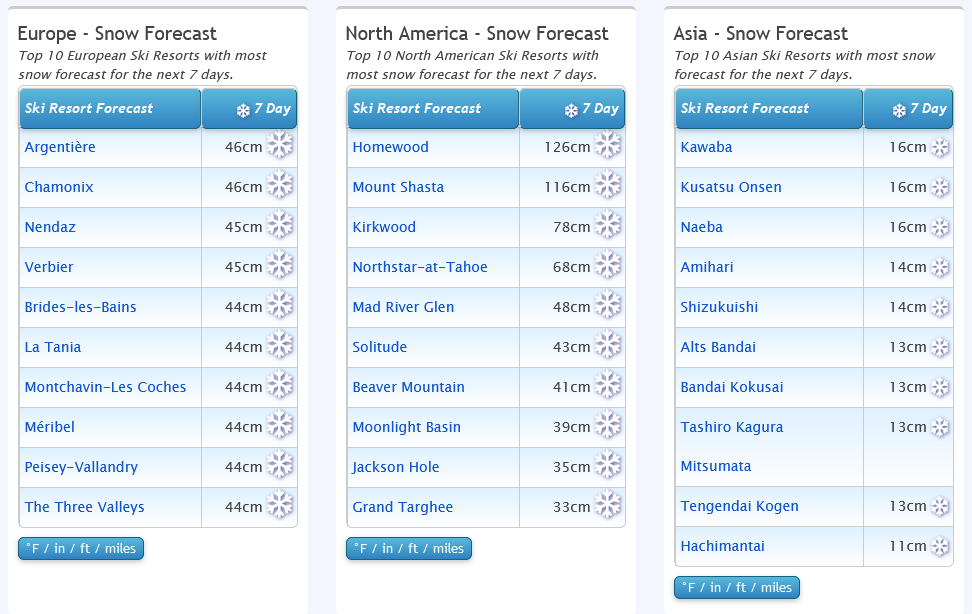 See where it's going to snow...
Re-publication :- our Snow Report Summary, being the text above this line, is free to re-publish, but must be clearly credited to www.J2ski.com with text including "J2Ski Snow Report" linked to this page - thank you.
World Overview
It's been back to very warm and mostly sunny weather in the Alps this week after the heavy snowfall at the start of last. As we're now well into spring and fast approaching April and Easter it should be no surprise that the remaining snow cover, below 1800m in particular, is fast thawing away.
Higher slopes though are in pretty good shape. Some have reported light snowfall and there's a bigger dump expected this coming weekend. Most of the bigger, better-known resorts have the majority of their terrain on high slopes and remain 70-90% open.
Across the Atlantic, it is just a case of snowfall records being broken by the day in the west where more resorts are talking about extending seasons later into May, and even July.
Elsewhere conditions remain good with fresh snowfall reported in Scandinavia and down in south-eastern Europe there's been some fresh snowfall in Bulgaria. However, ski resorts in the Pyrenees are having to really battle the thaw and in Scotland, that battle seems to be largely lost with just a few slopes left skiable in a couple of areas.
Europe
Austria
Austrian ski areas have been hit by the warm weather this week seeing their snowpacks decrease in depth by up to a third. This is most marked, of course, at lower elevations, and there are a growing number of areas that are posting 0cm for lower slope base depths, including
Ischgl
,
Mayrhofen
and
Zell am See
.
That's normal for the time of year, of course, and in any case, many Austrian areas will be closing at the end of next week or the week after. But there's more snow expected over the weekend and start of next week on higher slopes and the country does have more glacier ski areas to choose from than any other nation.
France
French ski resorts are posting some of the best high-altitude snow conditions in the alps now with a number of the big names including la Plagne,
Avoriaz
and
Les Arcs
reporting over 300cm of snow lying at 3,000m.
Tignes is nearly at 4 metres, the most in Europe and looks like it will get there this weekend with a good snowfall expected up high.
The colder, snowier weekend does follow another warm sunny week which saw temperatures reach double digits at 2,000m and +4C up at 3500m on glaciers, and it's still March. So it is noticeable that base depths have dropped at the resort level, particularly at the traditional valley resorts like Megeve and
Morzine
.
Italy
Italy has had, if anything, even warmer weather than the French Alps, with afternoon valley temperatures reaching the high teens at lower resorts, with an obvious major impact on the remaining snowpack.
It is due to get a little cooler over the weekend and precipitation is expected across the country's ski areas here too, but it will most likely be rain at times below 1800m or so.
The message is therefore very much 'aim high' – always the advice in the run-up to Easter of course but even more so this year. Cervinia is posting some of the deepest snow in the country and reports that more than 80% of its terrain shared with
Zermatt
is still open.
Switzerland
Swiss centres have faced the same warm weather issues, particularly at low elevations, as the rest of the Alps.
A growing number of Swiss centres including Crans Montana and
Wengen
are now also posting a zero figure for lower slope base depth, indicating that a lift up and back may now be required at the start and end of the ski day.
Above 1800m conditions are better the higher you climb and the country's big areas like the 4 Valleys remain 80-90% open, thanks to the fact that most of their terrain is on those higher slopes. Cooler temperatures and snowfall is forecast across Switzerland this weekend, the heaviest in the west.
Scandinavia
Scandinavia continues to be the place to aim for if you're looking for colder temperatures and fresh snow at lower levels.
Norway's
Hemsedal
was among areas posting 20-40cm of fresh snowfall this week and it's among the areas expecting to stay open into May. Most resorts in Finland, Norway and Sweden are currently fully open and looking good for the Easter holidays.
Pyrenees
While there's snow forecast in the Alps, it looks like it will stay sunny across the Pyrenees with daytime temperatures in the range of +15C in valleys and up to +8C on higher slopes.
It is still dropping below zero at all levels overnight, however, giving freeze-thaw conditions.
The warm weather has made low-level slopes difficult to maintain and smaller, lower centres have closed and larger centres are, in some cases, operating only about half their terrain now as the season winds down.
Scotland
Sadly, warm weather and gales have plagued Scottish slopes over the past few days so there's now even less open at Cairngorm and
The Lecht
says its season is pretty much over unless there's a very big late snowfall.
Nevis Range and
Glencoe
have no lift-served skiing at present either, but
Glenshee
is maintaining its all-weather snowmaking served slopes. Colder weather is forecast at the weekend and The Lecht says it hopes to at least open all-weather SnowFactory-maintained slopes for the Easter holidays.
Eastern Europe
The warm weather in the Alps at present generally gets cooler the further north and east you go so ski resorts like Spindleruv Mlyn in the Czech Republic and Jasna in Slovakia, both on the northern side of the alps, are that bit cooler and the snow that bit better still than further south. Jasna reports snow lying up to six feet (1.8m) deep and its slopes are still 100% open.
Down in Bulgaria, it has been warm but there have also been some snow showers up high and at the time of writing
Bansko
still reports its long run back from the ski slopes to the resort is just about open.
North America
Canada
Conditions remain good across Canada with more snow showers reported on both the western and eastern sides of the country.
The biggest resorts on both sides (Whistler in BC and Tremblant in Quebec) also report their slopes continue to be 100% open.
The forecast is for more of the same really with temperatures creeping a few degrees into positive numbers in the daytime, but remaining well below freezing overnight.
USA
Resorts continue to post more and more "best season totals for years/ever" reports with the first resorts passing 700 inches (17.5 metres) season-to-date totals in California.
As a result, more and more are announcing seriously extended seasons, Heavenly into May, Mammoth into July ("at least").
In some cases, this is just to allow people to ski after so many storm closure days this winter.
Further east, it has kept snowing in the Rockies with
Crested Butte
posting their 300-inch season-to-date total is already one of their five best of the past 45 years. Conditions have been a bit more hit-and-miss in the east with a return to rain showers with warmer temperatures at the time but
Jay Peak
has announced it's aiming to stay open until May.