J2Ski Snow Report 18th August 2022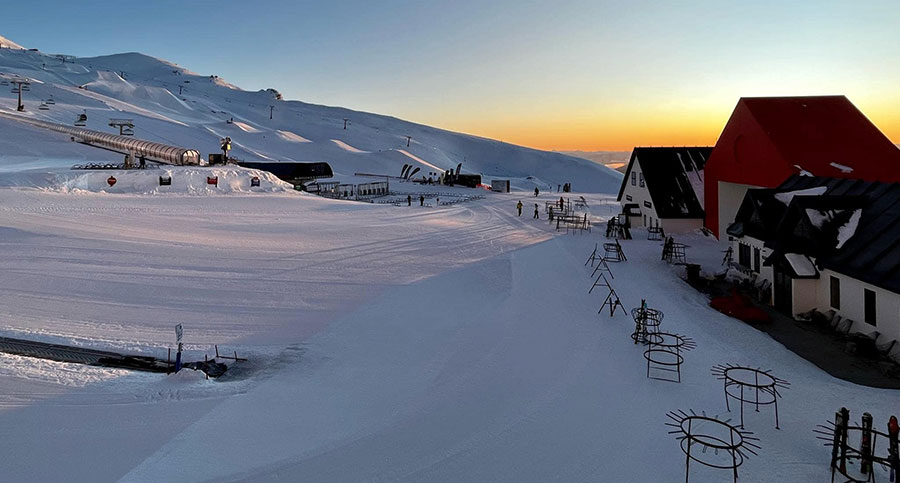 Cardrona, New Zealand, on a chilly morning last week...

Great conditions in New Zealand, and fabulous in the Andes
The Snow Headlines - 18th August
- World's deepest reported snowpack now in Southern Hemisphere for first time this year.
- The final weekend of the 21-22 season coming up for North America.
- Scandinavia's summer ski season ends suddenly - sooner than previously announced.
- Ski areas in New Zealand report sublime conditions; clear skies after big snowfalls.
- Resort in Chile says July was its snowiest in over a decade.
-
Hintertux
likely to be the only ski area open in Northern hemisphere as of next Monday.
- Southern Africa's Afriski resort announces 2022 season ends September 1st.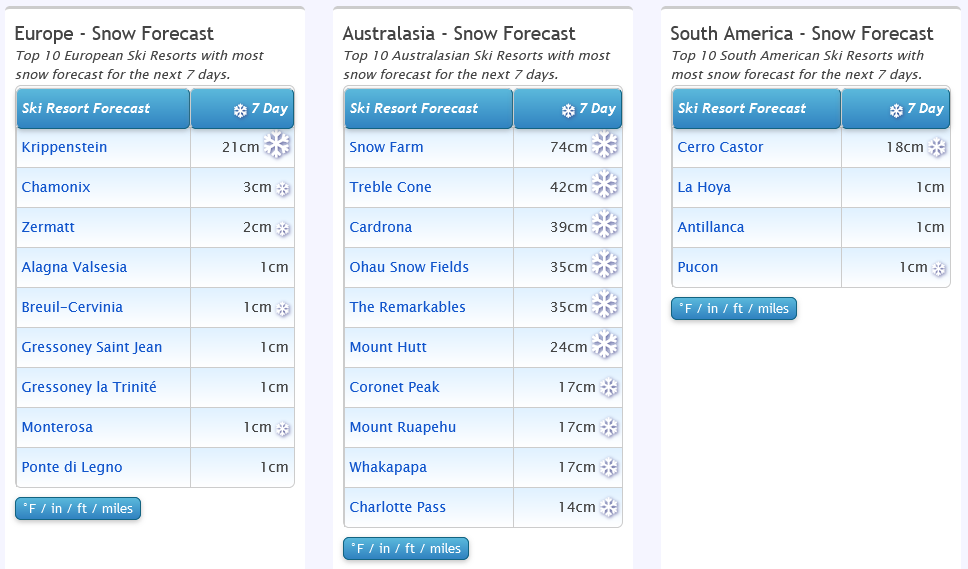 See where it's going to snow this week...
Re-publication :- our Snow Report Summary, being the text above this line, is free to re-publish, but must be clearly credited to www.J2ski.com with text including "J2Ski Snow Report" linked to this page - thank you.
World Overview
New Zealand's ski areas had a great weekend and start of this week with cold, sunny weather following fresh snowfall - and it has been dumping again in Australia and the Andes.
In Southern Africa, the 2022 season is winding down to its last weekend at the end of this month.
In the northern hemisphere, it's the final week (at last) of the 21-22 season for North America with
Timberline
, the only centre still open in the US, closing down for skiers at the end of the coming weekend.
In Scandinavia Norway's Fonna glacier had planned to close on Sunday too but brought forward its closing day to Wednesday so has now closed.
This leaves Hintertux in the Austrian Tirol as the only area open in the northern hemisphere – if it manages to keep open despite the ongoing heat and its thin snow cover.
Australia
Conditions have continued to improve on Australia's ski slopes after the 'blip' of the warm, wet storm a fortnight ago.
There have been several significant snow storms over the past seven days, bolstering snow depths with around six to eight weeks of the season remaining. Snowstorms delivered up to about 20cm of snow by the end of last week, followed at the start of this week by still bigger dumps meaning some areas have had over half a metre of fresh snow in the last seven days.
Conditions were at times stormy with strong winds impacting some lift operations, but then there's the payback of fresh pow. Most Aussie resorts are fully open with
Perisher
,
Thredbo
,
Hotham
and
Falls Creek
all reporting around a metre-and-a-half (five feet) of snow lying on their upper slopes.
New Zealand
Conditions were at their best of the season over the weekend for many ski areas in New Zealand.
The last storm fronts at the end of last week dumped yet more powder but gave way to perfect weather over the weekend and the start of this week – blue skies, light wind and temperatures just a degree or two below freezing – the result, sublime fresh snow conditions. Most centres were fully open and while the deepest reported snow depth is 3 metres/10 feet now, most centres have a healthy 1-2 metres of snow piled on their slopes.
Unfortunately, things took a downturn on Tuesday/Wednesday with warm/wet weather again closing ski centres for a few days, but things are expected to improve again from Thursday/Friday.
Once operating,
Mount Hutt
and
Cardrona
have the largest amount of terrain open (40km/25 miles) and
Mount Ruapehu
on the North Island continues to open more terrain at its
Turoa
and
Whakapapa
bases.
South America
It has been a snowy week in the Andes too with the latest front moving into most areas on Sunday and accumulations of up to 50cm reported by midweek and plenty of powder to be had.
Chile's Nevados de Chillan reported that July had already been its snowiest in a decade so as we enter the final third of the season, the latest snowfall means winter 2022 is shaping up to be one of the snowiest of the century so far.
Catedral near
Bariloche
is reporting the most terrain open of any ski area in the world at present and most centres have at least a metre of snow lying, many now double that. The snowfall of the past three days should clear for the remainder of the week giving sunny skies for enjoying the fresh pow to the max.
Africa
It's coming up to the last week of the 2022 season next week at Lesotho's Afriski and temperatures are yoyoing between warmer days but still freezing nights. There has been some fresh snowfall however.
It's been mostly sunny, as it usually is, and the main run remains open. Afriski says it will close its season on 1st September.
Europe
Yet another week of mostly sunny conditions and temperatures above freezing even above 3,000m altitude isn't great news for what's left of the snow not yet thawed from glaciers (most has and thaw rates are reported to be three times the summer norm of the past decade).
Fonna in Norway said they'll be closing this Sunday but on Wednesday this week made a quick change announcing they were closing to recreational skiers immediately.
This means that only Austria's Hintertux, with a thin and icy snow surface, is still open to the public in Europe. It seems to be keeping the 6km of slopes it has open thanks to summer glacier snowmaking when overnight lows dip down enough.
Three other centres, the previously mentioned Fonna as well as Galdhopiggen in Norway and
Saas-Fee
in Switzerland have limited terrain available all reserved only for race teams training. Several more including Italy's Passo Stelvio and
Zermatt
say they'll re-open if and when conditions improve.
North America
It's the final few days of North America's 21-22 ski season which began around 10 months ago high up in Colorado, but for the past few months has had just one area still open – Timberline on Mount Hood in Oregon.
As in Europe, it has been a largely hot summer here, but unlike the Alps there were some big snow dumps in the spring (after the main season ended), giving timberline a strong hand moving into the late spring and summer season. The heat has been Fairly relentless though and the Sunday 21st closure represents a pretty good season, if not quite making it to the first weekend of September as in years past. North America's 22-23 season will hopefully start in about two months' time in October.